Why are football shirts so expensive?
Many fans think football shirt prices are getting a little silly now, but are they really becoming too expensive?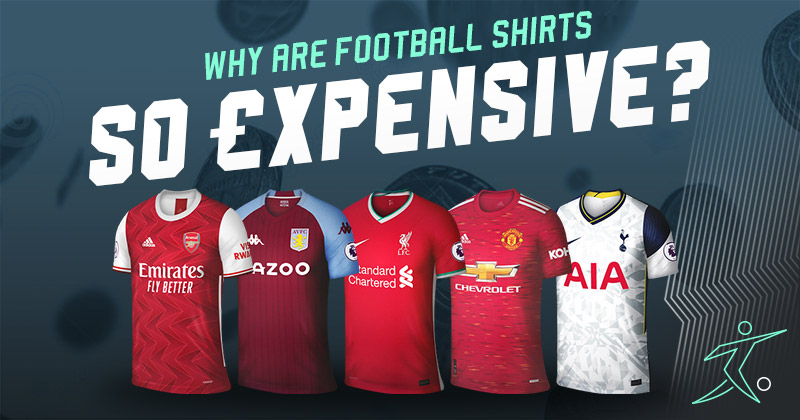 You can forget all about Christmas, this is the most wonderful time of the year. Football shirt release season. 
It's a time of twinkling patterns, sparkling colours and magical cries of joy, while your local postman is presumably getting the workout of his life. If you listen hard enough, however, you can just about discern the sounds of sharpening pitchforks and incredulous gasps of terror. That's right, people are noticing the price tags again. 
There's an unshakeable feeling that hard-working fans are being exploited by the men currently sat in their ivory towers, cigar in hand and slippered feet up on their desks. When shirt prices creep towards three figures, your eyes rightly bulge like a terrified cartoon character before scanning in vain for a hidden decimal point. I don't really blame you. 
But are modern shirt prices really as shocking as they might appear? After resisting the urge to scoff in disbelief, I've decided to hop back in time to look at why football shirts have become so expensive - and, of course, whether they're worth your hard-earned cash. Right then, let's punch it up to 88.
Thank you for joining the FOOTY.COM club!
---
The Growing Price of Football Shirts
1992/93 vs 2020/21
I've set our course for the summer of 1992, the dawn of the Premier League era. While we all added the phrase "Super Sunday" to our respective dictionaries, money was flying all over the show as Sky promised us "a whole new ball game". Almost 30 years later, it's fair to say they've made good on that promise. 
The transfer market is now completely unrecognisable to what it used to be, while the cost of match tickets and a decent half-time pie has also increased considerably. More to the point, the latest football shirts have also risen dramatically in price, which is why so many fans refuse to fork out for their club's new strips. 
Back in '92, many fans would buy shirts from their club's official catalogue, obviously long before the wonder of FOOTY.COM let them compare prices online. Shudder. Although it's easy to get distracted by the cheesy poses and dodgy haircuts, we dug out some of these old catalogues to find out how much shirt prices have increased since then: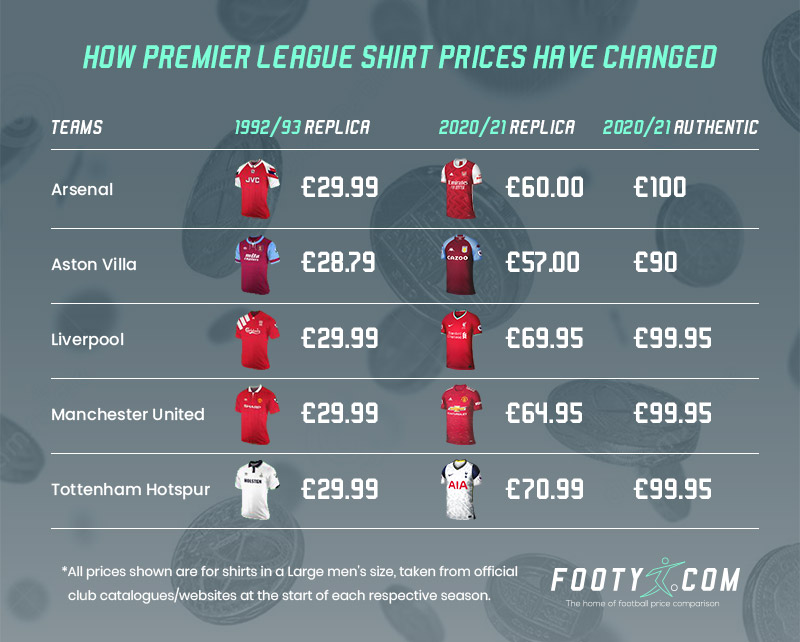 Yep, there you have it. Buying a new football shirt in 2020 will cost around twice as much as when the Premier League first started (not counting the authentic version). Although we've only included a small sample of clubs here, this trend is unsurprisingly the same across the board - a few clubs are charging even more than that. 
There's yet another factor to be considered here, which again leaves fans feeling a little ripped off. Those shirts from the early 90s were all worn for at least two seasons, while clubs are now releasing three kits every single summer at around £70 a pop. The men in ivory towers are lighting yet another cigar, it seems.  
Paying £210 every season will soon have your bank account lying in the foetal position, hugging its legs and wondering what the hell it's done to deserve such treatment. Of course, you're by no means obligated to buy all three (or any) of them at all, but the fact remains fans feel they aren't getting the same value for money - their shiny new shirts will be replaced very quickly. 
The Rise of Retro Shirts
High prices don't just relate to the latest shirts, but you're probably well aware of that. Everyone's gone a bit nuts for some nostalgia over the past few years, with the price of retro shirts absolutely sky-rocketing as a result. Unfortunately, this is what forces so many fans to buy fake shirts instead, which is always gonna end in tears. 
If you wanted to buy those same shirts from 1992 today… well, I reckon you'll be cracking open those piggy bank savings any minute now. 
Just like every other year, the 2020/21 kits are generating plenty of buzz online, and the freshness of brand-new shirts will always entice people to buy. The retro shirt phenomenon is something entirely different, with fans not just forking out for a cool design, but also the memories a particular shirt represents - whether it's a triumph on the pitch or something more personal. 
Collecting retro shirts can become an obsession which soon leaves you in dire need of extra wardrobe space, and wearing retro shirts is now often a fashion or status symbol. Unfortunately, that means those shirts from 1992 are now a lot more expensive than they used to be, especially if you're looking for something rare or even match-worn. 
In short, they cost exactly what someone is willing to pay. If you think something is overpriced, then simply move on and look elsewhere, but they are usually priced based on condition, rarity and demand - so long as you're dealing with a reputable retailer/seller. It's up to you to decide whether it's worth the money. 
---
Why Are Football Shirts So Expensive?
On the surface, it looks like modern football shirts are way too expensive, and we should probably grab our pitchforks again before things get any worse. However, just looking at the numbers means you're not getting the whole story, and instead you need to consider what's actually influenced those price rises. 
SPOILER ALERT: current football shirt prices aren't as shocking as some headlines might lead you to believe. Curse you, click-bait.
1. Inflation
Well, this is ridiculously obvious, but it's also the most important factor here.  
Dreaming of when shirts would cost just £30 is all well and good, but it's not as if this was some sort of unmissable bargain at the time. According to the Bank of England, the average inflation rate since 1992 has been 2.8%, meaning that your 30 quid would be worth around £62.55 in today's money. 
And, well, that's not far off what you'd be paying for a 2020-21 Premier League shirt. Prices obviously fluctuate between different clubs and brands, but between £60-£70 is about standard for a brand-new replica shirt these days. The same applies to the price of shorts and socks, too, if you really felt brave enough to go for the full kit. I won't judge. 
In a nutshell, modern prices are pretty much exactly in line with what you'd expect to pay through natural inflation. That doesn't mean to say shirts come cheap (£60 odd is still a lot of money), but you also haven't missed out on a glorious golden-era of discounts and bargains. Tell your friends - new shirts are pretty much as expensive as they've ever been. 
2. You're Looking at the Authentic Version
Doh! If you're currently gawking at a £100+ price tag and wondering if you'll need to remortgage your house, then you're looking at the authentic, player-issue version. So, put down your pitchfork, stop ranting on Twitter, and calmly make your way over to the replica shirts instead. Ah, that's better. 
We recently put together a detailed guide on the differences between authentic and replica shirts, but it's mainly all to do with the technology and materials used. An authentic shirt is based around performance, while a replica shirt is all about comfort - unless you fancy an immersive experience of how it feels to be Sadio Mane, the replica version will do just fine for most fans. 
3. Advancing Technology
While the fanciest textures are found on authentic shirts, it's not as though a replica feels like you're wearing a bin bag on a windy day. Over the past few decades, brands have continued to produce new innovations and improve the quality of their replica shirts, meaning you'll still be buying something which is packed with fresh technology. 
For example, the new Manchester United home shirt features adidas' AEROREADY technology (which absorbs moisture, apparently), while the new Liverpool replicas feature similar Dri-Fit tech. Basically, shirts are as expensive as they've ever been, but there's no doubt you're getting something more innovative for your money now. Even if you've no idea what it all means!
4. Growing Demand
People love football, so people will always buy football shirts. Historically, this has kept football shirt prices pretty high, even going back to the first replica sold by Leeds United for a fiver in 1973 (worth £60.73 today). Manufacturers can charge top dollar because they know that people are willing to pay it. Simple. 
The demand is only growing stronger, too. The 2018 World Cup saw a huge spike in shirt sales across the globe, and the hype just hasn't really died down since - particularly amongst adults. Ultimately, this is why the price of retro shirts has suddenly rocketed up to Mars, and doesn't look like it's returning to orbit any time soon.
5. Rising Printing Costs
Things get really messy when you start adding player numbers to the back of your new shirt. Printing and production costs have obviously increased substantially since the early 90s, so personalising your order will quickly make the costs rack up. It's almost like Pick N Mix, where you keep adding little extra bits before begging the assistant to take some off the scales. 
For example, you can pick up the new Spurs shirt for £70.00 right now. If you want to include Premier League badges and a nameset, however, then that suddenly becomes £85.00. Oof, better go for "Alderweireld" then and get your money's worth. Sorry, Son. 
It's worth noting that clubs used to charge fans a bit more or a bit less, depending on the size of their shirt. So if you could squeeze into a small, you'd be paying about £6 less than someone in an XL. Now brands just offer a set price across all sizes, regardless of how much extra material they used to make it! Skinny guys have drawn the short straw here, I reckon. 
Conclusion 
Retro kits aside, football shirts aren't really any more expensive than they used to be. Although many will scoff like a broken record or get pulled in by provocative headlines, the fact is you're paying almost exactly what, historically, you should expect to pay. It might still seem like an awful lot of money, but sadly that appears to be nothing new. 
However, the fact that modern kits are only worn for one season (instead of two or even three) definitely grinds a few gears. While it's nice to have a new shirt to look forward to every summer, some fans understandably feel like they're only getting half the value out of them, even if prices are similar to what they were when the Premier League first started. 
Fortunately, there's always a way to save some extra money and find cheaper football shirts. And, hey, it's not like you need to throw the old one away when the season ends. It will be yours forever, if you want it to be. 
---
How to Find Cheaper Football Shirts
Wait Until After Christmas to Buy
Kits are at their most expensive when they've just been released. Prices are obviously high when we're giddily swept up in all the hype, but you could save yourself some real cash if you're willing to wait a little longer. Sadly, I don't have such self-control, which is why I'm constantly skint. 
Brands and retailers tend to launch awesome deals and discounts just after the Christmas period. These New Year mega sales might let you get hold of current season kits for a fraction of the usual cost, while even bigger savings can be found if you're willing to hang fire until the inevitable end-of-season discounts. 
This was also the case back in 1992, with some shirts available for as little as £6 at the end of the season. Okay, so you'd be insanely lucky to get a shirt at that price nowadays, but you can still save an awful lot of money if you've got more self-control than I do. Paying £30 for your club's latest kit doesn't sound too bad at all, really. 
Shop Around for Deals
It's all about shopping around. Even when a shirt is first released, you can still save a few extra quid if you're happy to do a bit of digging. Retailers are always launching new discount codes or deals, and sometimes you might be lucky enough to stumble across a little bargain or two. But knowing where to look is the hard part, really. 
This is where I'm going to shamelessly plug FOOTY.COM. We collate all of these codes, coupons and sales in one place, essentially saving you the stress of trying to bargain-hunt like a football-obsessed David Dickinson. You just need to find the shirt you fancy buying, and you'll be shown a list of the best prices available right now. 
In fact, you can even set up an alert so that you'll be notified as soon as a price drops to what you're willing to pay. Basically, this means you don't have to bother checking back every day, and saves you the inevitable, soul-crushing realisation that you've missed out on a real bargain. See? Football shirts really don't have to be that expensive after all.