The Worlds Most Lucrative Kit Deals
After City's blockbuster deal with Puma, we wanted to find out how it stacked up against the rest of Europe.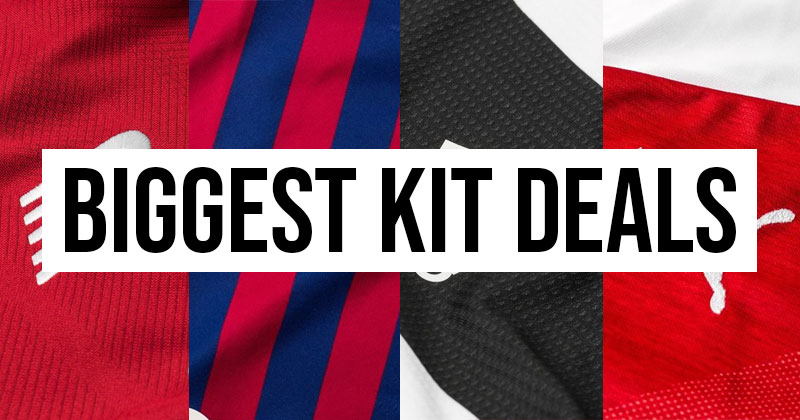 With the announcement last week that Manchester City have ditched Nike for a lucrative kit deal with German outfitters Puma, in a deal worth a staggering £65 million a year for the next decade, we got to asking ourselves, 'What are the biggest football kit deals in Europe right now?'
City have been with the American sportswear manufacturers Nike for six years, but the £20 million a year deal between the two has been dwarfed by Puma who are looking to pin their colours to Pep Guardiola's mast in an attempt to boost their reputation.
With Puma taking over at Man City, Nike have been left with just three clubs in the English first division; Chelsea, Spurs and Brighton. And with Puma losing out to adidas for a new kit contract at Arsenal, Puma are relying on City to help them pull in some serious sales to make the deal worth the expense.
---
Which teams have the biggest kit deals?
We took a peak at the top 5 European leagues to see which clubs were raking in the most cash from kit deals in the 18/19 season.
10. Juventus
The Old Lady has just extended their deal with adidas until 2027 in a deal worth £50 (€58) million per year. Their current deal with the German sportswear company nets the Italian giants £20 (€23) million a year. We think the signing of Ronaldo might have something to do with the boost in marketability, and his now €100 million fee seems like a good investment.
9. Liverpool
The Red's contract with New Balance currently nets them £25 ($29) million a year but with the club being so well run these days – recently recording a record-breaking £125 million pre-tax profit – they look set to use the Man City deal as leverage to secure themselves a much more lucrative kit deal when their current one runs out at the end of the season.
8. Spurs
Nike and Spurs currently have one of the longest standing kit contracts after announcing a 15-year extension in 2018. This means Spurs are set with Nike for at least the next decade in a deal that will bring in £30 (€34) million a year.
7. Arsenal
Arsenal are coming to the end of a five-year deal with German company Puma in place of a deal with fellow German outfitters adidas in a deal worth £300 million across five years. Their current deal with Puma sees them net £30 ($34) million a year.
6. Real Madrid
Real Madrid and adidas' contract has been running since 1998 and the two have just reportedly signed a new world record 10-year deal worth £950million. Right now, adidas fork over £45 (€52) million a year for their kit deal with the Spanish giants.
5. Bayern Munich
The German giants are another team to have a longstanding contract with fellow Germans adidas. They currently earn a staggering £51 (€60) million a year.
4. Chelsea
The Blues of London are one of Nike's few deals left in the Premier league and pull in a tidy £59 (€69) million from their kit deal with the Americans, making them the fourth highest earners across the top European leagues.
3. Manchester City
When Puma's new deal kicks in with the Cityzens, the sky blues will become the third highest paid club in regard to kit maker deals, earning the Manchester club £67 (€78) million a year.
2. Manchester United
The other half of Manchester still won't be beaten on kit deals as their current adidas deal is still worth an eye watering £74 (€86) million to the red side of Manchester.
1. Barcelona
Nike currently hold the biggest European kit deal with FC Barcelona in a deal that pays the Spanish team around £133 (€155) million a year. The deal looks set to become even bigger as Real Madrid and Barca go head to head in an attempt to break the world record for kit deals as their current contracts come towards their end.
With money in football becoming more and more arbitrary, how long until we start to see billion pound/euro deals going down between clubs and kit makers? If you see any Premier League football kits, or any other kits form around Europe you like, check out the best deals at FOOTY.COM.