The Top 100 Shirts of 2018
How much sweeter is the fruit we are never destined to enjoy? (Yes I'm still talking about football shirts).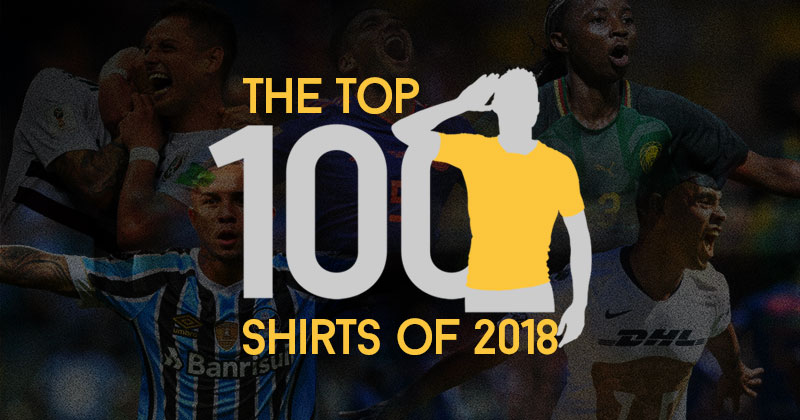 The best football shirts of 2018
I like to think I'm a poet sometimes.
Ok, maybe not a poet, but at least a storyteller who can paint pictures so vivid that grown men and women can be moved to actually feel something about a piece of clothing.
My job isn't that difficult when you consider all that a football shirt can mean to so many. For most people who are into shirts, personal connections and experiences create the strongest narratives.
Yet the beauty of kits is that you don't need to have one in your hands to appreciate it. It's quite possible I will never own a West Germany 1988 long sleeve, but just seeing pictures of the shirt is enough to make me smile.
But what if I told you there was a shirt almost as beautiful, that never got to see the light of day? A majestic piece of craftsmanship that was snatched away at the last second.
You probably know what I'm talking about, and so to conclude Top 100 Shirts here are all our brief thoughts on the best shirt of the year.
Thanks for reading this list and engaging with the content. Let's do the same again next year, yeah?
---
Other blogs in this series
100-91 | 90-81 | 80-71 | 70-61 | 60-51 | 50-41 | 40-31 | 30-21 | 20-11 | 10-2 | 1
---
1 - China Away
Art. Defined as "the expression or application of human creative skill and imagination, typically in a visual form such as painting or sculpture, producing works to be appreciated primarily for their beauty or emotional power." And boy, does this China away kit fit into that description magnificently.
A wonderful blend of black and yellow detailing's partnered with a delightful dragon mural across the torso. Overall, this shirt is one of the tastiest things I have ever laid my eyes on and definitely deserves its spot at numero uno. If it wasn't for that pesky neckline Nike decided to roll with this year, it'd probably be the greatest kit of all time.
And that was probably a bit of hyperbole.
- Luke
This is, without a shadow of a doubt, THE best shirt of 2018!
The shirt pays homage to China's history and culture with a beautiful dragon graphic on the front and back. The black dragons are striking in that they are almost 'tattoo-esque' yet they still blend in with the black shirt. The only other colour is a fluorescent yellow on the logos which gives a nice, bright contrast. Yet, for some reason, we will never see this shirt being used as the Chinese FA rejected the design at the last minute and had them removed from the shelves. It's such a shame for us fans.
So ladies and gentlemen, take a good, long look… this is 2018's best football shirt!
- Pedro
Astounding really is the fact that the Chinese FA rejected this design at the last minute, given the rip-roaring commercial success of Nigeria's Home shirt worldwide, but nonetheless it existed and therefore we can admire it. A stunning Dragon pattern covers the main body of the shirt and is highlighted by a golden crest and Nike logo - fitting for such an outstanding creation. To be dangled in front of us and snatched away at the last moment is so cruel. The ultimate one that got away?
- Chris
Surely, you're not shocked to see this is number 1. The insanely slick silver Chinese dragon design is honestly one of the most artistic things I've ever seen on a football shirt, and it works perfectly. It really engages you and captures your imagination, and Nike have certainly outdone themselves with this. The only slight negative is the neon yellow choice for the badge and Nike logo, but even then, it doesn't take away from such a majestic shirt.
- Apollo
Although this kit may never be worn, it is possibly one of the most unique, classy and patriotic kits out. It was rejected by the Chinese FA at the last minute, but a numbers of players have spoken up about the kit and what it would mean to them if they were able to wear it.
With the kit itself inspiring players to defend the honour of Chinese football, it really shows us what a good design can do for not just fans, but the players who put them on.
- Dane
Have you heard the story of Tantalus?
A king of ancient Phrygia, he committed a grave sin by sharing secrets of the Gods with humans. His punishment, upon death, was to stand loosely tied to a tree rooted near a pool of water. If he bent down to take a sip of water, the water receded. If he reached up to grab a fruit from the tree, the wind blew the branches just out of his reach.
It is from the name Tantalus that we get the word tantalising. And China's away shirt, which blew just out of our reach as we were about to grab it, is exactly that. The fact we never got to enjoy this on the pitch only adds to its legend.
- Phil
A lot has been written about this shirt so I will keep it simple.Two words:
Just.
Stunning.
- Alec
---
The Top 100 shirts of 2018
---
Once again a huge thank you to all who have read these blogs.
Stay tuned to FOOTY.COM for lots more shirt related content. In the coming days I'll be pulling out some of the interesting stats and things we can learn from 2018 and we move into 2019.
What will the year hold for football shirts? Which brands are sitting on top of the pile, and who's looking up at them?
Let's talk about it.