2019/20 Kit Guide - All you need to know about next seasons shirts
What will your team be wearing next season? Step into our Kit Guide and we'll show you.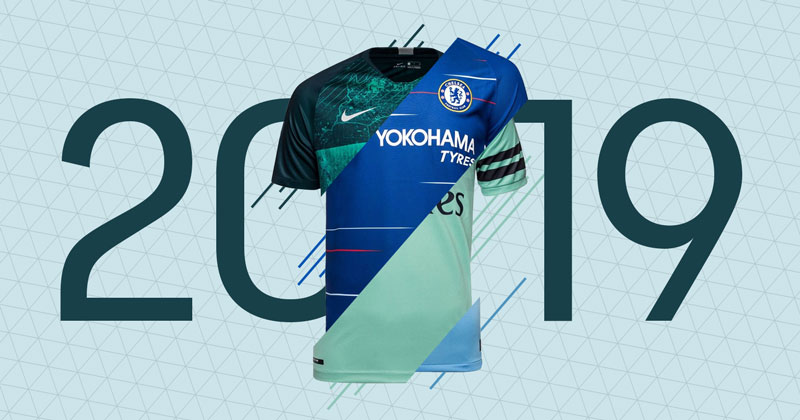 Check out our complete ranking of the best 2019/20 Premier League kits to find out which club came out on top this season! 
---
Premier League 2019/20 Kit Guide
---
What a year it's been in the Premier League.
I mean, for starters we have an actual title race. Up until a week ago we had a tight battle for 4th, and there was even a final regulation place to be settled with just weeks to go. Whichever way you look at it, we've been absolutely spoilt by events on the pitch.
But I have a confession to make. As much as I've enjoyed the rollercoaster that is the 2018/19 season, my eyes haven't been solely fixed to the results. Every year, when March gives way to April, I find myself getting more and excited for the upcoming releases of kits for next season.
So as the fixtures list curtain draws to a close, in truth we're only just getting started.
The 2019/20 Kit Guide is your go-to destination for news about shirts before they hit the shelves, and expert opinion on the kits once they are officially released. The world of leaks can be a messy one to navigate, but it's my aim to try and pull the best and reliable info out there into one handy place. I'm also keen to get the thoughts and opinions of football shirt influencers, so look out for those as information becomes more and more concrete.
If you want to see more clubs added to this list, let me know which ones you'd most like to see by shouting at me on Twitter.
Thank you for joining the FOOTY.COM club!
---
Arsenal 19/20 Kits
Who will make Arsenal's kits for 2019/20?
In one of the biggest profile kit manufacturer 'transfers' this year, Arsenal will be moving back to adidas after 5 years with Puma.
Arsenal and adidas have worked together before, producing an exciting set of kits between 1986-1994. Amongst their shirts in those years was the infamous 'Bruised Banana' kit, one of the most recognisable designs of the 90s and one of the most iconic designs Arsenal have ever had.
What do we know about the new Arsenal shirts?
For the Arsenal home shirt, it is almost certain we will see adidas keep things as expected with a red base and white sleeves. This is typical during the first season after a brand comes onboard with a team, unlike 2 or 3 years into a relationship when a brand who might have more creative freedom.
On the away side however, rumours have been building that adidas will be bringing back the aforementioned 'Bruised Banana' design. adidas were very successful last year in referencing classic designs for their teams at the World Cup and it's highly likely we'll see them take a similar approach for their club teams in 2019/20.
The 2019 Arsenal third shirt is expected to be blue, with a design that is shared across other major adidas teams like Real Madrid and Juventus.
For more on the latest leaks and info, check out our dedicated 2019 20 Arsenal kits page.
When will the Arsenal kits be released?
The adidas x Arsenal partnership comes into effect on July 1st 2019, so any official announcements will be on or after that date. We're anticipating the home kit to be released early July, with the away kit following later in the month and the third kit some time in August.
---
Chelsea 19/20 Kits
Who will make Chelsea's kits for 2019/20?
Nike will return to make Chelsea's kits for the 2019 season. This will be the 3rd season in a row that the brand have produced kits for The Blues. After a relatively underwhelming first year together, all of Chelsea's kits improved in year 2. It'll be exciting to see if that development will continue moving into year 3.
What do we know about the new Chelsea shirts?
The new Chelsea home shirt was worn towards the end of the 2018/19 season, and boats an all-over graphic inspired by Stamford Bridge. It's a bold, abstract pattern that certainly separates itself from other recent Chelsea designs, and it's a look more akin to the 90s.
The only details as of yet for the away shirt point to a return to a white base, potentially similar to Nike's away shirt with Chelsea in 2017/18. For the third kit however we can expect something considerably different. Nike are set to introduce a number of classic 90s features for their 3rd kits next season, including the use of the old-school logo (with wordmark), a retro-style collar and enhanced cuff details.
For more on the latest leaks and info, check out our dedicated 2019 20 Chelsea kits page.
When will the Chelsea kits be released?
The Chelsea 2019 home shirt is expected to be released before the end of the season in May. By contrast the third shirt is anticipated to hit shelves as late as September, with the away shirt most likely launching in the summer before the 2019 20 season kicks off.
---
Liverpool 19/20 Kits
Who will make Liverpool's kits for 2019/20?
Liverpool are one of a select group of teams working with New Balance, and whilst it seems vultures from the likes of Nike are swirling, it's business as usual for now. From a performance perspective, New Balance couldn't really ask more from The Reds who have followed their European run last season with a strong showing home and abroad this time round.
What do we know about the new Liverpool shirts?
Liverpool's new home kit boasts a design reminiscent of the classic look seen between 1982-1984. That shirt featured thin pinstripes across the chest, with a red panel framing the shoulders at the top of the design and both those key features have been carried through to 2019.
For The Red's away shirt we predict a yellow and red design much like the away kit from the early 80s, matching the design of the home shirt. It's a move which makes even more sense given that the last yellow Liverpool away shirt was made by Warrior back in 2014. This is purely speculation at this stage however.
For a review of Liverpool's new home shirt, and the latest leaks and info for their away and third shirt, check out our dedicated 2019 20 Liverpool kits page.
When will the Liverpool kits be released?
The Liverpool home shirt is out now, and will likely be worn for at least 1 remaining fixture in the Premier League. If we take last year's release information as a guide, we can expect the new away shirt to drop sometime around June, with the third following in July, but again this is only based on last year's releases.
---
Man City 19/20 Kits
Who will make Man City's kits for 2019/20?
In another huge kit manufacturer transfer, Manchester City have announced a switch from Nike to Puma. This comes at the same time as Puma moving on from Arsenal, making the City contract arguably the most important name the German brand will partner with next season. This will be the first time Puma have worked with Man City.
What do we know about the new Man City shirts?
Despite an elaborate announcement video and some fake leaks, information is scarce for what City's shirts will look like in 2019 20. All that is known at the moment is that those inside the club have seen some of the designs, though opinions vary as to whether those designs were good or not.
For Man City's new third kit, there is a suggestion that the colourway will be on the bolder end of the scale with a combination of yellow and pink. This would be somewhat surprising given that crazy away and third kits were something of a hallmark of Nike's later years with City, whereas you would expect Puma to try and differentiate themselves from that period.
For more on the latest leaks and info, check out our dedicated 2019 20 City kits page.
When will the Man City kits be released?
The new Manchester City home shirt is expected to be released on July 1st. As this is the first year Puma are with the team, it is hard to gauge when the away and third kits will then release. However like most teams, we'll expect to see the Away shirt during pre-season (June-July), with the third shirt following as the season begins (August-September).
---
Manchester United 19/20 Kits
Who will make Manchester United's kits for 2019/20?
adidas will continue to produce kits for Manchester United for the 2019/20 season, marking a 5th consecutive season of Red Devils shirts made by the brand. It's been a difficult few seasons off the pitch, but with relatively stability now in the form of Ole Gunnar Solskjær as manager and a deeper-than-expected Champions League run United are set to remain one of the most high profile teams in the adidas roster.
What do we know about the new Manchester United shirts?
The new Man United home shirt has been released, bringing with it a number of references to the legendary 1999 treble winning side. There are a number of well crafted details and a crest evoking the '99 side directly.
For the away shirt, it is rumoured that United will receive a beige coloured kit. This would be an unusual choice given how rarely beige is used for football kits, with the only vaguely similar shirt of Man United's history being the gold third kits from Umbro in 2001. Understandably, the third kit is expected to be a more typical colourway with a black base and grey/red accents, in contrast to the more unique colour of the away shirt.
For more on the latest leaks and info, check out our dedicated 2019 20 United kits page.
When will the Manchester United kits be released?
Last season Man United bucked the trend by releasing their third shirt in May, the first of all their kits to hit the shelves. The home shirt followed in July before the pink away shirt which came out deep into August.
There are no concrete release dates for the new United kits despite the extent of the recent leaks, but until any other information is found we are expecting the 2019 2020 kits to be released in a more typical fashion compared to last year.
---
Spurs 19/20 Kits
Who will make Spurs' kits for 2019 20?
For the 3rd year in a row Nike will make Tottenham's kits. The two recently announced a deal that will last a huge 15 years, highlighting just how about Spurs are to Nike's future plans. Whats more, there were rumours that Tottenham's new stadium would be named "Nike stadium". These reports have since been denied, but the believability of this suggestions shows just how deep the connection is between brand and club.
What do we know about the new Spurs shirts?
Information is scarce on Tottenham Hotspurs 2019 home shirt, with the only info being that the shirt will likely feature more black accents as opposed to the almost entirely navy secondary colour of the 2018 home shirt. This of course is not particularly radical information, unless the home shirt features a distinct pattern.
It's a similar story with the away shirt, with the only information so far being that the shirt will be dark blue with purple and white details. This would follow a similar format to this year's away kit. The third shirt should be a lot more interesting, with a brighter shade of blue similar to many Spurs kits over the years.
For more on the latest leaks and info, check out our dedicated 2019 20 Spurs kits page.
When will the Spurs kits be released?
There's no information yet on the planned release dates for Tottenham's kits, but it is quite possible we'll see the new home kit on the last game of the season against Everton, given the potential marketing boost only enhanced by the new stadium.
If this was the case, we'd then anticipate the away to be released in June/July, with the third shortly after in line with other Nike third kit releases in August/September.