10 best FIFA 20 Career Mode teams to start with
FIFA Career Mode is back once again, so we're running through some of the best teams you should start with.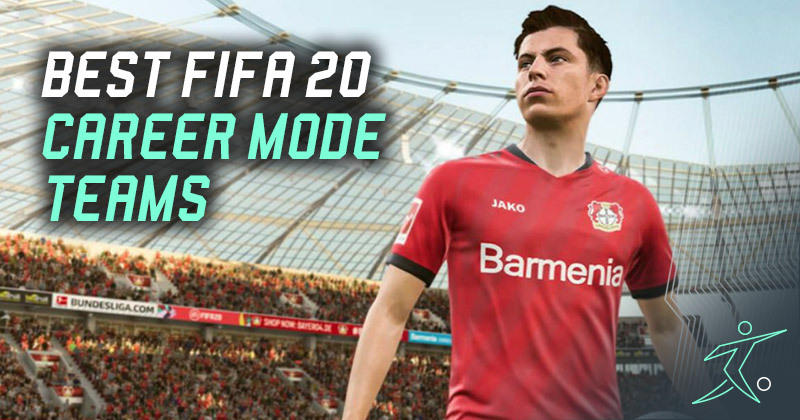 It's time to pull a few sickies, kiss goodbye to our girlfriends and re-enter the dugout. FIFA Career Mode is back. Although it's certainly not without its problems.
This year, EA are introducing some long-awaited improvements, finally allowing us to influence player potential, interact with our squad and completely customise our managers. Personally, I'm going to have Mike Bassett stood on the touchline, but you can make your manager look like whoever you want.
This was supposed to make for the most immersive experience to date, but the launch of the new game has been plagued by all kinds of problems. Unrealistic league tables, frustrating glitches and regularly coming up against the AI's reserves have made this mode pretty much unplayable right now.
Once (if) EA finally get their act together and make a few fixes, you'll still want to kick-off your adventure at one of the best Career Mode teams in FIFA 20. Fortunately, I've already come up with 10 fantastic starting points:
---
This blog is part of our FIFA 20 series. Check out the rest of the series below:
Best FUT Kits | Best FUT Badges | Top Stadiums | Best Career Mode Teams | Best Wonderkids | Best Cheap Prem Players | Volta Kits | Best Cheap La Liga Players | Pro Clubs Boots
---
1.
Leeds United
Division: Championship
Transfer Budget: £15,120,000
Ah, Leeds. Last season looked like it was finally going to be their year, until we all remembered that they've apparently been confined to the Championship forever. There's no doubt that Marcelo Bielsa did a cracking job last year, but can you do any better in the Elland Road hotseat?
All jokes (and hilarious spying memes) to the side for a moment, there's no question that Leeds United belong in the Premier League. They've got one of the best fanbases in the country, a squad packed with talent and one of the richest histories in English football. Not to mention, they also make an exceptional Amazon documentary.
Take them back to where they belong.
2.
AC Milan
Division: Serie A
Transfer Budget: £35,862,196
When it comes to sleeping giants, nobody snores quite so loudly as AC Milan. Back in the 90s and early 00s, I remember the Rossoneri as an irresistible force; the likes of van Basten, Shevchenko and Maldini charging them towards regular European glory. But those days are gone.
In the past 7 seasons, Milan haven't finished higher than 5th, failing to make a Champions League appearance since the 2013-14 season. For a club of such stature, this simply will not do.
Lucas Paquetá is undoubtedly the shining light at the San Siro right now, and you should look to build your squad around him, Gianluigi Donnarumma and Krzysztof Piątek. There are plenty of good players at Milan, but a sizeable transfer budget suggests means you'll have more than enough to make a few drastic improvements.
3.
Bolton Wanderers
Division: League One
Transfer Budget: £1,350,000
Now this is a challenge. In fact, it's probably the hardest Career Mode challenge possible.
Bolton Wanderers have been in all kinds of financial trouble this season, being saved from liquidation at the last minute and then throwing together a hap-hazard squad of players. The task of getting them back into the Premier League is certainly a daunting one, let alone making them financially stable and keeping them afloat.
But Bolton are the best Career Mode team for any die-hard players out there. If you're planning to invest hours and hours into FIFA 20, then bringing the Jay-Jay Okocha glory days back to the Reebok should be right up your street. A head's up, though: I'm pretty sure Ivan Campo has retired, so you'll have to sign somebody else.
4.
Bayer Leverkusen
Division: Bundesliga
Transfer Budget: £42,730,748
If you want to start your career outside of the Premier League, then I recommend going for the Bundesliga this season. EA have introduced 13 new stadiums, an official broadcast package and an abundance of new player faces for the German top division. It's awesome.
Bayer Leverkusen are my personal Bundesliga pick, although taking the helm at Union Berlin would also be interesting (see below). Die Werkself have got an exciting crp of youngsters coming through their ranks, and the prospect of turning Leon Bailey and Kai Havertz into world-beaters is simply too tempting to ignore.
It's hard to imagine anyone challenging the might of Bayern Munich and Borussia Dortmund. But, with the right manager, Leverkusen could find themselves within touching distance very soon indeed.
5.
Manchester United
Division: Premier League
Transfer Budget: £167,488,480
Manchester United are another side desperate to get back to their best. Since the retirement of Sir Alex Ferguson, the likes of David Moyes, Louis van Gaal and Jose Mourinho have all ultimately fallen short of the sky-high expectations at Old Trafford. It's up to you to lift the gloom.
The current project under Ole Gunnar Solskjær is an intriguing one: rebuilding Manchester United on youth. Instead of spending that mouth-watering transfer budget on established superstars, I recommend taking your time, investing in young players and bringing through a fresh new generation at Old Trafford.
The first step is to get them back into the Champions League. After that, well, it's just the small matter of dethroning both Liverpool and Manchester City.
6. Salford City
Division: League Two
Transfer Budget: £1,695,621
Salford City have absolutely flown through the ranks of non-league football, suddenly finding themselves up in League Two. Of course, promotion to the EFL also means promotion to EA Sports.
Thanks to plenty of investment, Salford can afford to throw their weight around in the transfer market in FIFA 20. Since playing with a load of rubbish lower league players can quickly become infuriating, at least you'll have the funds available to bring in some fresh talent and make another promotion charge.
League One will be the first objective, but then you should set your sights on overtaking City and United as Manchester's top dogs. Oh, and their badge is freaking awesome, which is always a bonus.
7.
AS Monaco
Division: Ligue 1
Transfer Budget: £36,072,000
Let's face it, Monaco had a bit of a nightmare last season. After finishing as French champions in 2017, they spent most of last year flirting so hard with relegation that they almost seduced it. Disgusting behaviour.
Naturally, it's now up to you to turn their fortunes around and get them back on track. The likes of Radamel Falcao, Gelson Martins and Cesc Fabregas ensure there's plenty of talent in the squad, but you've still got plenty of work if you ever want to topple the might of Paris Saint-Germain.
There's plenty of great young talent coming through the ranks, too, and you should aim to give both Fodé Ballo-Touré, Moussa Sylla and Sofiane Diop as much game time as possible. The rebuild begins.
8.
Real Madrid
Division: La Liga
Transfer Budget: £169,610,384
Real Madrid are in tatters at the moment. Since the departure of Cristiano Ronaldo, the Spanish giants have completely failed to recover their form and intensity. Those back-to-back Champions League titles seem a very long time ago.
For the first time in years, this is a Madrid side in desperate need of a rebuild. Okay, so they've still got plenty of world-beaters in their ranks, but they've also got an ageing squad which are slowly on the decline. Those insanely high ratings will gradually start to fall, and you need to make sure the squad is armed with suitable replacements.
It feels like a new era is dawning in the Spanish capital, and you can put yourself right at the helm of it. Plus, you know, that transfer budget is just insane.
9.
Aston Villa
Division: Premier League
Transfer Budget: £35,661,552
Aston Villa are back where they belong. Now you just need to keep them there.
After a very productive summer in the transfer market, you'll take over a squad more than capable of staying up. Jack Grealish, John McGinn and Matt Targett all have the potential to develop into decent players, while André Green looks like a youth prospect worthy of some valuable game-time. Keep an eye on him.
This is a giant of a club which sorely misses the taste of European football. Although there's a long way to go before replicating that magical night in Rotterdam, you'll want to keep them in the Premier League in your first season, then start challenging Wolves and Everton for Europa places in your second.
10.
Union Berlin
Division: Bundesliga
Transfer Budget: £8,344,336
This could be a lot of fun.
Recently promoted to the Bundesliga for the first time in their history, Union Berlin have a tiny transfer budget and absolutely no players worth writing home about. The task of keeping them in the Bundesliga could seem downright impossible (depending on your difficulty settings), but at least you've got plenty of experience in the form of Christian Gentner and Neven Subotić.
The players might be a bit rubbish, but trying to nick a point at the Allianz Arena with these minnows sounds like an absolute blast. Although you might fancy keeping them safe and then moving on, there's absolutely no reason why you shouldn't stick around and try to get them into Europe.
Besides, Union Berlin are the ultimate underdogs in FIFA 20, so you're bound to grow attached to them at some point.
---
Thank you for joining the FOOTY.COM club!
If you haven't already ordered your copy of FIFA 20, then make sure to compare prices at FOOTY.COM before you do! It's our mission to help you bag the best deals, so check out our price listings before making a purchase.