The Best Football Boots For Wide Feet 2020
Finding a comfortable wide-fitting pair of football boots has never been an easy task. Until now.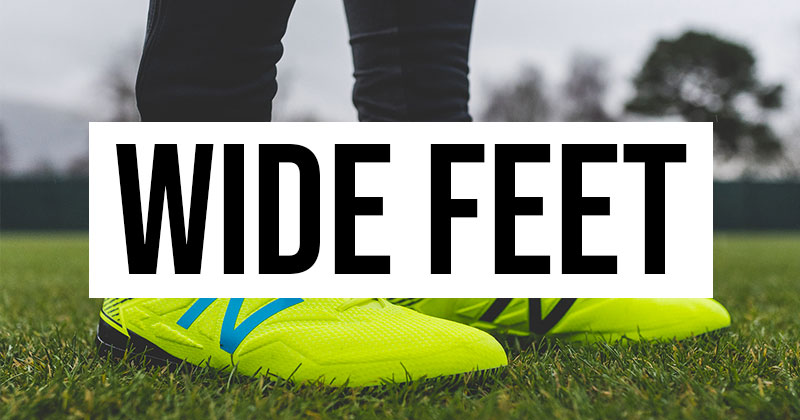 This post was originally created on 24th December 2018, and has since been updated to include all the latest boots for 2020.
---
Whether you're buying for yourself, a friend or one of your children, finding the perfect pair of football boots can become a real nightmare.
As soon as we start shopping, we're confronted with all manner of different surface types, upper materials and elaborate boot packs; while the promise of "fresh, innovative boot tech" can become downright confusing at times, especially if you aren't clued up on modern boot phraseology. Inner Quadfit Mesh material, anyone?
Modern boots are engineered to enhance certain play styles and player attributes, which means most of us have to put some real time into finding the perfect pair. For players with wide feet, things become even more difficult.
Fortunately, I've put together a quick guide on the best football boots for players with wide feet, so you can make sure you're always comfortable out on the pitch this season. Right then, in no particular order...
---
1. Mizuno Rebula 3 'Made In Japan'
Price: From £130 
Mizuno boots have always been a popular choice for players with wide feet. Their 'Made in Japan' collection is famously comfortable and spacious, ensuring you never have to stretch and strain to squeeze your foot inside of them. More importantly, they're always nice and easy to take off after an exhausting 90 minutes of football.
The Mizuno Rebula 3 is the pick of the bunch, however, with plenty of space found throughout the midfoot and an absolutely cracking design to boot (no pun intended). By combining stretchy mesh and soft leather, lots of room can be found throughout the entire boot - so you'll be able to wiggle any particularly wide toes to your heart's content.  
Although many wide-footed players might be tempted to go for the next size up, you should certainly bear in mind that the Rebula uses stretchy premium leather. So, even though this involves some wearing-in time, I'd recommend sticking with the smaller size and allowing the leather to stretch around your feet. 
After all, these are expensive boots, and you don't want to end up quickly replacing them because they're now too big for you.
2. PUMA FUTURE 19.1
Price: From £49.96
The best wide-fitting football boots will include one very important feature: laces. Obviously, traditional laces mean you're able to make the boots as tight or loose as you like, allowing you to make room for your wider feet. Well, while many boots still use laced uppers, the Puma Future takes this customisable fit to the next level.
Featuring Puma's ground-breaking NETFIT technology, the Future offers a countless number of lacing possibilities and allows you to tie them in whatever way feels comfortable. Of course, this is an absolute godsend for players with wide feet, offering a perfect fit alongside a range of stunning colourways.
3. NEW BALANCE FURON 3.0
Price: From £24.00
I have no idea why other brands don't do this, but the New Balance Furon is one of the only football boots to offer a wide-fitting option.
Whether you go for the wider size or decide to stick with the standard design, both versions of the 3.0 offer a flexible lacing system and plenty of room to actually wriggle your feet into them. A lot of wide-footed players are often frustrated by boots that involve a tight sock collar or rigid upper, but you'll be relieved to learn that the Furon is very accommodating indeed.
Offering a clean strike and some truly outrageous designs, the Furon 3.0 really is one of the best wide-fitting boots on the market right now.
Thank you for joining the FOOTY.COM club!
4. Puma King
Price: From £52.64
Oh, yes. All hail the King. 
Despite being much older than the other boots on this list, the Puma King is still one of the most comfortable football boots on the market. This certainly rings true for players with wide feet, since stretchy leather and wide soleplate are both used to offer as much space as possible. 
In fact, you could probably argue that it's the old-fashioned nature of the King which makes it such a great option here. Many modern boots feel more streamlined, with the big brands looking increasingly desperate to create the lightest football boots possible. Somewhat inevitably, these boots now seem much tighter. 
The King comes without the bells and whistles of the latest releases, serving up a zero-fuss football boot which is just a joy to play in. There are no special tricks here. No innovative new features. This is just a classic football boot which has always been famous for its comfort, durability and width.
5. NIKE MAGISTA OBRA II
Price: From £55.99
It might have been recently replaced by the PhantomVSN, but the Magista Obra II will always be a firm favourite for wide-footed players.
For a start, this boot is incredibly flexible, particularly around the lacing area. The use of Nike's Flyknit material means it's able to stretch and conform to the shape of the foot, while previous editions of the Magista have always been famous for their comfort and spaciousness.
Built to enhance first touch and agility, the Obra II is packed with cushioning and plush materials, while it also offers one of the sweetest, cleanest strikes of the football you are going to find. Without question, one of the best Nike boots for wide feet.
6. New Balance Tekela v2
Price: From £90
As I've already mentioned, New Balance is one of the only brands to make wide-fitting versions of their football boots. So, it's really no surprise that their brand-new silo has now found its way onto this list, as the wildly under-rated Tekela is another fantastic option for wide-footed players. 
The Tekela V2 launched back in July 2019, with subtle tweaks brought in to improve the overall comfort and performance of the original. In fact, the standard version of this boot is incredibly comfortable and spacious indeed, meaning that you may not even need to go for the wider version - depending on your individual measurements. 
It's also worth mentioning that the Tekela 1 remains a great option for any players with wide feet, especially since the release of a new generation should see a decent drop in the price tag. To be completely honest, complaints about the Tekela have mainly revolved around one thing: many players find them a little too wide.
7. Nike Tiempo Legend 8
Price: From £68.48
Typically made from stretchy k-leather and boasting some truly classic colourways, many wide-footed players have been opting for the Nike Tiempo for years. The Legend 7 undoubtedly changed the game forever, introducing the Swoosh's Flyknit technology to the silo for the very first time. 
The next-generation Tiempo has improved things even further, with the Legend 8 once again combining the traditional k-leather with a knitted heel counter. In short, this Quadfit Mesh provides plenty of flexibility when squeezing your feet in or out, while a Flyknit tunnel offers a customisable fit through the midfoot. 
Around the toebox, the Tiempo's classic k-leather materials take centre-stage yet again, with the ribbed texture designed to enhance control of the football. Since this upper comes completely unstitched, comfort and flexibility remain completely unhindered. 
---
Do I Need Wide Football Boots?
Figuring out whether you need wide football boots is relatively simple. You just need to measure the length and width of your foot, and then cross-reference this with a reliable width measurement chart. 
To be more specific, the width of your foot should be taken from its widest point (whether this is your toes or midfoot), while it's always a good idea to do this while wearing your thick football socks. From there, you'll probably need to check the shoe size chart of the specific brand you're thinking of buying from, as sizes tend to fluctuate.  
If you're still uncertain, the most effective way of testing for wide feet is seeing how the boots actually fit. You'd be amazed at how many players feel uncomfortable on the pitch, simply because they've failed to recognise they have wide feet. Basically, your boots should feel secure without being tight and you should have enough room to wiggle your toes. 
Trust me, the blisters will soon let you know whether you need some wide-fitting boots. Either way, FOOTY.COM lets you compare prices on all the latest football boots, so you can always make sure to find the best deals with us.