Discount Premier League football shirts - All the best deals at the moment
What better way to celebrate the roller coaster of the 2018/19 Premier League season than with a discounted shirt?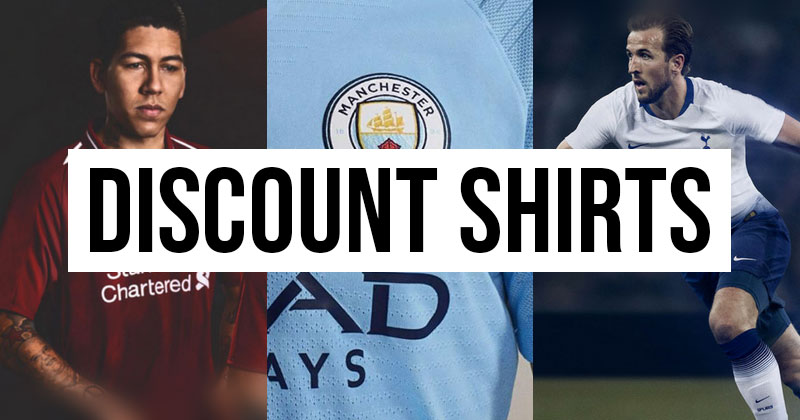 We miss you already Premier League.
I don't know about you, but I'm still coming to terms with what we have just witnessed. We've seen some dramatic title races over the years, but few have been as dramatic as the one that's been played out over the past several months.
As the season winds down, it's important to be on your guard when it comes to deals. Football shirts are the cheapest they've ever been at this stage of the year, and they're only going to get cheaper until they sell out.
So don't hang around if you want to pick up your team's design. We've given you a leg up with the best deals we can find at the moment for the top teams in the league. Take a look and enjoy the upcoming cup finals and the summer!
Thank you for joining the FOOTY.COM club!
---
Man City 2018/19 Home Shirt, Man City 2018/19 Away Shirt, Man City 2018/19 Third Shirt
Liverpool 2018/19 Home Shirt, Liverpool 2018/19 Away Shirt, Liverpool 2018/19 Third Shirt
Spurs 2018/19 Home Shirt, Spurs 2018/19 Away Shirt, Spurs 2018/19 Third Shirt
Arsenal 2018/19 Home Shirt, Arsenal 2018/19 Away Shirt, Arsenal 2018/19 Third Shirt
Chelsea 2018/19 Home Shirt, Chelsea 2018/19 Away Shirt, Chelsea 2018/19 Third Shirt
---
Man City 2018/19 Home Shirt
Best Deals
Men's Home Shirt: £40 + £5 UK delivery (Lifestyle Sports)
Women's Home Shirt: £40.50 + free UK delivery (Kitbag - inc. 10% off with code FOOTY10%)
Kids' Home Shirt: £27 + free UK Delivery (Kitbag - inc. 10% off with code FOOTY10%)
Man City 2018/19 Away Shirt
Best Deals
Men's Away Shirt: £29.25 + free UK delivery (Kitbag - inc. 10% off with code FOOTY10%)
Women's Away Shirt: £25.50 + free UK delivery (Kitbag - inc. 10% off with code FOOTY10%)
Kids' Away Shirt: £18.90 + free UK delivery (Kitbag - inc. 10% off with code FOOTY10%)
Man City 2018/19 Third Shirt
Best Deals
Men's Third Shirt : £28.80 + free UK delivery (Kitbag - inc. 10% off with code FOOTY10%)
Women's Third Shirt (M only): £34.20 + free UK delivery (Kitbag inc. 10% off with code FOOTY10%)
Women's Third Shirt (other sizes): £51.47 + free UK delivery (Nike)
Kids' Third Shirt: £18 + free UK delivery (Kitbag inc. 10% off with code FOOTY10%)
---
Liverpool 2018/19 Home Shirt
Best Deals
Men's Home Shirt: OUT OF STOCK
Women's Home Shirt: OUT OF STOCK
Kids' Home Shirt (size 7/8 only): £54.99 + £3.75 UK Delivery (Subside Sports)
Kids' Home Shirt (other sizes): £64.99 + £5.25 UK Delivery (UK Soccer Shop)
Liverpool 2018/19 Away Shirt
Best Deals
Men's Away Shirt: OUT OF STOCK
Women's Away Shirt: OUT OF STOCK
Kids' Away Shirt (size 7/8 only): £44.99 + free UK Delivery (Kitbag)
Kids' Away Shirt (other sizes): £62.99 + £5.25 UK Delivery (UK Soccer Shop)
Liverpool 2018/19 Third Shirt
Best Deals
Men's Third Shirt (size XL & XXL only): £40 + £5 UK Delivery (Lifestyle Sports)
Women's Third Shirt: OUT OF STOCK
Kids' Third Shirt (size 7/8 only): £35 + £4 UK Delivery (DW Sports)
---
Spurs 2018/19 Home Shirt
Best Deals
Men's Home Shirt (size S & L only): £40 + £5 UK Delivery (Lifestyle Sports)
Women's Home Shirt: £53.95 + free UK Delivery (Kitbag inc. 10% off with code FOOTY10%)
Kids' Home Shirt: £30 + £5 UK Delivery (Lifestyle Sports)
Spurs 2018/19 Away Shirt
Best Deals
Men's Away Shirt: £40 + £5 UK Delivery (Lifestyle Sports)
Women's Home Shirt: £34.19 + free UK Delivery (Kitbag inc. 10% off with code FOOTY10%)
Kids' Away Shirt (size 7/8 only): £35 + £5 UK Delivery (Lifestyle Sports)
Spurs 2018/19 Third Shirt
Best Deals
Men's Third Shirt (XXXL only): £64.95 + free UK Delivery (Nike)
Women's Third Shirt: £64.95 + free UK Delivery (Nike)
Kids' Third Shirt (size 7/8 only): £30 + £5 UK Delivery (Lifestyle Sports)
---
Arsenal 2018/19 Home Shirt
Best Deals
Men's Home Shirt: £24.75 + free UK Delivery (Kitbag inc. 10% off with code FOOTY10%)
Women's Home Shirt: £39.59 + free UK Delivery (Kitbag inc. 10% off with code FOOTY10%)
Kids' Home Shirt: £30 + £3.99 UK Delivery (JD Sports)
Arsenal 2018/19 Away Shirt
Best Deals
Men's Away Shirt: £45 + £4.99 UK Delivery (Lovell Soccer)
Women's Home Shirt: £34.59 + free UK Delivery (Kitbag inc. 10% off with code FOOTY10%)
Kids' Away Shirt (size 7/8 only): £35 + £5 UK Delivery (Lifestyle Sports)
Arsenal 2018/19 Third Shirt
Best Deals
Men's Third Shirt: £40 + £4 UK Delivery (DW Sports)
Women's Third Shirt: £39.50 + free UK Delivery (Kitbag inc. 10% off with code FOOTY10%)
Kids' Third Shirt: £30 + £5 UK Delivery (Lifestyle Sports)
---
Chelsea 2018/19 Home Shirt
Best Deals
Men's Home Shirt: £40 + £5 UK Delivery (Lifestyle Sports)
Women's Home Shirt: £29.01+ £6.04 UK Delivery (Unisport)
Kids' Home Shirt: £18 + free UK Delivery (Kitbag inc. 10% off with code FOOTY10%)
Chelsea 2018/19 Away Shirt
Best Deals
Men's Away Shirt: £35 + £4 UK Delivery (DW Sports)
Women's Home Shirt: £29.70 + free UK Delivery (Kitbag inc. 10% off with code FOOTY10%)
Kids' Away Shirt (size 7/8 only): £22.50 + free UK Delivery (Kitbag inc. 10% off with code FOOTY10%)
Chelsea 2018/19 Third Shirt
Best Deals
Men's Third Shirt (S only): £35 + £4 UK Delivery (DW Sports)
Women's Third Shirt: £29.01 + £6.04 UK Delivery (Unisport)
Kids' Third Shirt: £22.49 + free UK Delivery (Kitbag inc. 10% off with code FOOTY10%)