Favourite. First. Worst. Part 5 - Eli Mengem of COPA90
Copa90 and Derby Days legend Eli Mengem shares some of his best and worst shirt memories.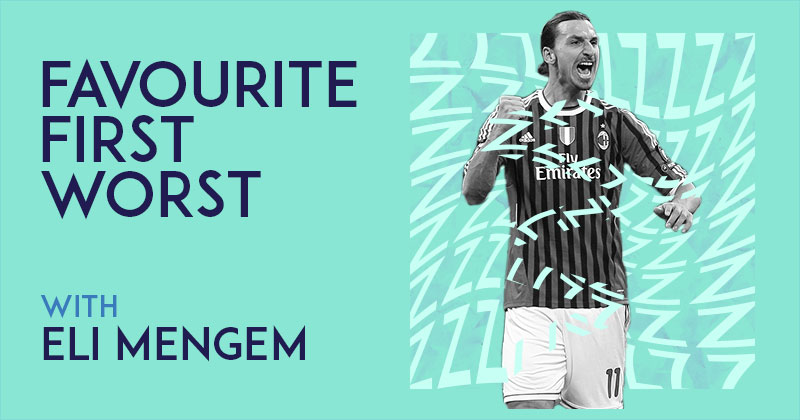 ---
This blog is part of our Favourite. First. Worst. series. Check out the rest of series below.
Away Days | Paul Machin | NiiNii | Esteemed Kompany | Eli Mengem
---
Favourite
My favourite club shirt is most probably the 2011 AC Milan home kit.
The fantastic combination of black and red stripes. Not too thick, not too thin and offset by a bright thick white collar and cuffs that really makes the red pop, worn by an iconic squad including Zlatan, Pirlo, Seedorf and Thiago Silva. Since then Adidas has experimented with more stripes, less stripes and no stripes, but nothing has come close.
First
My first ever football shirt was a Brazil National team kit, from the early 2000's.
My dad had travelled to Brazil for a work trip and came back with one home and one away kit and my brother and I argued over who got the home version, somehow I won the argument and got to rock the famous yellow number, but over time I started to realise it was the away one that I preferred.
Worst
I think the worst kit I have ever seen has to be the 2014 Liverpool third kit.
A bizarrely horrible mash up of purple, black and white. It's inconsistent and awful on the eyes and the colours sit awkwardly all over the shirt, from the poorly placed patches on the shoulders to the downright awful train track look on the torso, it's no wonder Warrior didn't last much longer as the club's kit manufacturer.
---
Big thanks to Eli for sharing some of his memories with us. Show some love and follow him on Twitter.
Thank you for joining the FOOTY.COM club!