5 quality running trainers with good arch support
You can never underestimate the importance of support when it comes to running trainers.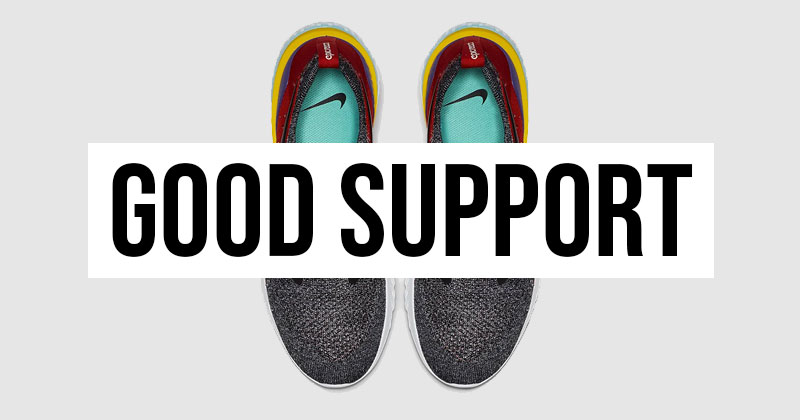 As a pastime running places a lot of strain on the joints, leading to progress halting injuries especially if poor technique is practiced. It's important to invest in a high-quality pair of running trainers with the right support, as a lack of support can be like playing a game of Russian roulette. The risk of a serious injury is real, and the wrong trainers can contribute to runners becoming fatigued faster as the body works overtime to account for the poor footwork.
When it comes to selecting the most appropriate shoe, it is wise to take the runner's running style into consideration and the many different avenues that come along with it. For example, the trainer for neutral runners will differ considerably from the trainer for a runner who pronates their foot, which is when runners land on the heel and roll the foot inwards in order to push off the big toe during the next stride. With this said, support, stability and strength are characteristics in a shoe that should never be taken for granted.
Read on as we go over some of the most supportive running trainers on the market…
Thank you for joining the FOOTY.COM club!
---
Nike Epic React Flyknit 2
With a range of sleek colourways available, this Nike trainer oozes style without sacrificing on its features. In fact, it is crafted with lightweight precision and a breathable upper which means that runners will be able to run faster and longer.
These elements are coupled with a reactive foam that delivers unbeatable energy return (up to 13%) in order to make runners feel like they are gliding rather than dragging their feet. Perhaps the most effective feature of this foam in the midsole is the support it is able to provide, allowing an adaptable and comfortable running experience that will complement a runner's style almost instantly.
adidas Ultraboost 19
Although it may be a simplified version of the Ultraboost range, this adidas trainer does not disappoint when it comes to support and stability.
Using a full-length cushioning system, the Ultraboost 19 uses TPU pellets in order to provide a firm and bouncy midsole without affecting the weight of the shoe as a whole. While the design is simple in nature, it should appeal to most runners. With this said, the upper of the trainer utilises thick overlays in the lacing in order to structure the foot with every stride, providing additional support and unbeatable protection from injury.
New Balance Fresh Foam 1080 v9
As the ninth version of the Fresh Foam 1080 range, New Balance have toned down this trainer in order to create something that manages to tick every box. It is available in both regular and wide-fit widths which means that there is an option on the market for every runners' foot shape. In addition to this, New Balance have utilised their Fresh Foam midsole in order to offer optimum support to the entire foot, including the heel and arch.
Adorned with the traditional New Balance logo, this trainer can be found with an almost fading element along the edges, making it perfect for even the most subtle runners. Plus, its jacquard mesh wraps around like a sock, adding to the security and support that this trainer can provide.
Puma Faas 500 v4
The Puma Faas 500 v4 offers a supportive fit without sacrificing on other necessary qualities like breathability and stability. Interestingly, the outer sole of the shoe is designed to support the foot from underneath by using EverTrack+ technology and the upper provides a lightweight supportive fit with straps that attach to the tongue of the trainer. Whilst the brighter colour scheme could be overwhelming for some runners, support is certainly not a feature that is missing in the design the Puma Faas.
Asics GT-2000 7
The GT-2000 7 manages to deliver in terms of support. In fact, the midsole uses impact guidance system technology (IGST) in order to deliver a natural but supported gait cycle for each runner. Furthermore, it offers a glove like fit which manages to support the foot without sacrificing on ventilation that could leave runners with an uncomfortable squeezing sensation. Perhaps the most inviting aspect of this Asics trainer is the fact that it is made specifically for runners that overpronate or those with flat feet, making the GT-2000 7 the perfect running trainer for daring runners looking for serious arch support.
---
Find the best prices for supportive running trainers at FOOTY.COM.