5 of the best Womens football boots available today
Women's football is enjoying a meteoric rise, and if you're keen on playing too these boots will do the trick.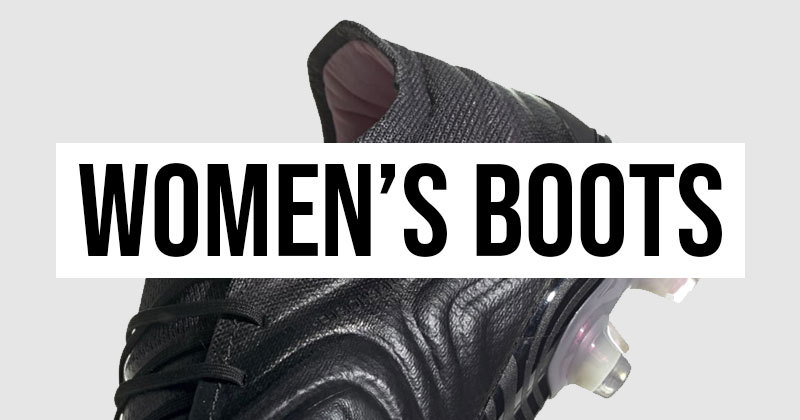 Women's football is seeing its best viewing figures ever and with the meteoric rise in people tuning in, more and more women are also getting stuck in and playing the game for themselves. Here we take a look at some of the best football boots available for women.
More and more women are taking to the pitches, the courts and the AstroTurf to play the beautiful game so it is important that they are getting their feet into the best football boots on the market. We compare the best boots for men, women and kids so everyone can play to the best with the most comfortable, durable and tech-laden boots at the best prices.
Gone are the days where big brands such as Nike and adidas simply pump out the odd pink colourway and call it a woman's boot, now, all the best silos are made in sizes to fit both men and women, with some brands going the extra mile and including additional tech specifically for female requirements.
One such boot maker is the German giant adidas, who often release boot packs specifically for women, even producing tech such as the special soleplate for the sole purpose of adapting to women's (generally) smaller foot shapes. adidas were also the first boot manufacturer to release a women's boot pack – The adidas ANJA - way back in 1975.
---
Is there any difference between men's and women's boots?
These days, it is the American brand Nike that produce the most women's boot packs per year, with around 4 releases annually. Adidas have fallen behind slightly with just two dedicated boot releases a year, but with a lot of boots being made unisex, there is still more choice than ever for women to get their hands on a huge selection of great boots.
---
1. adidas Copa 19.1
The subtle pink detail on the otherwise completely black colourway on their women's Copa 19.1 is a great touch and almost a subtle dig at the "women like pink" approach to football boot design in the past.
The Copa is designed with comfort in mind and excels at being one of the best cleats for deft touches through their slightly padded synthetic upper with stitched vamp that keeps the ball glued to your foot through every tight turn. Even when running at high speeds, the Copa can keep the ball under control and prevent it ricocheting out of play from heavy passes.
The flexible ground outsole has enough give to remain comfortable and enough spring to give that speed boost that everyone craves.
2. Nike Mercurial Superfly 6
The Mercurial silos have been a trusted boot for both the men's and women's game for a long time now; the Flyknit construction is designed to wrap around the foot to give that close, second-skin feel from the very first wear, providing unparalleled touch and control.
The soleplate construction utilises the podular plate system, separating the soleplate into two distinct yet moulded plates, joined by an internal chassis that flexes during each step, returning otherwise lost energy back into your stride. It is no coincidence the fastest players on the planet choose Mercurial.
3. adidas Nemeziz 18.1
As the Nemeziz are made to be a tight fit, fitting those with a narrower foot, they are a perfect option for women as they produce a much closer fit whilst retaining their length. They are also some of the most comfortable boots thanks to the 360 Agility Bandage system, which essentially makes the upper fit like an expensive bandage; close, malleable and with superior lateral and medial support – perfect for those who like to twist and turn like a fish out of water.
The Dual Lock collar, combined with the lightweight Torsion Frame outsole with Torsion Ribs ensures the ankle is kept stable enough to avoid any injuries that can occur from lightweight boot constructions.
4. Mizuno Morelia Neo II Torres
If leather is more your game then there is no better boot than the Mizuno Morelia's Kangaroo leather Neo II Torres boot. Not only do you retain all the strength of traditional cow leather but k-leather sheds some of the weight and rigidity that comes with it, creating a durable boot that feels as light as any synthetic constructions.
The k-leather also moulds to the shape of your foot, delivering a more personalised feel that can help players really get to grips with the ball at their feet.
The anatomical central lacing adds to the individuality of the boot creating a cleat that is perfect for any foot shape, big or small, narrow or wide.
5. Concave Aura+
Another great k-leather boot is the Aura+ from Concave. This relatively low-key boot manufacturer fly under the radar but produce some truly great boots that not only look great, but are kitted out with great boot tech that will excel any performance.
A slimline Powerstrike zone situated on the upper helps produce accurate passes and shots with a larger sweet spot for those final minute volleys from distance. An F3 (Football Form Fit) unique lacing system helps the boots balance protection, comfort and adaptability to different foot shapes.
Add the Hybrid Soleplate, redesigned to be wider with dual anti-torsion bars and an ultra-high-tech stud configuration, these boots are a great option on a number of different surfaces.
---
All the best prices on women's football boots can be found right here at FOOTY.COM. If you need a new pair of cleats, make sure you search FOOTY and see how much you can save.
Thank you for joining the FOOTY.COM club!