What are the best waterproof running trainers on the market?
Run through puddles with confidence by picking up one of these pairs of running trainers.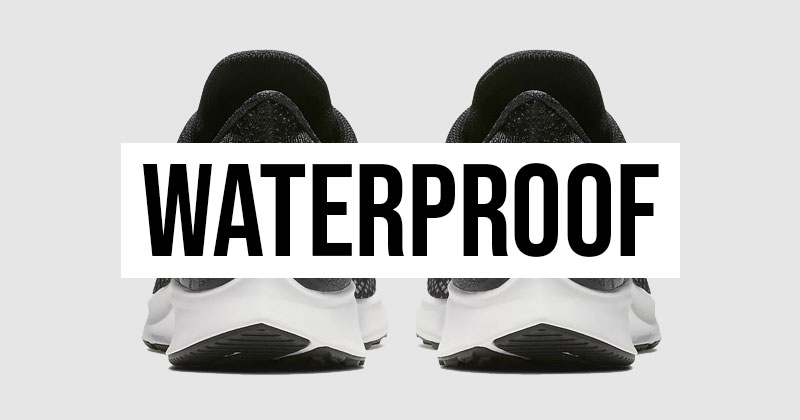 For the committed runners among us, rainfall is no excuse to slack on a planned run and spend time over indulging in front of the TV instead. After all, Mother Nature doesn't exactly schedule her weather changes and fitness goals aren't going to achieve themselves unless we put in the hard work necessary. Whilst the idea of running in less than desirable conditions is enough to send anybody retreating back to the comfort of their sofa, investing in a pair of high-quality waterproof running trainers will make soggy socks and procrastination a thing of the past once and for all.
Thanks to consumer demand, waterproof running trainers are better than ever. In fact, they are crafted with the weather in mind in order to offer unbeatable protection against the elements, providing a range of different shoes that are able repel mud and blast through puddles of questionable depth with ease. Plus, a waterproof running trainer is also able to keep the feet warm and dry throughout an entire workout without sacrificing on ventilation.
Read on as we go through 5 must-have waterproof running trainers available on the market today...
---
Asics Gel Quantum 360
With an all-black synthetic décor, the Asics Gel Quantum 360 is a trainer that understands that the needs of a runner differ from person to person. Designed in order to enhance performance and experience, this trainer placed a huge focus on comfort with the use of Solyte technology in the midsole, which offers a lightweight feel without losing any other properties. Despite the expert design of the Gel Quantum 360, the real winning feature is the FluidFit upper which uses a stretchable mesh for a customisable fit that keeps the feet cool and well-protected in wet weather.
adidas Kanadia 7 GTX
Despite its simple colour coordination, which combines a black synthetic with a white outlined rim, adidas have crafted a shoe that is simply begging for adventure. In fact, trail running and obstacle races are simply no match for the unbeatable protection of the adidas Kanadia 7 GTX. Known for its waterproof and mud proof qualities, there is no doubt that adidas have used the previous seven versions of the Kanadia range in order to deliver a trainer that combines durability and breathability into one. Thanks to the use of their patented Gore-Tex technology, the Kanadia 7 GTX is an adidas trainer with a waterproof shield that will certainly revolutionise wet weather running for the better.
Thank you for joining the FOOTY.COM club!
Nike Air Zoom Pegasus 35
As the 35th model of the Air Zoom trainer range from Nike, there is a reason why this brand is one of the most-recognised names in the industry. After all, the Air Zoom Pegasus 35 offers a lightweight mesh for breathability that hugs the foot in order to provide stability during a run, even with its use of flexibility in both the outsole and upper. Whilst this trainer was not specifically designed for cold climates or trail running, the use of a carbon rubber outsole certainly protects the feet from rainfall, particularly when the Pegasus 35 is used in the environment it was designed for. Plus, its ocean colour that surrounds the signature white Nike logo certainly won't go amiss when it comes to this fashion-conscious design.
New Balance Vazee Summit Trail
As a lady's trainer, the overwhelming use of pink can be off-putting at first glance, however, the Vazee Summit Trail v2 trainer from New Balance manages to tick every box when it comes to durability, comfort and design. In fact, this trainer was developed especially for use in wet conditions and is even suitable for trail running too. Thanks to the use of multiple synthetic overlays, the breathable mesh of the Vazee Summit Trail prevents wet feet and soggy socks once and for all, thus enhancing the comfort and protection of the overall shoe. For a trainer with the ability to hold its own against Mother Nature, the New Balance Vazee Summit Trail is definitely a must-have.
adidas Supernova ST
For runners that like to turn heads, the bright blue design of the adidas Supernova could be the answer. With this said, the star quality of this trainer is found in its design that gives runners the full flexibility of working out during both wet and dry conditions. After all, it uses a breathable mesh in order to enhance ventilation which means that the chafing and blisters usually associated with running in the rain will become a problem of the distant past in no time. Plus, it may be designed with asphalt in mind, but the Supernova ST is also privy to its fair share of trail use too, which means that it can easily adapt its properties for runners that like to change their routine every once in a while.
---
Find the best prices for waterproof running trainers at FOOTY.COM.