Favourite. First. Worst. Part 3 - NiiNii of Blue Lions TV
The face of Blue Lions TV is the next of our guests to take part in Favourite. First. Worst.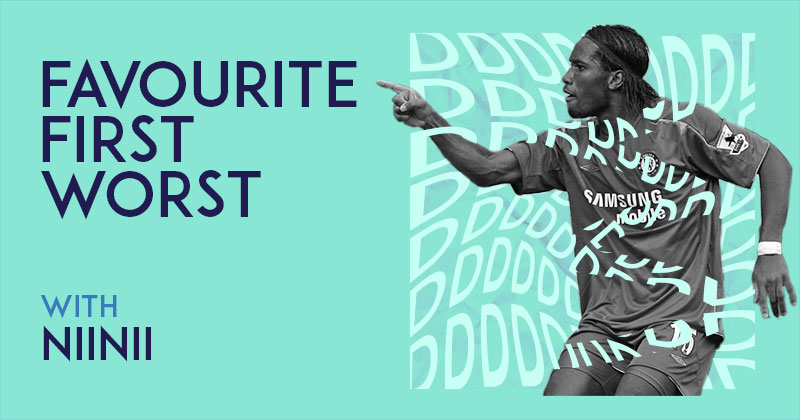 ---
This blog is part of our Favourite. First. Worst. series. Check out the rest of series below.
Away Days | Paul Machin | NiiNii | Esteemed Kompany | Eli Mengem
---
Favourite
I feel over the years, Chelsea's shirt designs have been mostly success, than disasters. Sometimes we do tend to border on unoriginality though. But if i had to whittle it down, from my personal, elite group, that includes the 06/07 home kit, the 03-05 home kit, 05-06 home kit and the 13-14 home kit. The winner has to, the 05-06 home kit. I just love gold and blue together, I liked where the gold accents were, it was a kit, fit, for a title holder. Elite.
First
My first was the 2001-03 kit, the Fly Emirates sponsored shirt, with the collar. I've always thought, collared shirts have this classic aesthetic about them and it used to be my favourite top as a kid. Back then I was at the age where I was getting more invested in football and went to games, on a more regularly basis. Good memories.
Worst
I really hated the 15-16 kit, was it a surprise that was our worst season since Roman took over? Don't blame the players if they're playing in that!
The 07-08 Away kit, was particularly dead as well. They tried to make it work and i'm sure the kit was especially practical for cyclists, but for me, it's the worst one i've seen from us yet!
If we're talking about the worst kits in general, wow, the 90s were dark times for kit designs. They should have come with safety warnings, you'd get burnt retinas staring at these kits for too long. Just a loud, colourful abstract mess of a time, for kit designs.
---
Shoutout to NiiNii for sharing his thoughts. Go and follow him over on Twitter @NiiNiiFC