Favourite. First. Worst. with Away Days
We quizzed Ellis Platten aka "Away Days" to find out what he loves and hates about football shirts.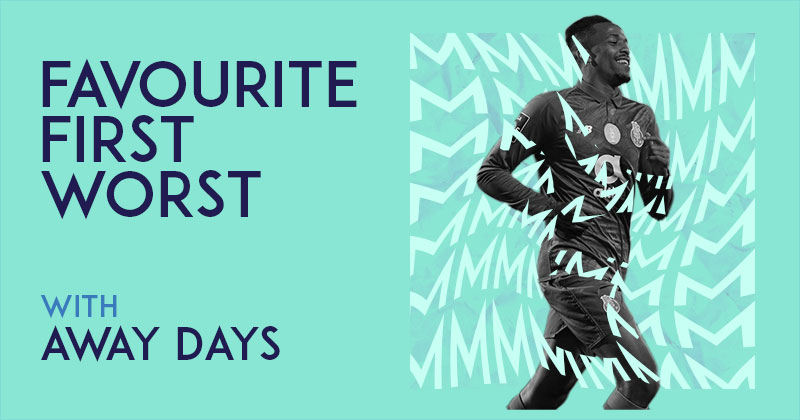 ---
This blog is part of our Favourite. First. Worst. series. Check out the rest of series below.
Away Days | Paul Machin | NiiNii | Esteemed Kompany | Eli Mengem
---
In the first of a new series, we're asking people to give us the details on their favourite, first and worst football shirts.
We all have some sort of connection with shirts, and Favourite. First. Worst. is all about the stories behind those connections.
To kick things off we spoke to Ellis Platten aka "Away Days".
---
Favourite
My favourite FC Porto shirt is genuinely the 125 year commemorative kit from this season.
New Balance often get criticised for having 'dull' kits but this shirt is the polar opposite to that, featuring street art from Hazul, Porto's unknown street artist who's also a massive fan of the club. I love the design in place along with the Dark blue kit.
Blue kits are by far and away my favourites, for example: The Colombia blue kit from the last World Cup was fantastic in my eyes. Dark blue kits will forever reign supreme, it's just a fact at this point!
First
The old, reversible, England top from 2002, I found it amazing in my childhood that I essentially had two shirts in one shirt, even though both shirts on their own are actually quite boring! I'm pretty certain that every single non school uniform day for a good 3 years I would wear the Umbro top before eventually moving on to the Leeds, Whyte & Mackay sponsored top for the 04/05 season. Which, like the shirt was extremely underwhelming.
Worst
The worst kit I've ever seen? I would say the England goalkeepers kit from Euro 96 but I think it genuinely has some charm to it. In recent memory my least favourite would probably be Liverpool's third kit from the 13/14 season. It's just a mish mash that is really boring, I like plain white kits, they're simple and are great to look at but this one is trying its hardest not to just be a white kit and that annoys me.
Saying that, I'm not a massive fan of most kits from Warrior as I feel they all tend to have this 'unique' way about them but it just comes across poorly in the final product!