6 shirts from 2008 that have aged really well
From Italian giants to Germany minnows, enjoy this eclectic list of superb kits from the 2007/08 season.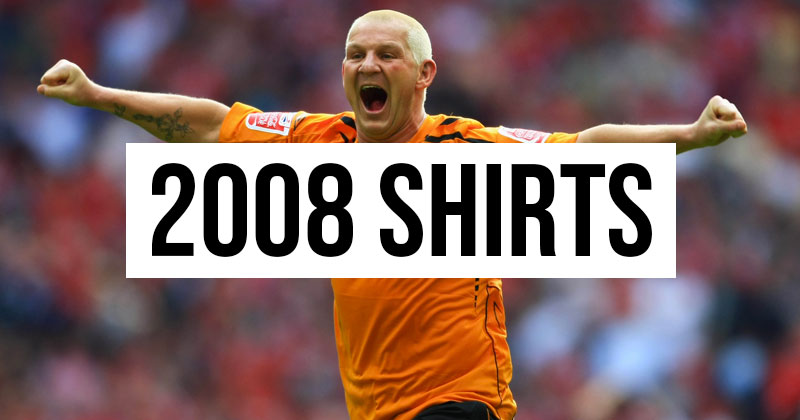 Following on from our look at some hidden gems from 2009, I was keen to dive back into the late 00s. Let's face it, it's not an era we would usually associate with beautiful football shirts. However as we discussed last time, it can take years before a shirt can truly be appreciated and with that in mind I'm keen to celebrate what went well during those years.
This is a time to throw away hot takes and first impressions. Some of the shirts below barely made a dent during their release, whilst others have gone from strength to strength since their debut on the pitch.
It's perhaps not a surprise to see a distinctly Italian flavour in this particular journey back in time, though sitting amongst this esteemed company are a certain black and amber team from Yorkshire.
If you like any of these shirts, let me know on Twitter. I'd love to hear which was your favourite! You can also compare prices on a huge range of football shirts here at FOOTY.COM, so you can nab a classic favourite or a modern masterpiece at the best price available.
---
1. AC Milan 2007/08 Home Shirt
The 2007/08 season wasn't a particularly vintage one for AC Milan on the pitch, but their kit has one particular feature which stands out clearly to me: the typeface.
Unique typefaces are something of a lost art in the football shirt world (although there are signs the tide is shifting), but back in 2008 Milan boasted a truly remarkable font across all their kits. An angular, robotic design was seen for both name and number, a look unlike almost anything else seen before or after. It certainly wasn't the most elegant font going, but it was memorable and gave the 07/08 Rossoneri shirts their own defining characteristic amongst all the legendary looks they've enjoyed over the years.
2. Roma 2007/08 Home Shirt
The Roma x Kappa relationship, which lasted several years in two spells between 2000-2013, was a hugely successful one. Though no Roma kit will come close to matching the astounding collection of kits seen in the 2001/02 season, the shirts from 2007/08 shine as a close second in my book.
I love it when an Italian kit features the 'target' patch (signifying a win in the Cup the previous season), and it works perfectly on this Roma kit which also features an oversized crest. It was a bittersweet year for the team on the pitch as they missed out on a league title to Inter Milan by just a few points, before going on to retain their Coppa Italia title with a 2-1 win against Inter of all teams.
Roma shirts have largely declined in quality since 2008, asie from the popular collared Nike shirt of 2015, which only adds to the aura of the kits we got to see in the early-mid 00s. This 2008 version sums up everything that was good back then.
3. Inter Milan 2007/08 Away Shirt
2007/08 was a great year for anniversary kits (more on the subject later), and Inter celebrated their 100th anniversary in style with a gorgeous away shirt adorned with a St. George cross and a tweak to the eternal Pirelli sponsor.
Kits of this genre often fail to capture the imagination, but Inter's design hit all the right notes. The cross design kicked off something of a recurring theme, with great designs both in 2015 and this season evoking the 07/08 kit, and given it's acclaim and the success tied to it, it's likely we'll continue to see similar designs for many years to come.
4. Hull City 2007/08 Home Shirt
In 2008 Umbro had a significant foothold on the English football shirt, with contracts for 6 Premier League sides alongside a partnership with the national team. The best use of their template this particular season however was found over in Hull.
The Tigers are always good value given their amber and black colour scheme, but the 2008 vintage was particularly classy given that the side detailing of Umbro shirts that year looked a little bit like a tiger stripe. This detailing was balanced perfectly with the simple 'Karoo' sponsor and other areas of the design. To top things off the kit has a special place in the hearts of Hull fans thanks to its usage in one of the most iconic play-off matches in history. You know, the one with that Dean Windass volley.
5. Manchester United 2007/08 Special Shirt
Anniversary kits are very much on trend in 2019, and any designer looking for inspiration should look no further than Man United's 2007/08 anniversary kit commemorating the Munich Air Disaster of 1958.
The shirt was remarkably stripped back, with no crest, sponsor or nameset. It was a look straight out of the 50s, and quite simply it remains the gold standard for one-off, commemorative shirts. Given that only 32 shirts were ever made, it's also one of the rarest football kits going.
6. FC Ingolstadt 2007/08 Home Shirt
We finish our trip back to 2008 with an under the radar shirt from the lower leagues of Germany.
FC Ingolstadt 04 are a club who have spent most of their existence outside the Bundesliga, but just before they began a gradual rise from the 3rd tier to the top, they were kitted out in a quintessentially Germany shirt which rivalled anything else seen in the country at the time.
The red and black stripes and 'Audi' sponsor work perfectly in tandem, and the detailed crest only adds to proceedings. It's a great example of a shirt from a lower division which now stands tall as one of the better kits of that year, and to add a cherry on top the shirt was worn during a promotion campaign.