The 5 Best Football Boots For Speed
If you need an edge when trying to shake off defenders, the right boots are absolutely key.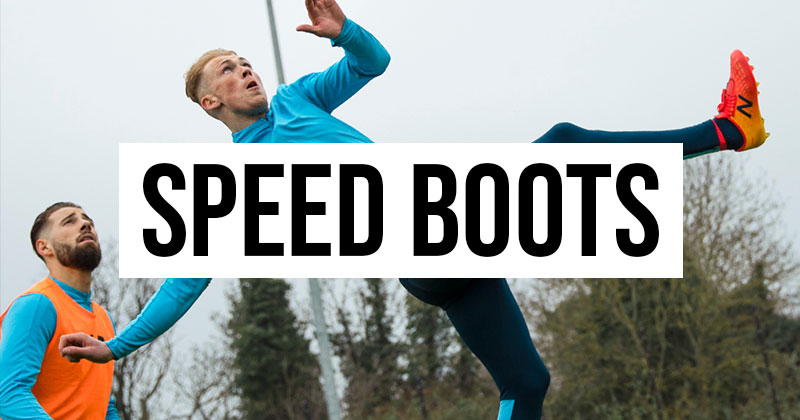 Speed is key in the modern game, which is why players are always looking for those special boots to give them the advantage over their opponents. We take a look at some of the fastest boots that you can get your hands on to help improve your pace on the pitch.
If you've played FIFA recently, you'll know that there is one attribute that matters above all else in the world of modern football: speed. Depending on your favourite position on the pitch you're going to need something different from your football boots. Defenders need sturdier boots to help protect them in a tackle; midfielders need a boot with accuracy in order to pin point those killer passes and forwards need a boot that has the best acceleration and agility.
For a boot to give you that speed boost, it needs a few things; firstly, it has to be lightweight - when you're carrying extra weight, it is inevitably going to slow you down. Secondly, they need that close fitting, bare-foot feel, that helps keep you light on your toes and able to control the ball when you're flying down the wings.
---
The 5 fastest football boots on the market today:
New Balance Furon 4.0 Pro
The FantomFit Frame and lightweight mesh construction by New Balance creates that perfect fit we talked about and makes for some seriously speedy boots. The foam backed PU lining in the heel helps lock the foot down so there's no shift in movement when changing direction, which all adds to the explosive acceleration that make these boots a great option for forwards, weighing in at 226g.
Adidas X 18.1
The X is one of the most comfortable speed boots on the market thanks to its low-cut Clawcollar and 3D moulded cushion zones. The X's design is stripped down to shed any excess weight and leaves the finished product at 201g. Instead of just being left with a flimsy upper, the dextrous build is given a little rigidity with the stiffer and more stable soleplate which transfers energy back into your stride to give you support and that extra boost of speed to take you past defenders.
Nike Mercurial Superfly Elite
When your slogan is 'Fast By Nature' you better be some of the fastest boots on the market, otherwise you're just embarrassing yourself. The Mercurial Superfly from Nike's Elite range has a 360-degree Flyknit construction to tick that second-skin feel box and a Micro-textured upper to reduce the weight to 191g and give unparalleled close control – check that box too. Lightweight and tight-fitting? The Mercurial Superfly Elite ticks all the boxes for speed.
Mizuno Morelia Neo II
The Japanese made Neo II uses a combination of synthetic and non-synthetic material to achieve its lightweight frame. Whilst most boots that look to achieve top speeds generally opt for synthetic over natural material, the Mizuno Neo II adds a splash of the highest quality k-leather on the toebox, in order to tip the scales at just 185g.
K-leather has become a great option for boot manufacturers that want to achieve lighter frames but retain the cushioning quality that leather gives you over synthetic materials, as the original football boot feel is one that fans don't want to move away from in a hurry. The soleplate is nice and firm, with enough give to keep the boot comfortable whilst retaining that speed element.
Puma Future 19.1
Puma manages to install plenty of additional speed in the Future 19.1 thanks to the unique NETFIT lacing system which allows wearers to lace up their boots in their own personal way to ensure stability and comfort depending on their foot shape. The evoKNIT pro upper and RAPIDAGILITY outsole provide the perfect balance for speedsters to achieve top speeds in all directions without suffering any discomfort.
When you are bombing down the flanks you don't want to be let down by mediocre boots. So, get your hands on some of the fastest football boots on the planet today by checking out these boots and more at FOOTY.COM.