Top 8 2019 womens international shirts
The Women's World Cup is going to be a lot of fun, thanks in large part to kits like these.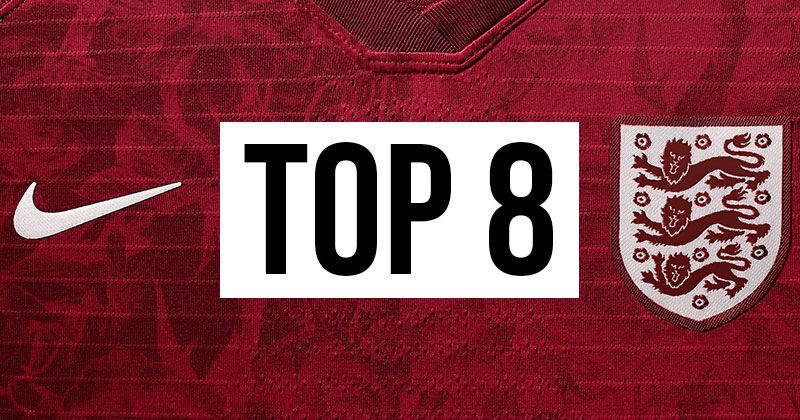 The best women's football kits
What a fun couple of weeks it's been for football shirts.
This period of the year is usually a fairly slow one in terms of new releases. Sure, we had an initial buzz with fresh kits from MLS, and there are one or two gems emerging from the likes of Brazil, but as a whole March tends to be nothing more than a rumour mill for the summer.
In 2019 though, the doors have been blown wide open with the stunning new collection of Women's international kits. The buzz around these kits has been palpable, and for very good reason.
It's been a little while, but I'm jumping back to my Top 8 series from last year to pick out my personal favourites. Look out for these in the summer (good news, we should be getting men's sizes!), and be sure to grab the ones you like before they inevitably sell out.
---
This blog is part of our Top 8 series. Check out the rest of series below.
Top 8 Women's International Shirts | Top 8 Nike Shirts | Top 8 adidas Shirts | Top 8 Puma Shirts | Top 8 Umbro Shirts | Top 8 Kappa Shirts | Top 8 Macron Shirts
---
1. China 2019 Away Shirt
From the ashes of the spectacular but unreleased 2018 China Away Shirt (which was the best shirt of 2018, despite never seeing the pitch…), the 2019 Away Shirt has risen like a phoenix.
Yes, this is a design which is almost as good as that black, dragon-infused design which completely blew everyone away last year. This time however, we've got a phoenix inspired pattern which is just as intricate and gorgeous to look at.
The grey and orange colour scheme is a rarely seen one, but to be honest any combination of colours would look good considering how great the design is. I can't wait to see more pictures of this one, and China women's team have at least one more fan for their World Cup campaign in France this year.
2. Australia 2019 Home Shirt
Remember when adidas were sweeping up last year with a series of retro-inspired shirts? Nike have clearly been watching, as the new Australia team kit harks back to the iconic 1991/92 shirt to very, very good effect.
The early 90s pattern, with it's paint-like strokes and vibrant green and gold colour scheme, was dying to be remade at some point and Nike have answered the call. The strokes might be broader, but the overall aesthetic is spectacular especially when you consider the fact the socks match.
3. France 2019 Away Shirt
The World Cup hosts this year get one of the best kits to boot.
This is a shirt which reminds me very much of the legendary 2012 away shirt, a design which will go down as one of the best of this decade. Of course this isn't a remake though, this time round we have a polka dot pattern made up of small hexagons. I love the continuity here, given that hexagons were used in tandem with the men's kits last year.
We're not reviewing socks here, but I have to mention the fact that Nike have done an Australia and matched the pattern of the shirt with the socks. This is truly a special time for kits.
4. Germany 2019 Home Shirt
This has to go down as the best 4th place shirt of any Top 8 list I've done. By a long way too.
I love this design from adidas (a look which is far ahead of the men's home), and it certainly goes down as the most patriotic of the bunch. The incorporation of flag colours and designs into a shirt is something of a lost art in the football, and if you're going to go down that road you couldn't do any better than this.
5. Netherlands 2019 Home Shirt
The good stuff just keeps on coming. Netherlands, the reigning European champions, will be kitted out this year in a design which only gets better the more you look at it.
That's exactly what I love about this collection of kits. We don't just have bold, vibrant designs trying to be the next Nigeria shirt, we also have shirts like this which feature a more subtle pattern which looks stunning without shouting in your face.
Inspiration has been taken from the quintessentially Dutch flower the tulip, though the pattern also has a little bit of the '88 design about it.
6. England 2019 Away Shirt
As good a year as England had on the pitch in 2018, their kits were largely forgettable.
This is all changing this year though. Not only have England women already tasted success on the pitch (with a victory in the SheBelieves cup), they'll also be playing in one of the best designs going.
I'm a huge fan of the way the base colour of the rose pattern subtly changes across the chest. It adds depth to a memorable design, yet another example of what can be achieved with attention to detail and a splash of creativity.
7. Brazil 2019 Away Shirt
Brazil's new away shirt looks very much like a new Cruzeiro shirt, and that is high praise given how good the famous blue-clad Brazilian team usually look.
What's more, this design looks like a huge upgrade on (you guessed it) the equivalent men's shirt from last year. With considerably more detail and a well executed gradient, it's testament to the quality of the competition that a shirt this good would be in 7th place.
8. Sweden 2019 Home Shirt
Last but by no means least are Sweden.
Although inspiration was loosely taken from the classic 1994 home shirt, I think this design stands on it's own as one of the most interesting looks of 2019. It looks to me almost like a combination of that 1994 design with the shape of Sweden itself, but whatever the thinking I like what adidas have done.
Of course the centralised crest also works very well, especially given how rare it is these days, and we'll also a unique typeface for Sweden with a design featuring inspirational women amongst the numbers. Well played Sweden and well played adidas.
---
Got your eye on one of these kits? Tell me on Twitter, so I can get in there before you do.