Shirt Tales | Chapter 6 - Diamonds are forever
Umbro have played a significant role in the football shirt landscape. These shirts help tell their story.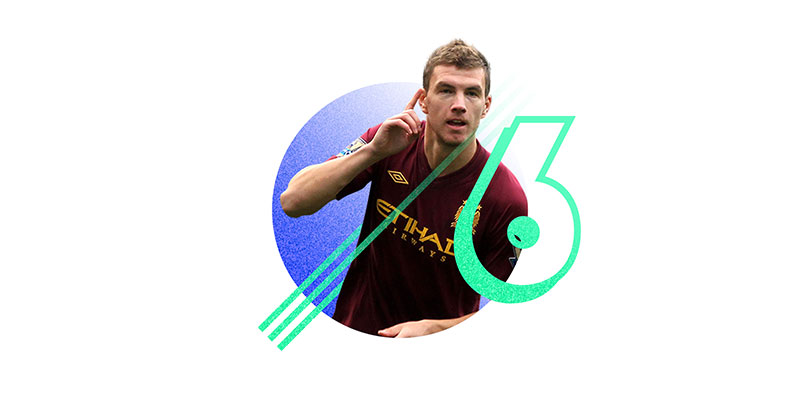 Chapter 6 - Diamonds are forever
In Shirt Tales, we've talked a lot about Nike and adidas.
You'd be forgiven for thinking it was simply a two horse race in the world of football shirts. But of course in reality there are several horses in the race, and other brands have played a pivotal role in the development of shirts.
Today we're going to take an important look at one of those brands.
---


This blog is part of our Shirt Tales series. Check out the rest of series below.
Ch. 1 - King of the Hill | Ch. 2 - A Challenger Appears | Ch. 3 - The Phenomenon's New Clothes | Ch. 4 - Perfecting the Template | Ch. 5 - Demons and Doritos | Ch. 6 - Diamonds are Forever | Ch. 7 - Welcome to the Jungle
---
G.O.A.T.
What's your favourite football shirt of all time? The one which made you stop, pause and think about life more deeply when you saw it for the first time?
For me it's an Umbro shirt, more specifically the Ajax 1989/90 away shirt.
We don't have enough words here to cover it, but I have all the time in the world for this particular shirt.
Firstly, the colours are spot on. You would think red, white and blue would be overdone but in reality no shirt has ever used the combination quite like this. At the top, the shirt begins in a vibrant blue with white pinstripes before blending into a geometric pattern which looks part Tetris, part Escher art.
It's glorious.
What's more, the classic Ajax crest is a treat, the collar and cuffs match perfectly, and I can even live with the one button approach to the neck, something which I'm usually not a fan of. It works here though, and makes for a fitting shirt for friend of the series Dennis Bergkamp, at the start of his superb career.
Bridging the gap
Another stand out Umbro shirt comes from the blue side of Liverpool.
At a time when brands were beginning to streamline their designs in favour of a more fashion conscious approach (see the latter part of Chapter 3), Umbro showed the world that you could still inject vibrancy and creativity into a shirt without compromising it's wearability on the streets.
My favourite example is Everton's 1995/96 away shirt. With a stripey, glitchy barcode pattern in two bands running down the shirt, and another grey band just next to it, the shirt feels like the collage of an art student. It's a great balance of the flamboyant start of the decade, and the reserved end of it.
It comes as no surprise that Everton's third shirt this season nods to this particular kit.
Shirts like this shine bright for years to come, because brands and clubs were willing to merge ideas together to create something unique and interesting.
Catwalk to corner flag
Fast forward to 2007 and one of the biggest shifts in the football brand world was taking place. Nike (who else) made an all-cash offer to acquire Umbro in its entirety.
Shareholders unanimously accepted the offer, strengthening the Swoosh's hold on the football world and giving them another significant weapon in their arsenal.
Rather than completely absorbing the Umbro brand however, Nike cleverly decided to keep the Double Diamond brand in virtually every way, so much so that any casual observer would struggle to notice any different following the merger.
In football shirt terms, Umbro would quickly begin to innovate and leave it's mark once again on the kit world, with their timeless 'Tailored by Umbro' range of shirts, first seen on England shirts towards the end of the 00s.
'Tailored by Umbro' was a fascinating direction for football shirts, and so much more than just minimal detailing and retro styling. In collaboration with fashion design Aitor Throup, the shirts featured unique construction and an approach to size and fit unlike anything that was going on in the industry at the time.
Rather than selling shirts in simple size categories like 'small', 'medium' and 'large', shirts were sold according to chest size for better fit. The shirts themselves also featured a number of interesting panels not usually seen on a kit.
By taking the approach of a traditional tailor first, rather than leading as a sportswear designer, Umbro and Aitor Throup completely flipped the process on its head. The thinking behind their plan of attack is summed up well by Aitor himself:
"Umbro was founded in 1924, this was before a 'sportswear' industry even existed … anyone who made clothes in those days were effectively 'tailors' – and therefore they approached garment design and construction with a tailoring mentality."
Alongside England, the other most notable team to receive the 'Tailored by Umbro' treatment was Manchester City.
The timing was perfect, with the now infamous takeover in 2008 by Sheikh Mansour preceding a new deal with Umbro.
As the fortunes of the team were beginning to change rapidly, the shirts that Man City wore during this time were fitting for their ascending status.
'Tailored by Umbro' led to some sublime kits, most famously City's third shirt in 2009 with a gorgeous black and red double sash. The sash was only made better by some considered sponsor placement, with the 'Etihad Airways' logo placed neatly underneath the City crest.
It's no exaggeration to say this is on the best shirts the Premier League has ever seen. With its roots in City's history, and the quality team that wore it, it's unlikely this will change any time soon either.
To finish though, I have to mention their 2012/13 away shirt.
Maroon is a colour that continues to be associated with City, and this particular shirt is easily my favourite with it's yellow gold detailing and attention to detail. Subtle dark pinstripes run down both front and back, and a thick V-neck collar (similar to the one seen on Liverpool's home shirt last year) with several bands of material tops things off.
With 'Tailored by Umbro', Nike and Umbro had completely achieved what they set out to do, and the football shirt was better for it. Fashion considerations were nothing new, but the way this was achieved and realised at the turn of the decade acts as an example that all brands would do well to take notice of.