The Best Red Football Boots of All Time
We've taken a look through the archives and handpicked some of our favourite red football boot colourways.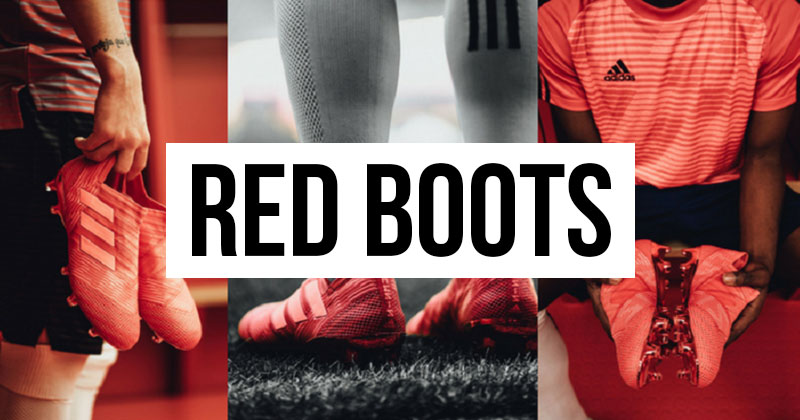 The design of a football boot has become just as important as the tech that goes into making a pair. We don't just want to play well, we also want to look good whilst doing it and what better way than with a sleek pair of red football boots?
Now, red is a popular colour in the footballing world – supposedly it is the best colour to use for kits – which is a fact that holds up, as the two most successful football clubs in England, Liverpool and Manchester United, both boast red as their home colour of choice.
Not only does it make for great kits, some of the best football boots look even better in red. We've taken a look through the archives and have handpicked some of our favourite red colourways. Let's take a look:
1. Nike Mercurial Superfly V 'Fire & Ice' Pack
When the Nike 'Fire and Ice' pack landed in 2017 we were gifted with some fantastic colourways for all of Nike's biggest silos; the Mercurial, Magista, Hypervenom and The Tiempo. Each silo was given a University Red/Black colourway representing 'Fire', as well as an Obsidian/White/Gamma Blue colourway representing 'Ice' in a Game of Thrones' inspired faceoff pitting the two colourways against each other. Because in a battle between Nike and Nike, there can only really be one winner.
From the 'Fire' pack, the outstanding winner had to be the Mercurial. Their complete red colourway and black swoosh were very clean, eye-catching and will probably go down as some of the best red football boots of all time.
2. Adidas Nemeziz 17+ 'Cold Blooded' Pack
The Nemeziz have had some great colourways over the past couple of years, none more so than the Triple Red/Pink 17+ release from the 'Cold Blooded' pack. adidas stayed strong and avoided over complicating things with a very minimal design which let the colours do the talking. The mixture of the three red hues created a great tonal affect and alongside the laceless structure, a new breed of red football boots dawned that fans loved.
3. Puma Future 19.1 'Power Up' Pack
Puma's addition to the list is their new colourway from the 'Power Up' pack, inspired by gamers to create a real beauty of a boot. The Bleu Azur soleplate and logo creates a great contrast with the Red Blast colourway used for the upper of the boot design.
The Future is really starting to grow on fans and the new colourways from Puma are getting the juices flowing enough that we are expecting Puma to be a big hit this year in the boot department. For lovers of red boots, the Future 19.1 Red blast is one of the nicest to look at and it plays pretty well too.
Like the look of any of these red football boots? Then check out our best deals on these, as well as plenty more boot colourways at FOOTY.COM now. We compare prices on all the biggest brands to make sure you get a deal with us every time.