6 shirts from 2009 that have aged really well
Sometimes things get better and better over time, and football shirts are no different.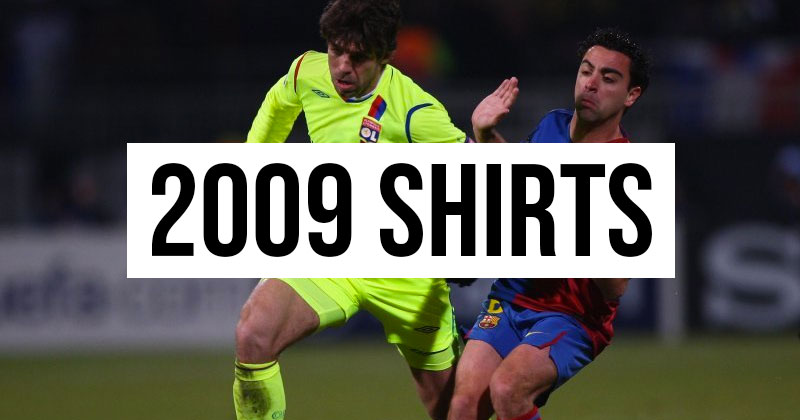 Football shirts that have aged like a fine wine
I want to start by holding my hand up.
When a new shirt is released, I'm one of those people who'll rush as soon as possible to Twitter to give everyone my hot take. Everything about a new kit it up for discussion: the colours, the collar, how a sponsor or club crest is incorporated into the overall design. In just 140 characters my opinion on a shirt can start and end as quickly as I've typed this paragraph.
The problem with this is that even with the best will in the world, we will always be reviewing shirts in something of a bubble. Yes, we can reflect on previous kits and ongoing trends, but it's impossible to know how a particular shirt will compare with shirt releases of the future.
A shirt which we might think of as boring might actually turn out to be one of the better shirts a club ends up having over the course of several years. A daring design which might look garish at first glance could over time become something of a cult classic. And of course a relatively uninspiring creation might end up being closely associated with a legendary player or successful team, elevating our memory of the shirt and cementing its place in kit history.
With all these things in mind, I want to jump back to some shirts from 10+ years ago that still hold up really well today. Some of these shirts flew somewhat under the radar at the time, whilst others may have been well received but have only grown in stature over the years for various reasons.
As always, if I've missed any gems complain to me on Twitter.
---
1. Liverpool 2008/09 Third Shirt
Liverpool and adidas had a very good thing going on. In two separate spells (1985-1996 and 2006-2011) several iconic shirts were produced, with a variety of designs ranging from the classic to the daring.
Slap bang in the middle of the second spell was the 2008/09 third shirt. At the time, the away kit of that year overshadowed the third shirt considerably, thanks to a famous victory at Old Trafford and a tasteful grey design which made the most of the adidas template at the time.
However, on reflection the dark green third shirt deserves it's own share of praise. In fact I would say it might be the best shirt Liverpool enjoyed in that 5 year period when adidas returned. The shade of green, evoking the away shirts of the early 90s, is perfectly chosen, whilst the collar gives the shirt an added dimension.
To top things off this was the penultimate year Carlsberg sponsored The Reds, and despite the consistency of Standard Chartered as the sponsor in recent years, nothing has come close on that front.
2. Lyon 2008/09 Third Shirt
If you're like me, some European teams hold a special place in your heart thanks to their exploits during the formative years of your enjoyment of football. Lyon are one those teams for me, thanks to their ridiculously talented squad of the 00s that was personified by the greatest free-kick taker there has ever been: Juninho Pernambucano.
Looking back on Juninho's career in France, this particular shirt stands out. As far as I'm aware it's the only Lyon shirt in history that's been luminous yellow, which in itself gives this kit an interesting distinction. From a design perspective this Umbro look holds up really well too, with some ideas from the adidas 00s stable yet with a lighter touch.
I would absolutely love it if Umbro returned to work with Lyon before releasing a throwback design harking back to this shirt. Fingers crossed.
3. Netherlands 2008/09 Away Shirt
No one has a football shirt heritage like the Netherlands.
Not only do they lay claim to the greatest shirt of all time (you know the one), they've continued to deliver on the kit front despite some tumultuous years on the pitch.
The 2008 away kit received the unfortunate distinction of not being required for the entirety of Euro 2008, which is a huge shame given that the design is an absolute winner. The two-tone blue look is striking, whilst the flag design across the chest is reminiscent of recent kit masterpieces such as Belgium Away 2016, and Mexico Away 2018. Unlike many international shirts the federation crest is incorporated perfectly, and another superb detail sees the flag pattern of the shirt echoed on the socks.
It's the kind of kit which unfortunately just didn't see enough play. Let's appreciate it now at least.
4. Marseille 2008/09 Away Shirt
Jumping back to French football, Marseille are a club who have been through a kaleidoscope of shirts to good and bad effect.
After relative consistency in the early-mid 00s, things got a little out of hand in the late 00s and early 10s as adidas began a number of experiments which were risky to say the least. On reflection however, it was the sort of creativity which we often crave in today's football shirt world. During this period you had no idea what you were going to get from Marseille, and from a neutral perspective at least that is a rare and exciting thing.
The 08/09 away shirt is one of the classiest of this time, with a diamond pattern adorning the front of the shirt. I love how the crest fits inside one of these diamonds perfectly, whilst the black trim frames the chest to great effect. A collar in the style of the previously mentioned Liverpool shirt only helps.
5. FC Basel 2008/10 Home Shirt
FC Basel are one of those teams who rarely appear on my kit radar. When looking back at kits from the 2008/09 season however, their home shirt stood out and I'd go as far to say it's my personal favourite of theirs since the 2000/01 season.
The striped design really works, and I much prefer it to the half-and-half look generally favoured in previous years. I also like how the shirt looks like a maturation of the Total 90 template, perhaps the most recognisable template of the 00s. Instead of the usual contrasting panels or trim, we have a clean approach which looks remarkably modern.
If adidas or anyone else wants to mix things up one year, they should look to this particular shirt for inspiration.
6. Dortmund 2008/09 Home Shirt
Finally we come to Jadon Sancho's stomping ground.
Dortmund have had a strange relationship with shirts. In the 90s Nike essentially pioneered their best work with BVB, to the point where many of the shirts are now the benchmark for what the industry achieved over those years. Since these glorious years however we've seen everything from Goool (think I got the right number of "o's" there…), Kappa, Nike again and of course now Puma.
We don't have time to talk about everything that's gone wrong during this time, but amongst some real low points the 2008 home shirt shine as diamonds in the rough. I wasn't aware at the time but the classy pinstripe design is in many ways a tribute to Dortmund shirts of the 80s, a wonderful touch without being an obvious remake.
I'll admit that it's strange not seeing more black on a Dortmund shirt, but even still this is a great design and one which only looks better given how badly the sponsor look the year before, and how bizarre the shirts got in the years after.