Top 10 Older Kids Trainers Without Laces
We round up the best trainers with no laces for older kids that still need that bit of extra help.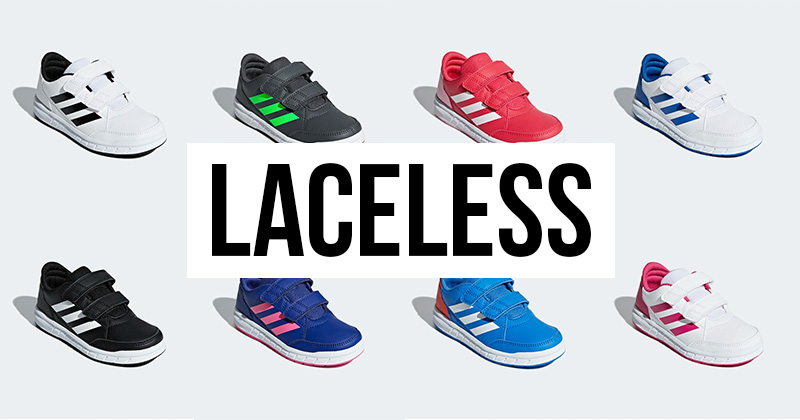 My son has recently moved from a size 2 to a size 3 and I suddenly found out how hard it is to find trainers without laces in bigger kids' sizes. I know, I know, I should force him to do his laces (and yes, he can, I'm not that bad) but when he comes in and out of the house 2,000 times per day, it makes everyone's life easier if he can easily slip them on and off.
I also starting thinking about how hard it must be for parents of kids with additional needs or those that struggle with laces for other reasons to find a cool pair of laceless trainers that their child can put on with as much independence as possible.
So, I've done the hard work for you and scoured the kids trainer ranges available from the major brands to put together a comprehensive list of the very best ranges of trainers without laces for older kids aged around 8-13 (spoiler alert - adidas feature very heavily).
---
1. Adidas Altarun
At just £24.95 RRP these running trainers are a great option to avoid big expense when feet are growing fast. Lightweight and durable with a velcro fastening, they have a comfortable cushioned sole and are available in a wide variety of colours to suit even the fussiest kids. They feature a heel pull to make getting them on and off a doddle. Although they are a fairly basic design, they will tick the box for most parents looking for a starter running trainer which could double up for casual wear or playing out.
Customer Reviews
Reviewers mentioned that their kids found these to be very comfortable and suitable for a range of sports.
Available colours:
Marine Blue/Magenta, White/Blue, Pink, Black/Red, White/Magenta, Blue/White.
---
2. Nike Air Zoom Pegasus 35 Shield
Now we enter serious trainer territory. The Nike Air Zoom Pegasus 35 Shield is a running shoe that is specially designed to keep your feet dry in wet weather. The upper has a water repellent coating which expels water as you run. The shoe fastens with elastic laces with a toggle to tighten so they are a breeze to take on and off.The Nike Zoom sole means they are cushiony soft to wear and offer a great running platform. The shoes have reflective elements to make sure your child can be easily seen at night which is a useful feature for Winter runs. The Nike Air Zoom Pegasus 35 Shield is priced at £59.95 and for that you'd be right to expect some serious running technology which is delivered in spades here.
Customer Reviews
Customers loved the cushioning in the sole and the water repellent nature of the upper but some commented that the shoes weren't suitable for kids with a high instep.
Available colours:
---
3. Adidas Stan Smith
The adidas Stan Smith is one of the best selling trainers of all time. Originally launched in the 1960's, the classic tennis shoe's simple styling has changed very little since then yet still looks as good now as it did then. The velcro version shown here is only available in the classic white/green colourway in older kid's sizes. At £49.95 RRP, the Stan Smith doesn't come cheap but is made from smooth leather and is stylish enough to justify investing in.
Customer Reviews
Customer reviews consistently comment on the great styling of the trainers with many loving the fact their child could wear the same trainers as them.
---
4. Adidas Altasport
Another from the adidas Alta range, the Altasport has a more stable sole than the Altarun (above) making it a better choice if your kid does a variety of different sports other than just running. They have a court-inspired look and are available in 10 different colourways including plain black or white (not pictured) which conform with most school's PE policies. With an RRP of £24.95 they are easy on the wallet and can often be picked up even cheaper if you're happy to buy older colourways. A great adidas staple.
Customer Reviews
Reviewers loved the velcro fastenings on these trainers and commented that they were a quality shoe for the price.
Available colours:
White/Black, Grey/Lime, Pink/White, White/Blue, Black/White, Blue/Pink, Blue/White/Orange,
White/Magenta, All White, All Black.
---
5. adidas FortaRun
The adidas Fortarun has it all, great looks, supreme comfort and velcro fastening that offers a secure fit. The Fortarun has an RRP of £32.95 which is a reasonable price for the styling and specification of the shoe. Available in three great colourways including a special edition Marvel Spiderman design (shown on left) these trainers feature seamless mesh upper and a cushioned cloudfoam midsole. Highly recommended.
Customer Reviews
Customer reviews consistently praise these trainers for how comfortable and lightweight they are and say that kids don't want to take them off.
Available colours:
Spiderman Red/Black, Black, Red.
---
6. adidas Rapidaflex
The adidas Rapidflex are easy to get on and off but retain enough style to make them look like a grown up trainer. The shoes retail at around £34.95 which reflects the numerous features that will make them appealing to most kids. The mesh upper means they have in built ventilation to keep feet cool and minimise perspiration. Elastic laces mean they keep feet in place without any need to lace up and tongue and heel pulls make getting these on an absolute breeze.
Customer Reviews
Reviews do mention that the trainers come up large so bear that in mind with your size selection but they also praise the comfort and quality of these trainers.
Available colours:
Magenta, Multi-Coloured, Blue.
---
7. adidas Rapidarun
The adidas Rapidarun steps things up in style and in price. At £49.95 RRP, these don't come cheap but they offer masses of features and ooze style. The Rapidarun is a running shoe as the name suggests and they will do the job well as well as being cool enough for everyday wear. The stretchy knit upper fits the foot like a sock and the cushioned cloudfoam midsole offers supreme comfort. At present the trainer is available in the multi-coloured pattern shown and almost out of stock in the black but keep your eyes peeled for more colourways in the future.
Customer Reviews
Customer reviews are very positive for this style with reviewers commenting on the comfortable and supportive ankle and overall comfort with one reviewer stating "Bought them for my 11 year old son. He loves them and says they're as comfy as slippers."
---
8. adidas FortaRun X
The adidas Fortarun X are inspired by Edge Bounce running trainers and are a great starter running shoe for any future Usain Bolt. They are priced at £32.95 RRP and have a breathable mesh upper which allows kids' feet to breathe and stay cool while they are active. The velcro strap makes them simple to put on and off, aided by the high tongue and heel loop.
Customer Reviews
Reviewers comment on the good fit and comfort of the shoes and state that their kids love the styling.
Available colours:
Grey, Marine Blue/Pink, Magenta/Pink.
---
9. Nike Renew Rival Shield
Another waterproof runner from Nike, the Renew Rival Shield features a water repellent coating to help your child run the miles in any weather. The shoe features reflective elements to give extra night time visibility during Winter runs. The sole features Lunarlon foam to provide supreme cushioning to allow long distance runs with no discomfort.
---
10. adidas Fortagym
The adidas Fortagym is designed for a variety of sports and is easy to put on and off due to the velcro fastening and handy heel loop. Lightweight and breathable, the Fortagym comes in a variety of bright colours with a retro feel. The non-marking sole makes it ideal for indoor sports as well as casual use for day to day. At £29.95 RRP, these trainers are affordable and a great price point for growing feet.
Customer Reviews
Reviewers commented that the trainers run a little large and wide so keep this in mind when ordering. Customers praised the quality of the trainers and loved the bright designs.
Available colours:
Cyan/Pink, Grey/Orange, Royal Blue/Lime, Magenta/Clear Orange.
---
So that rounds up our list of the top older kids trainers without laces. Did I miss your favourite? I'm always on the lookout for great recommendations so let me know if I have missed your kids' number 1 pair.