The Puma MVP Pack Pays Homage To NBA All-Stars
Inspired by the Charlotte Hornet's colour scheme, Puma dropped yet another boot pack for 2019.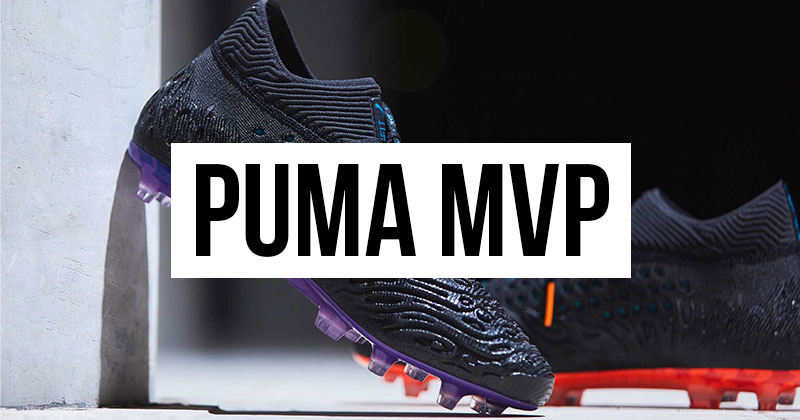 Inspired by the Charlotte Hornet's colour scheme, the North Carolina NBA side whose stadium hosted the 2019 All-star NBA game between 'Team Lebron' and 'Team Giannis', Puma dropped yet another boot pack for 2019.
This is the third boot pack released in 2019 from Puma, hot off the heels of the 'Power Up' pack and the 'Eclipse' pack. Both the puma Future 19.1 and the Puma ONE 19.1 are once again given a lick of paint, the purple and orange of the Charlotte Hornets. The boots will be worn by Atletico Madrid's MVP Antoine Griezmann and Man United's now more LVP (Least Valued Player) Romelu Lukaku.
Puma ONE 19.1
The new Puma colourway is predominantly black with a purple starred soleplate and a metallic blue grey Formstripe embossed on the outstep. 'MVP' can be seen sewn into the laces as well as adorning the soleplate's star pattern.
The left soleplate is orange, and the right, purple, with a 'Tricks' pattern continuing on the insole which features a nice graphic of a football/basketball court lining like you will remember from any mixed concrete footy/basketball court from any park in the country.
Puma Future
The Puma Future are black once again as we saw in the 'Eclipse' pack, only this time they feature turquoise logos and a bold purple and red soleplates. Both the soleplates and the laces feature the same MVP lettering as the ONE as well as the same insole graphic.
Without much being done to separate the two boots in the pack it almost feels as though Puma weren't really that bothered about the football/All-star basketball crossover. And to be honest, we don't know anyone else who was really bothered either.
Although the idea for the pack is reaching by Puma's standards, the boots actually look really good, and the turquoise, purple and orange colouring bring a nice touch to the previous all-black 'Eclipse' colourway.
We're hoping the mix and match coloured football boots aren't making a return though.