The Day & Night Pack from Mizuno
Mizuno have produced new 'Day & Night' colourways for their two biggest silos.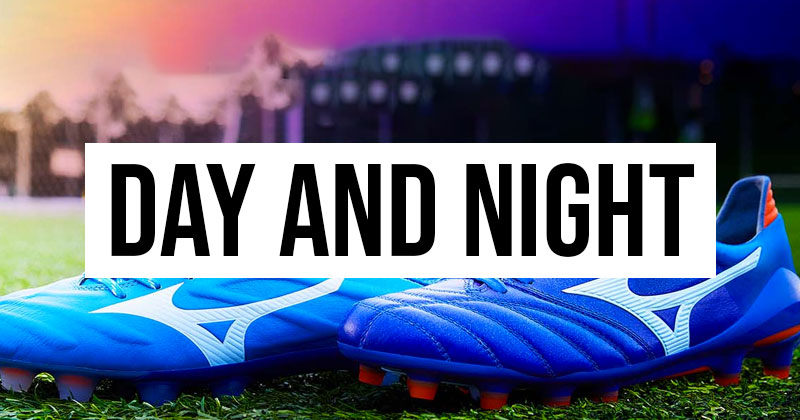 Japan's love for football is in the middle of an almighty upswing as they continue to garner the services of a number of high-profile players and alongside China they are doing a lot to boost the popularity of the game across Asia.
With growing popularity for the game in Japan, there has also been a boost footballing gear being produced in the country – especially football boots.
Now, Mizuno aren't exactly new to the scene; the bootmakers have been around for a while and produce some pretty tidy boots. You don't see a lot of them around compared to the amount of Nike, Puma and adidas boots you might see out there, but their boot tech is not to be underestimated and their colourways provide some refreshing options compared to the usual fare.
A big selling point for the Mizulo range is their claim that the boots are 'crafted in Japan by hand'. The extensive use of K-leather is designed to recreate that bare foot feel to improve touch and add an element of precision and control to everyone's game. Something that is desperately needed to help improve the Japanese game if anyone has been lucky, or unlucky enough, to catch any action from their current season.
---
The Mizuno Rebula 2
The 'Day & Night' colourway blends blue and white to create a colour palate that gives that dawn/dusk feel and includes orange clown fish coloured features on the studs to help add some vibrancy to the boot, creating a finish that is anything but dull to look at. The heel is much darker than the rest of the boot and has a more purple, fish scale quality which creates a perfect two-tone effect.
The Mizuno Morelia Neo 2
The Morelia silo makes more use of the clown fish orange features to create our favourite boot from the pack. The blues are much darker, veering towards purple more than blue at the toebox, before fading back to a lighter hue at the heel.
The heel is topped with orange, and alongside orange laces, studs and Morelia logo on the back, the colour scheme is something new and refreshing. Even if it isn't the most creative design that we've seen this year, we feel it brings out something that few other boot makers have managed so far in 2019.
---
If you like the look of any of the football boots from the new Mizuno 'Day & Night' pack, then head over to FOOTY.COM now to find where you can grab a pair for the cheapest possible price.