When To Wear Soft Or Firm Ground Boots
As the weather changes, pitches change too. What type of boot should you be using for each surface?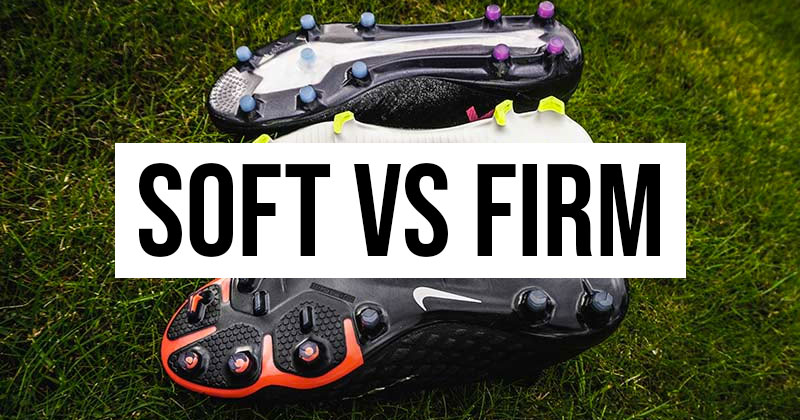 Choosing the best surface type for your boots
Soft Ground and Firm Ground football boots are made for playing on different surface types. Not knowing which boot to wear when you turn up to play can end up causing you some serious injuries, so it is important that you get to grips with which boots are best on which surface.
In the UK we are slaves to the seasons. As the weather changes throughout the year, grass pitches change too. One pitch that is luscious and firm during summer may become a saturated bog throughout late autumn and an ice rink during winter as the temperature drops and all that rainwater freezes over.
We know that boots can be expensive, and not everybody is lucky enough to be able to afford a collection of boots in all surface types. Because of this, many players choose a pair of football boots to last them throughout the year, and whilst firm ground boots are probably the best all-rounder, in wet weather they can be a cause of injuries.
Modern day firm ground boots from the leading boot makers have strategically designed and positioned studs to ensure they are safer than ever before, but there is still no single boot design that can be used across all surface types.
What type of boot should you be using for each surface?
---
Artificial Grass
If you know you are going to be playing on artificial grass all through the year, then firm ground boots are a good option. It is wise to choose a stud configuration that contains a more compact shape and that features round, canonical studs over the top of blades.
Whilst Turf or AG boots are ultimately the best option when playing on artificial grass, firm ground boots are a good way to bridge the gap between multiple surfaces as they play well on artificial and real grass. In wet conditions, FG boots are also seen as a much better option for increased overall traction.
Those with weaker ankles may find that FG boots on Artificial surfaces are a little shaky so will probably want to stick with turf or AG boots without the studs to avoid rolling their ankle when changing direction.
Firm Ground – Well Maintained
This is the type of pitch Firm Ground football boots were made for: thick green grass which has been cut down to a good, even level. You'll be lucky to find pitches of this quality, but if you are lucky enough to play on this one regularly then FG boots will be all you need.
Firm Ground – Poorly Maintained
Badly maintained pitches can take on a number of different characteristics. Firstly, they can simply become overgrown. When the grass is long it makes it difficult to play a quick game and can slow the players down too. For pitches with longer grass than is preferable, FG boots should still work pretty well.
Secondly, the ground can become soft and muddy. On muddy pitches it is difficult to gain traction with firm ground studs. To counteract this problem, you are best opting for a Soft Ground configuration which has longer, widespread studs that can penetrate the mud without letting it collect on the soleplate. Mud will still build up on your soleplate as you play, but nowhere near as much than if you were wearing FG boots.
---
Here at FOOTY.COM we have the best prices on football boots in every surface type, so you can find the right boots no matter where you like to play.