The Best Football Boots For Shooting 2019
Offering a sweet strike and unstoppable power, these boots are absolutely deadly in front of goal.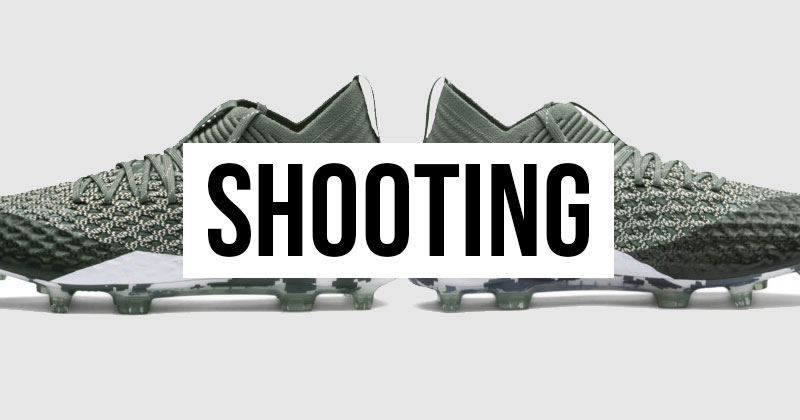 This post was originally created on 27th December 2018, and has since been updated to include all the latest boots for 2019.
Before we get started, I want to make something clear: these football boots won't suddenly transform you into the next Sergio Aguero.
The chances of you putting the ball in the back of the net will depend almost entirely upon your overall ability as a footballer and, despite what Jimmy Grimble might have taught us, unfortunately there's no such thing as magic boots.
What these boots will do, however, is offer you the cleanest, sweetest strike of the football that money can buy. So, while you can't rely solely on power to get in the goals, these are the top 5 best football boots for shooting in 2019.
5. PUMA FUTURE NETFIT 19.1
The real selling point of the Puma Future silo is its innovative Netfit upper, which allows wearers to customise their laces and find the best fit possible.
Of course, this probably isn't news to you, but what you might not have realised is that this customisable lacing system actually allows you to create a larger, cleaner surface to strike the football. Obviously, this makes the boots much more effective when it comes to shooting.
These boots have quickly become famous for their lightweight design and responsive feel, two features which become absolutely deadly when combined with such a flawless striking surface. Incredibly nimble but undoubtedly just as powerful, the Puma Future helps you launch long-range rockets with much greater accuracy.
4. UNDER ARMOUR MAGNETICO PRO
It's hard to talk about the Magnetico Pro without searching for synonyms for the word "soft". Because, make no mistake, these are some of the softest football boots you'll ever put on your feet.
Under Armour have used their classic ClutchFit technology throughout the design, creating one of the thinnest, lightest uppers you're likely to see on a football pitch. In fact, it's so thin and soft, many players are naturally concerned about durability; however, appearances can often be deceiving, and the Magnetico is just as reliable and sturdy as other synthetic boots on the market.
Obviously, this helps to provide an unmatched feel for the football, which ultimately allows you to strike the ball more accurately. Although it doesn't include much padding around the strike zone, the Magnetico is just so soft it gives your shots a real zip and punch, giving you incredible satisfaction every time you strike the ball.
Thank you for joining the FOOTY.COM club!
3. ADIDAS PREDATOR 19+
Yep, that's right- although it might be built for greater control and touch, the fact is the adidas Predator is still one of the best football boots for shooting.
In short, it's all down to that Purecut laceless upper, which offers a smooth, crisp connection no matter where you're striking the ball from. The infamous Primeknit upper is lightweight and responsive, allowing wearers to really get some power behind their shots; while the padded toe box gives you an unmistakeable sense of control while shooting.
Ever since its creation, the adidas Predator has been designed for pinpoint accuracy. The 19+ is certainly no exception, making them the ideal football boots for shooting and passing.
2. NIKE MAGISTA OBRA II
Despite recently being replaced by Nike's new PhantomVSN silo, the Magista Obra II still offers one of the sweetest strikes in football.
I really can't emphasise enough just how good it feels to strike the ball in a pair of these. The ground-breaking Flyknit upper seems to wrap around the surface of the ball, allowing your foot to make a real impact and generating some unbelievable power behind your shots.
Additionally, the Flyknit is thicker in certain parts of the boot, creating a ridged, bumpy upper which provides impressive padding across the strike zones. The result is a comfortable, lightweight football boot that offers a sweeter, more controlled strike of the football.
In fact, it feels so good to put your foot through the ball, you'll have to stop yourself from constantly shooting from distance and annoying your teammates.
1. NIKE HYPERVENOM PHANTOM III
Nike have always been the masters when it comes to "shooting boots", and I consider the Nike Hypervenom Phantom 3 to be something of a masterpiece.
First of all, you've got the off-centre laces, which ultimately provide a larger, smoother striking surface that helps you really strike the ball sweetly. More importantly, this generous strike zone is filled with tiny foam pods, which are designed to enhance shot velocity, power and to generally make sure your shots pack more of a punch.
The fact that Harry Kane, Robert Lewandowski and Edinson Cavani all wear the Hypervenom should be a pretty clear indication as to how good they are. They generate more power and accuracy than any other boots out there at the moment, while the Dynamic Fit (DF) version feels like you're slipping your foot inside a fluffy cloud. Beautiful.
So, there you have it, those are my top 5 best football boots for shooting in 2019, and you can still check out my blog on the best boots for strikers to get some more inspiration. If you fancy getting your hands (or feet) on a pair, then compare prices at FOOTY.COM to make sure you bag the best deal!