Rating Popular Football Boot Hacks
Boot hacks are all well and good, but do they actually work? We're here to sort fact from fiction.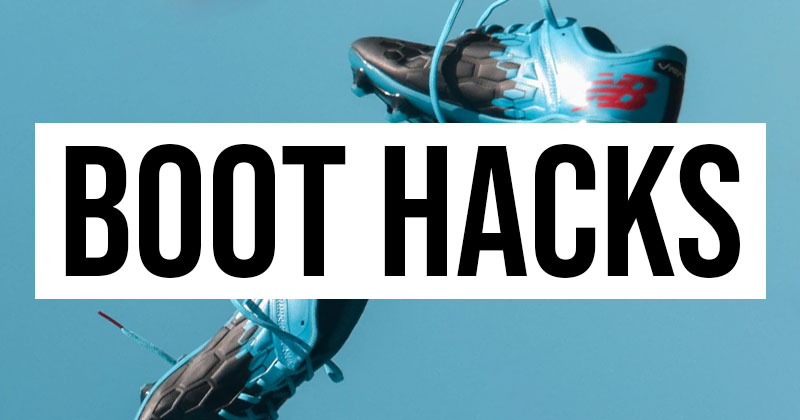 BOOT HACKS 101
Jesse Lingard, Ashley Young, Philippe Coutinho and Cristiano Ronaldo are just some of the names that have been known to undergo a little DIY on their own football boots. But do any of these football boot hacks actually work?
Boot manufacturers like adidas and Nike spend an absolute shedload of cash each year developing new boot tech, but still, year after year, both pro and amateur players do a little tampering to make their own boots more specialised. Whether it is something as unobtrusive as changing the laces out or something that requires some more serious hardware, new football boot hacks are constantly cropping up.
We've taken a look at some of the most common current football boot hacks to see which ones are actually useful and which ones are just pure vanity projects.
---
This is a hack first brought to our attention by Jesse Lingard and Ashley Young for United. Both (for reasons unknown) had cut through the top of the boots upper, freeing up the front of the ankle and the top of the foot. We can only venture a guess that the hack was to make the boots more comfortable rather than add any sort of advantage in regard to shot accuracy or change of direction. But why?
Were the boots too tight, or were both players carrying some sort of ankle injury that was making the boots uncomfortable? With pro players receiving custom made boots we seriously doubt the boots were a couple of sizes too small or didn't fit right, and if they were carrying any sort of ankle injury, we can't imagine any physio risking his own neck and letting players play with much looser boots.
Verdict: Bad Hack
Hole In The Heel
We've seen a couple of players cut out a segment of their heel on their boots and we think the trend began with Philippe Coutinho cutting out a square in the back of his Mercurial 11s, but for the life of us we can't think why players would choose do it. We just feel bad for the Mercurials.
The only thing we can decide on is that maybe Coutinho was suffering from a major blister on his heel and needed to create some space in the boot to relieve some pain, because after testing boots with small squares cut out of the heel upper, we noticed a huge amount of the boots strength and support was lost with nothing really gained form the venture.
Verdict: Destructive Hack
Waterproof Spray
You've probably seen one of these videos of superhydrophobic coating being applied to a shirt, or a newspaper, or any other famously absorbent material, before seeing water running off said material, as if by magic, without leaving a drop behind. Well, it wasn't long before people started trying these sprays out on their football boots.
The idea of completely waterproof and dirt resistant football boots seems like a dream come true, but these superhydrophobic sprays can be pricey. Some have used the age-old method of rubbing their boots down with wax to create a waterproof coating on their boots; especially handy for those who like to wear Flyknit boots that tend to suck up a bit of water more than their leather counterparts, and no one likes soggy feet let's be honest.
Verdict: Good Hack
---
So, before you go chopping into your brand-new football boots that jolly old Santa was nice enough to bring you for Xmas, make sure you know what you're getting yourself, and your boots into.
Most of these hacks we see the pros use are only used knowing that a new pair of boots will probably be waiting for them in the changing rooms. Hacking into your boots with scissors is a guaranteed way of ruining an expensive pair of cleats, so be wary.