9 gym wear bargains from boohooMAN
If you're looking to freshen up your wardrobe for 2019, boohooMAN have got you covered.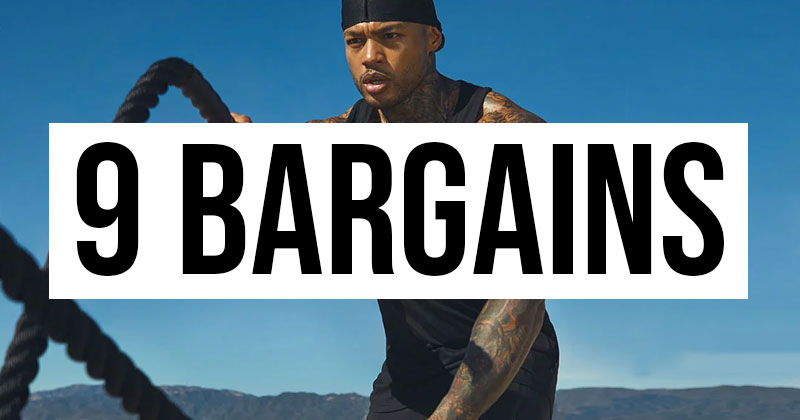 The best of boohooMAN Activewear
With 2019 comes a renewed focus to climb the mountain again.
It's time to set new goals. It's time to get on that treadmill, again. It's time to achieve things you were never able to last year. If you're like me any source of motivation is a valuable one at this time of year and one place you can find it is over at boohooMAN.
You see, the guys at boohooMAN have been working hard on producing a range of activewear that's extremely clean design wise and incredibly affordable price wise. Here are 9 bargains which I'd recommend in particular, or if you want to browse the full collection check it out below.
---
1 - Active Contrast Raglan Gym T-Shirt - £9.80
The T-Shirt is the most essential item in any wardrobe, and you won't find a better deal on one than here. Under a tenner and as suitable for the streets as it is the gym.
2 - Active Long Sleeve Raglan T-Shirt With ¼ Zip Neck - £11.20
Sometimes you need a long sleeve top, especially in these colder months. This one at only £11.20 is exactly what the doctor ordered.
3 - Active Gym Tank With Reflective Piping - £6.00
For those times when you need some freedom for your arms, this sleeveless top is perfect. As always the price is fantastic and the subtle piping is a great look.
4 - Active Zip Through Hooded Short Tracksuit - £21.00
A tracksuit for a shade over £20 is an unbelievable deal. Believe it however, this design complete with zippable pockets is as practical as it is stylish.
5 - Muscle Fit Raglan T-Shirt With Piping - £7.00
If you're looking for a muscle fit t-shirt, look no further than this. The design on this is possibly my favourite of the whole collection.
6 - Active MAN Print Gym Runner Shorts - £10.50
Pair your T-Shirts with these classic shorts. A versatile item that'll match with whatever you're wearing.
7 - Active Zip Through Embroidered Gym Hoodie - £13.50
A good hoodie is another clothing staple, and this all black design with full-length zip is an ideal addition for all seasons and all conditions.
8 - Active Muscle Fit Jogger With Reflective Panel - £15.00
These joggers are the kind of thing that'll see plenty of usage both at the gym and away from the gym. Comfort and performance in one.
9 - Active Zip Through Hooded Skinny Tracksuit - £30.00
An all grey tracksuit for £30 is an amazing deal, and why not mix and match with other items in this list?
---
Next time you're in need of a new pair of shorts for the gym, or a hoody to go running in, head over to boohooMAN. If you use the code ACTIVE30 before the end of January, you'll get a huge 30% off activewear. Hurry whilst stocks last!
And as always to compare prices on your essential football gear, keep it here at FOOTY.COM.
Before you go, we're running a competition to win a £100 voucher for boohooMAN too. To be in with a chance of winning keep an eye on our Twitter.
---
This post was sponsored by boohooMAN. If you are interested in partnering with us please contact info@footy.com and we'd be happy to talk more.