A closer look at the Nike Zoom 2K
Nike begin the year by introducing a brand new sneaker - and turns out it's a beauty.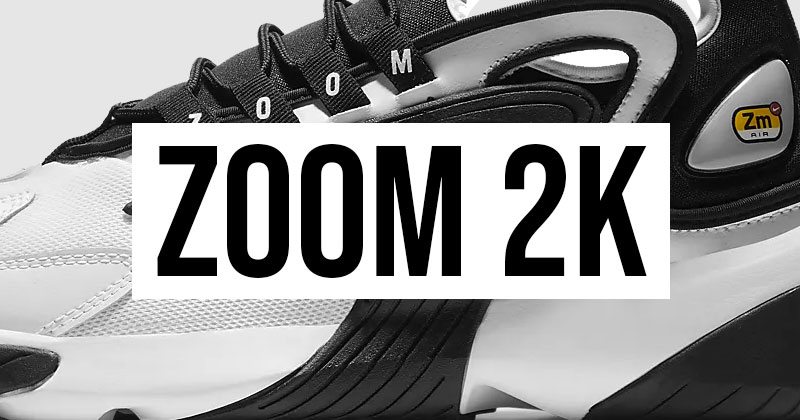 Introducing the Nike Zoom 2K
Designed for all genders, Nike's first widespread release of the year comes in the form of a readily available retro-inspired silhouette, perfect for everyday use.
The success of the M2K Tekno last year - a thick, durable trainer with a reasonable price tag - clearly had some influence in the design and marketing of the Zoom 2K but whilst the M2K Tekno was a reimagining of a former fan-favourite, the Zoom 2K is a brand new trainer altogether.
An extended outsole patch that curves around the centre of the shoe is the highlight of the design and is what truly gives the trainer its 90's feel. Subtle detailings are also immaculate; a 'Zm' patch to the rear of the shoe as well as the word 'ZOOM' written on the lace loops. The large sole proves the 'chunky' shoe trend is still alive and well in 2019 and is undoubtedly going to make these trainers a big hit.
They are currently available in men's and women's sizes for the very reasonable price of £80 - a steal considering new Air Max models debut from upwards of £150, and the M2K's previously mentioned were £90 when released.
Currently they are available in several colourways, including Triple White and Triple Black, and my personal favourite 'Plum Dust', and can be picked up from the Nike website as well as stockists such as Schuh and Footlocker.
Expect many more colourways to be released throughout 2019 so if you don't currently see a tone that suits your style, I can guarantee some more shades will become available soon enough.
Compare prices for shoes such as these right here on FOOTY.COM.