A Career in Shirts: Roberto Baggio
The Divine Ponytail was no stranger to a beautiful shirt. We enjoy some of his best here.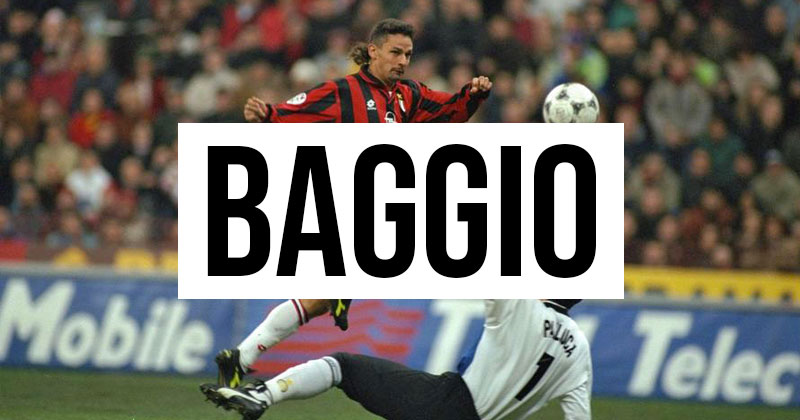 The best football shirts from Baggio's career
Roberto Baggio is often regarded as one of the greatest Italian players ever, renowned for his stunning vision, sublime shooting accuracy and ingenious creativity. Let's take a trip down memory lane and take a look not only at his beautiful career, but the beautiful shirts he wore along the way.
---
VICENZA
We begin in Serie C1 with Vicenza.
Already on the first team aged 16, his talent had already been recognised by scout Antonio Mora only aged 13, and it didn't take long for him to impress. He spent 3 successful years at Vicenza, developing the skills that would take him and his career far.
Taking a look at the shirts he wore during that time; his debut shirt was a class kit. Red and white stripes running down the kit give it a stand out look, something which his impressive hair only extenuated. His remaining seasons there sported a very similar look, and its poetic that a stand out player had such a stand out kit to remember.
In his final season for the club, he'd garnered the attention of some of the great Italian clubs, and it was Fiorentina that he'd sign for. Despite receiving an horrific injury just before his transfer, Fiorentina kept their faith and were rewarded for it. As fans, we are also rewarded as we get to see some beautiful Fiorentina kits during the era.
FIORENTINA
After a €1.5 million move, and his recovery, Baggio finally donned the famous violet kit. In his first season Fiorentina achieved an impressive 5th place finish, also reaching the semi-finals of the Coppa Italia. In that season, he sported the beautiful 85/86 Fiorentina OPEL kit, a lovely combination of the iconic purple working in tandem with a slick grey stripe running through the middle. The away kit alternated the colours, keeping Baggio looking fashionable during his first top flight season.
Sadly, less than a month into the following season he suffered another major injury, which required 220 stitches and left him missing most of the year. As such, this beautiful kit barely featured on the star, and so is hardly remembered as a classic for him.
In 1987/88 Baggio finally came into regular play, with his first goal coming from a free kick against Maradona's Napoli in a 1-1 draw. This goal was also important for saving Fiorentina from relegation, surely a wonderful moment for Baggio. Luckily for him, he had a lovely kit to do it in.
A very similar design to the previous season, but at least a minorly improved version, with the pattern running across the shirt giving the beautiful violet some texture.
This shirt is one of his most memorable from the time spent for the Tuscan side. The 1988/89 season was his breakthrough season, as he helped the club to the Coppa Italia quarter final and hitting home 9 times. He also scored 15 in the league, getting third in the running for the Capocannoniere (top scorer).
"More productive than Maradona; he is without doubt the best number 10 in the league" - former Fiorentina player Miguel Montuori
Finally, Baggio reached hero status. This was the season he became a household name in Italy, and its apt that he had a simple, archetypal shirt to do it in. The clean violet complimenting the classy badge, it's a wonderful kit and one to be remembered.
With sadness, we come to the close on the Fiorentina chapter. Baggio would have yet another wonderful season, but Fiorentina themselves struggled in the league. Despite reaching the UEFA Cup final, and Baggio scoring 17 times to get second in the Capocannoniere standings, the club no longer could keep a player of his calibre in their current situation.
His last shirt then, whilst a sight to behold, is also one with connotations of sadness and nostalgia. It's hard to say too much without repeating myself, due to the consistency of Fiorentina's shirts over this 5-year period.
JUVENTUS
A world record £8 million sent him to Juventus, and he didn't disappoint. With a seasonal total of 27 goals, Baggio made many juventini very happy. Despite this, the season wasn't a huge success for Juve, with them not winning a single competition.
This season also set the stage for one of the most memorable moments in Baggio's impressive career. When Juventus met Fiorentina, Baggio refused to take a penalty and Juventus lost; Whilst being substituted, Il Divin Codino picked up a thrown Fiorentina scarf and carried it with him to the bench. Despite causing outrage with the Juventus fans, he said "Deep in my heart I am always purple" – a gesture which secured his place as a Fiorentina legend forever.
His debut Juve shirt was simply quintessential of the Turin side, with the historic black and white stripes running down the shirt. Similar to his season on the pitch, it's not the most stand out kit for Juve in this period.
After a year to settle in Turin, Roberto turned up and did not let the pressure get to him. Again, he finished runner up to the Capocannoniere (against Marco van Basten), by scoring 18 and assisting 8. Juve finished as runners up to Roma, and lost the Coppa Italia final to Parma, but this season was important as Baggio was finally accepted and loved by the juventini.
The shirt for this season was quintessential Juventus, and it works very well, with the Danone sponsor slotting in perfectly with the stripes. The only real criticism of the shirt is the green kappa logo standing out like a sore thumb, but you can't discredit the whole shirt due to this.
The 1992/93 season featured an almost identical shirt, and so there's little to comment on design wise. However, Baggio finally exploded in black and white. He was made team captain and made sure to make his mark on Juventus history, helping them to win the UEFA Cup by scoring 5 times on the route to the final. They also reached the semi-finals of the Coppa Italia, and Baggio scored an incredible 30 goals in all competitions, his personal best, including 5 with Italy.
It was also a season of personal success for The Divine Ponytail, winning both the European Footballer of the Year and the FIFA World Player of the Year. By now, Baggio had become a household name worldwide, with many eagerly waiting his performance at the World Cup a year later, and what a treat they would have.
Again, the design for the 1993/94 didn't change, so we move on to Baggio's final season and the kit he wore then.
After the infamous 1994 World Cup (more on that later), Baggio completed his final season for Juventus. Sadly, it seems like he was overdue for another terrible injury, that sidelined him for most of the season. Only making 17 appearances, he still contributed to the first scudetto of his career, and also managed to win the Coppa Italia as well. However, despite his good performances despite the injury, the rising Del Piero was seen as his replacement, and he found himself surplus to requirement.
The final kit he wore was not one to remember. The well fitted black and white Danone sponsor was seen as "too complimentary" (probably) and so they replaced the black white 2 different shades of blue, leaving the shirt looking significantly worse than the previous seasons.
ITALY 1988 TO 1994
Let's take a short break from Baggio's club career, to look at what some feel is the bigger picture. Italia. Gli azzurri. Baggio didn't play in Euro 1988, but he did make his professional debut for country in November of that year.
The kit itself is beautiful. Elegant. The beauty lies in the pure simplicity of it, with the flag badge and alternating blue/white colour scheme giving the country a sleek look, as well as the stunning tricolour trim on the sleeves.
Italia 90. A wonderful World Cup for many reasons, one of which is this shirt. A small improvement on an already stunning kit, this shirt is truly a work of art. With the tricolour trim on the sleeves and the collar, the shirt looks fit for the home of renaissance art, one which wouldn't look out of place on a da Vinci painting.
Baggio had a good tournament despite mostly appearing as a substitute, noted for his electric partnership with tournament hero Toto Schillaci. He also bagged goal of the tournament for his stunner against Czechoslovakia. Whilst he had a good tournament, it would be his next World Cup that would really cement him into azzurri history.
When we talk about the 1994 World Cup and Roberto Baggio, it's both a story of great success and utter heartbreak. Coming into the World Cup as the FIFA Player of the Year, and well regarded as one of the best players in the world, Baggio was expected to light up at the tournament, and he did not disappoint (although he rarely did).
After an incredibly slow and disappointing start for Italy, it didn't look like they'd light up anything. They finished third in their group and only qualified as one of the best third placed teams, looking likely to fall in the next round.
Backs to the wall, Baggio ignited. Scoring 5 goals in the knockout rounds, he almost single handedly carried Italy to the World Cup final. He scored both the goals in Italy's 2-1 victory of Bulgaria in the semi-finals, and it seemed the stage was set for two of the best players (the other being the Brazilian Romario) in the world to meet in the biggest game in football, the World Cup final; Italy's first in 12 years.
Sadly, Baggio wasn't fully fit for the game, but still put in enough chances to keep the Brazilian keeper on his toes. However, he did take a penalty in the shootout.
That damned penalty.
"I knew what I had to do, and my concentration was perfect. But I was so tired that I tried to hit the ball too hard."
"It affected me for years. It was the worst moment of my career. I still dream about it. If I could erase a moment, it would be that one."
He missed. Italy lost. The biggest heartbreak of his career.
Baggio missing the penalty hadn't lost Italy that World Cup, as two other Italians had already missed in the shootout, meaning even if Baggio scored, the next Brazilian had to miss for Italy to have a chance. It didn't matter. Baggio's whole career would, in some people's eyes, be completely and unfairly overshadowed by this miss.
On a lighter topic, let's take a look at the kit they wore for this tournament. In my opinion, it's the greatest Italian kit of the 20th century, the bold colours, the subtle tricolour trim on the sleeves and collar, and the way the badge is laid across the kit in a pattern gives it that classic 90's vibe. It's a lovely kit, and it remains a shame that it is so associated with that forsaken penalty.
MILAN
As stated earlier, Baggio was surplus to requirements at Juventus, moving to Milan that summer. He struggled initially with injuries at the start of his time there, but throughout that first season he played well, helping Milan to the scudetto, with his 8 goals in the league and 10 assists. Impressively, he was voted the best Milan player of the season by the fans of the club, showing how well he'd managed to settle in.
The kit in his second and final season at Milan is almost identical to this one, but sadly for Baggio his second season was not a successful one for the player. He found himself never playing a full 90 minutes and often being benched, so it made sense for him to move on at the end of the season.
The kit he wore during those 2 years was a traditional Milan kit, with the signature black and red stripes, the inoffensive sponsor and the one gold star (signifying the 10 scudetti the team has won in their history). The subtle red trim on the collar is definitely a highlight of this kit.
BOLOGNA
After an unsuccessful second season at Milan, Baggio moved to Bologna, hoping he could save them from relegation and earn his place for the upcoming 1998 World Cup in France. He had a stunning season, scoring his personal best of 22 goals in the league, as well as 9 assists, which left him third in the running for the Capocannoniere. The most shocking part, however, of this season was that he cut off his "divine ponytail", to signify his rebirth as a person.
The kit itself it was tidy piece, with the red/blue stripes running down across the shirt, with appropriate matching trimmings on both collar and sleeves. The sponsor causes no issue, and leaves it looking like a simple but effective shirt for Baggio to have his most dominant season in.
ITALY AT FRANCE 1998
Italy had a rather forgettable World Cup performance in France 1998, losing to the home nation and eventual winners France in the quarter finals. For Baggio, it would be the last major tournament he would wear his nations colours in. He managed to score 2 goals in this tournament, including his 27th and last in a group stage match against Austria. However, for Baggio the other goal was much more important.
"I had the image of my miss from four years ago stuck in my mind. I was stepping up to the penalty spot and I thought to myself: "Just hit it hard, hit it hard..."
He hadn't taken a penalty for Italy since his infamous miss in the 1994 World Cup Final, and scoring it helped him take a huge weight off his chest. He later described the goal as "liberating", a rather just word considering the emotional ordeal the miss caused 4 years earlier.
After being benched in the Round of 16 game against Norway, Baggio played his final competitive game for gli azzurri against France. A long 0-0 game followed, and it went to the dreaded penalty shootout. In a moment of brief respite, Roberto converted his penalty, but to no result, as Italy eventually lost the shootout.
If we take a quick look at the shirt, we can see it was about as forgettable as the run Italy had. A simple, but pretty shade of blue is the only real thing to pay attention to, with no extra trimmings or tricolour (apart from the FIGC badge) in sight. A shame, that Baggio's last competitive games would be in such a disappointing kit.
INTER
After carrying Bologna to an 8th place finish, and a slightly disappointing World Cup in France, Baggio moved to his childhood favourite club, FC Internazionale Milano. Sadly, this was not a good move for his career, for a variety of reasons. Multiple different managers, inconsistent playing time due to multiple injuries and poor results for the club led his first season to be one to forget, with Inter finishing an incredibly poor 8th place.
However, the kit is a different story. A quintessential Inter kit, this is a lovely shirt and it perfectly manages to capture everything Inter. The Pirelli sponsor, the consistent black/blue stripes and the little gold star above the Inter badge, this is a kit of wonder for any Inter fans out there.
Sadly, for Baggio's career, this kit would be the highlight of his season.
Depressingly for Baggio, his second season at Inter was also not a success. His former manager Marcello Lippi (who would later lead Italy a World Cup victory in 2006) came in at the start of the season, and he decided that Roberto was out of shape, leaving him on the bench for the majority of the season.
He still managed to score some important goals, helping Inter to a 4th place finish. Finally, we get to the highlight of Baggio's time in an Inter kit, the play-off match for the last Champions League place against Parma. He scored a very important brace which helped the game finish 3-1 to Inter; Impressively, the famous Italian sports paper La Gazzetta Dello Sport gave him a perfect 10 rating and described him as "absolutely perfect all game". It showed Baggio's respect for professionalism, that despite being snubbed all season, he still put his heart into the game and tried his absolute best.
The shirt is another traditionally designed Inter kit, however the stripes are thicker than the previous season, which makes the shirt look a little more bloated in comparison. The removal of the gold star is also curious; The goal star represents 10 domestic league titles, something which Inter had achieved at the time and had worn during the previous season, so it's strange to not see it on the shirt this season.
BRESCIA
Baggio decided not to renew his contract with Inter (understandably) and began looking for a new club in Italy to play, as he wanted to further his chances to getting in the Italy squad for the 2002 World Cup. He settled on newly promoted provincial club Brescia, again hoping to save them from the fate of relegation. Due to his status, he was made captain and given the number 10 shirt, showing how the club put their faith in him.
He faced injury problems for the first half of the season, but still managed to score 10 and assist 10, helping Brescia to a record 7th place (their highest since the leagues re-establishment in 1946) and assisting them to the UEFA Intertoto Cup final, scoring in the final (although they lost to PSG). His season earned him a nomination for the Ballon d'Or, although he only finished 25th.
The Brescia shirt is a lovely sight. Using the chevron design, Brescia combine a royal blue primary colour with a clean white chevron to break it up, helping the shirt look incredibly unique in Italy and it's definitely a suitable shirt for a player of Baggio's calibre to wear. The only downside is the red background of the ristora sponsor, although luckily it doesn't last long.
If you haven't noticed a theme throughout Roberto Baggio's career, you'll notice it now.
Baggio started the season in stunning form, scoring 8 in 9, before getting 2 serious injuries across this season which kept him on the sidelines for the majority of it.
Despite that, when he did play he played with a golden touch, scoring consistently and helping Brescia to avoid relegation with 11 goals in his 12 Serie A appearances. His performances when he wasn't injured were still not enough for Azzurri coach Giovanni Trapattoni though, who did not think he was fully fit, leaving him out of his 2002 World Cup squad for South Korea/Japan (which, given the eventual fate of Italy in that tournament, may have been a costly mistake).
The shirt this season is very similar to that of last season, however the change of sponsor is a massive improvement, with the golden background giving an almost monarchist feel to the shirt. The kit didn't change in the remaining years of Baggio's career, so I'm happy to report that Baggio finished his career at Brescia in a fitting kit for the star.
The 2002/03 season was again a successful one for the aging player, scoring 12 and assisting 9, which pushed Brescia to an impressive 8th place. He also scored his 300th career goal in this season, a nice milestone in his career; He was the first player in 50 years to achieve this and is the 4th highest scoring Italian of all time.
With a tear in my eye, we get to Baggio's final playing season, the 2003/04 Championship.
He scored 12 and assisted 11 in the season, getting Brescia to an 11th place finish. He also broke the milestone of 200 Serie A goals, one of only seven players to have achieved this. He played the final game of his career at the San Siro against Milan, and was subbed off in the 88th minute, where he received a standing ovation from the 80,000 people in the crowd.
CONCLUSION
Roberto Baggio was one of the most important players of his generation. With his vast array of skills, quality, eye for goal and creativity, it's such a massive tragedy that injuries stopped him becoming potentially the best player of all time. Even despite his terrible injury record, he still managed to perform at the highest level and consistently impress fans and critics alike, showing what raw talent the man had.
It is even more of a shame then that, outside of Italy, Roberto Baggio is either known for his interesting hair style or the depressing penalty miss in the World Cup final at USA 1994. Whereas many think of the greats like Ronaldo, or Maradona or Gascoigne, Baggio is rarely held to this regard outside of Italy, which is something I hope this article can attempt to change.
Thank you for reading my article.