Best Gym Trainers 2019 | Guide
Avoid injury and maximise your training with our rundown of the best gym trainers of 2019.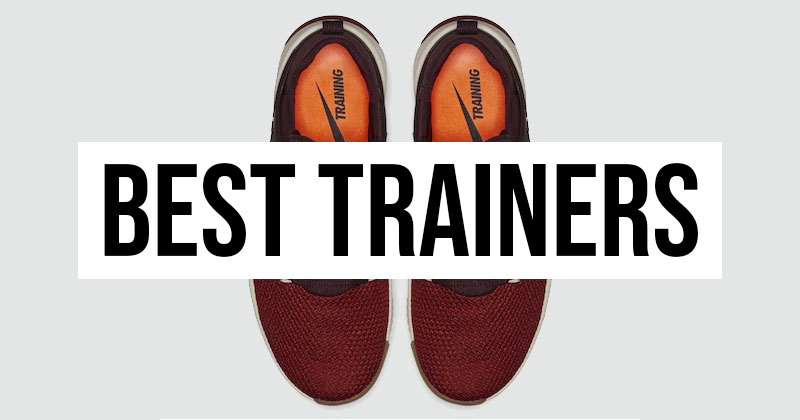 If 2019 is your year to restart at the gym and get fit, it's worth investing in quality footwear to get the most out of your gym time. We've compared user feedback, professional reviews and our own experience to compile the ultimate top ten gym trainers for men and women available in the UK.
10. New Balance Minimus 40 Trainer
If your gym sessions include CrossFit WODs, HIIT workouts, and Bootcamp training, a traditional weighlifting shoe may not have the support you need. The New Balance Minimus 40 Trainer bridges the gap between a high-impact trainer and a weightlifting shoe offering support whilst giving the stability you need to while lifting weights as well as being lightweight and flexible enough to support exercises such as box jumps. Many reviewers highlighted that this shoe runs ½ a size large but can be narrow so will not suit those with wide feet.
9. adidas PowerLift 4 Trainer
Weightlifting demands a sure-footed, steady base and the adidas PowerLift 4 Trainer delivers that in spades. Designed with a wide platform base and great sole traction, the shoe allows you to achieve the perfect squat and to lift heavy weights with confidence. Reviewers were universally impressed with the performance of this shoe for the price and commented that they felt steady when weightlifting in the shoe. Some reviewers did comment that the trainer runs small and narrow so bear that in mind when selecting your size.
8. Nike Metcon 4
The Nike Metcon 4 is a great crossover shoe for gym goers who need a trainer that will meet the heavy demands of crossfit style training as well as weightlifting. It is worth noting that these are NOT running shoes as many reviewers complained about it's lack of running support although it isn't designed for that purpose. The large, flat sole of the Metcon 4 is made from a sticky rubber which allows for superb traction in any direction. The mid-sole provides reliable support and a solid foundation for squats and lifting. Reviewers occasionally complained about the low heel section which caused some people discomfort but generally the comfort and overall fit of the shoe gets positive feedback.
7. Puma Tsugi Blaze
The Puma Tsugi Blaze is a good trainer for the gym for many different types of workout. Designed for comfort and with a great, true-to-size fit, this shoe looks and feels the part. Available in a wide range of stylish colours and materials, reviewers have commented that they receive compliments when wearing this shoe. The trainer is designed with a neutral arch support, so those with a high instep may need to supplement with an insole.
6. Nike Free x Metcon
The Nike Free x Metcon is loved by members of the CrossFit community for its performance in WODs and versatility. This shoe performs less well for heavy weightlifting as it has a more cushioned and flexible midsole than other shoes in our list so a dedicated weightlifting shoe may be more suitable for committed lifters. The Nike Free x Metcon has a close fitting upper which many gym goers enjoyed as it stopped the heel from slipping when making quick movements. Overall, it is a very stylish shoe which could be worn outside the gym for casual use which performs well for HIIT and CrossFit fans.
Thank you for joining the FOOTY.COM club!
5. Nike Free TR 8
The Nike Free TR 8 is a lightweight shoe that will support you through any gym workout. Designed to flexible and comfortable for anything from cardio through to weightlifting, HIIT and plyometrics. The Free TR 8 is offered in a wide range of colours and style options and offers upper and heel support through the high tongue and collar. It should be noted that the Nike Free TR8 doesn't offer arch support so may cause discomfort to those with a high instep but is generally found to be comfortable to most gym goers.
4. Reebok Crossfit Nano 8 Flexweave
As you'll have guessed by the name, the Reebok CrossFit Nano 8 is designed with CrossFit in mind and lives up to its name by being lauded as an ideal shoe for any WOD as well as high intensity training, cycling, weightlifting and plyometrics. Lightweight and flexible, the trainer is very reasonably priced when you consider the high build quality of the shoe. With a solid heel that is flat enough to offer stability during heavy lifts, this is a great all-rounder for those that like a varied gym regime.
3. Nike Metcon Repper DSX
Most gym shoes are suitable for workouts or lifting and don't offer the support needed for jogging, that's where the Nike Metcon Repper DSX comes in. Offering enough cushioning and flexibility for cardio workouts and jogging, it also provides a strong, stable platform for strength training. So if you like to change up your routine and try a bit of everything, this could be the shoe for you.
2. Reebok Legacy Lifter
If you're looking for a solid base for weightlifting, the Reebok Legacy Lifter is the trainer for you. Reviewers have compared these lifting shoes to standing in concrete and stated that they improve their technique so much that they have lifted more than ever before. The double strap feature helps lock the foot into place providing a secure and snug fit. Designed by Reebok specifically for CrossFit, these shoes will perfect your Olympic Lifts and give you the support you need to succeed.
1. adidas Power Perfect 3
In at number 1, the adidas Power Perfect 3 is the ultimate training shoe. Designed specifically for lifters and able to support even Olympic lifters, the shoe offers stability like no other. The medial strap has been placed higher up the shoe than in previous versions and reviewers love the security this provides. The EVA midsole offers supreme support and is far sturdier than the TPU platform used in many other similar trainers. If you want to take your weight training to the next level in 2019 you won't go far wrong with the adidas Power Perfect 3.
So that completes our rundown of the best gym trainers for women and men 2019. Whether you're planning 30 minutes sessions of intense workouts or longer sessions of moderate intensity this year, the right shoes will maximise your training and ensure you achieve the results you're looking for without injury in 2019.