Top 3 Most Comfortable Football Boots
You'll feel like your walking on air in the most comfortable football boots of 2019.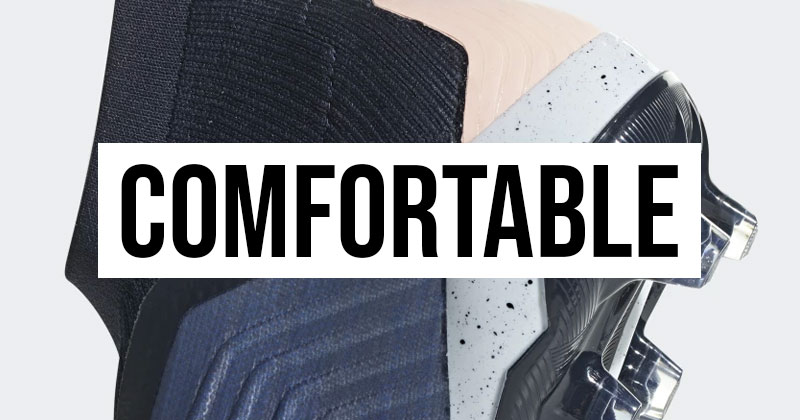 There's just nothing worse than an uncomfortable pair of football boots, especially when you've paid a real wad of cash for them.
The big brands will try to tempt us with flamboyant, extravagant colourways and enticing marketing campaigns, drawing us in with their promise of 'innovative boot tech' and 'improved performance'. While that's all very well and good, these features are rendered completely useless if we're coming away with blisters on our feet and constantly reaching for the painkillers.
When investing in a new pair of football boots, comfort should always be considered your top priority.
How Tight Should Football Boots Be?
Most boots will need to be broken in before you can really play in them, but that doesn't mean they should be causing you discomfort as soon as you put them on. In fact, if wearing a pair of boots is proving a little painful, then it's fair to assume you've either picked the wrong size or the wrong pair altogether.
Football boots should fit you snugly, without being too tight and offering your feet a little room to breathe. Of course, this is where your choice of upper material becomes so important, because some materials (leather) will stretch over time, while others (synthetics) won't.
Additionally, your boots should have enough room for you to wiggle your toes, and you always need to make sure they're suitable for the surface you're playing on.
Thank you for joining the FOOTY.COM club!
What Are The Most Comfortable Football Boots 2019?
Now that we've got that out of the way, I'm going to dive right into my top 3 most comfortable football boots of 2019! Trust me, these boots will feel like you're slipping your feet into a pair of fluffy clouds every week. And the best part? They're lovely and snug right out the box!
3. ADIDAS COPA MUNDIAL
In my eyes, the adidas Copa Mundial can do no wrong, and it even appeared on my recent list of the top 5 most durable football boots.
Above its robustness and reliability, however, is a level of comfort few other boots have been able to replicate in the 40 years since its release. Constructed from premium kangaroo leather, the Copa Mundial has received subtle little tweaks over the years, all designed to enhance comfort, stability and to ultimately keep up with the newer boots on the market.
A synthetic lining, for example, has been added to improve support, coming alongside a sturdy, 12-stud outsole, reinforced heel and slight tweaks to the heel. In short, this is a very comfortable football boot indeed, requiring no 'wear-in' time whatsoever.
Top Colourways:
You just can't beat the classic look of the original black leather adidas Copa Mundial.
2. NIKE MERCURIAL SUPERFLY VI
The latest generation of Nike Mercurial will fit your feet like a glove. A warm, toasty glove which allows you to change direction comfortably at speed.
These are some of the most innovative football boots on the market today, featuring a stunning one-piece Flyknit upper which fully conforms to the shape of the foot. The Superfly VI utilises a Dynamic Fit collar, giving the ankle plenty of cushioning and room to manoeuvre, while the heel lining helps to hold the foot in place and generally keep you snug as a bug.
Offering the comfortable wrap of a laceless upper and the flexibility of standard laces, the Superfly really does give you the best of both worlds. But it also comes with a hefty price tag.
Top Colourways:
Nike 'Just Do It' Mercurial (White/Total Orange), Nike 'Fast AF' Mercurial (Total Orange), Nike 'Stealth Ops' Mercurial (Black), Nike 'Raised On Concrete' Mercurial (Wolf Grey), Nike 'Always Forward' Mercurial (Volt/Black).
1. ADIDAS PREDATOR 18+
In terms of comfort, it just doesn't get any better than the adidas Predator.
While the Copa Mundial still relies on its old-school design and k-leather materials, it's fair to say that the Predator has gone completely in the other direction. Considered by many as a modern classic, the Predator was revived late in 2017, featuring a light-weight Primeknit upper and Purecut laceless system.
This is a football boot that makes use of adidas' most innovative boot tech, designed to not only enhance performance, but to also let you play in complete comfort. The Sockfit collar will mould to the shape of the foot, locking it into place while offering plenty of flexibility; and the use of synthetic materials allows for the greatest levels of Predator control to date.
In short, these are some of the most comfortable football boots money can buy.
Top Colourways:
adidas 'Team Mode' Predator (Core Black/White/Red), adidas 'Energy Mode' Predator (Solar Yellow/Core Black), adidas 'Cold Blooded' Predator (White/Core Black/Red), adidas 'Spectral Mode' Predator (Trace Pink), adidas 'Deadly Strike' Predator (Unity Ink/Aero Green), adidas 'Initiator' Predator (Active Red/Solar Red).