The ultimate Black Friday deals tracker
Fight your way to the front of the queue with all the latest voucher codes and deals right here in one handy place.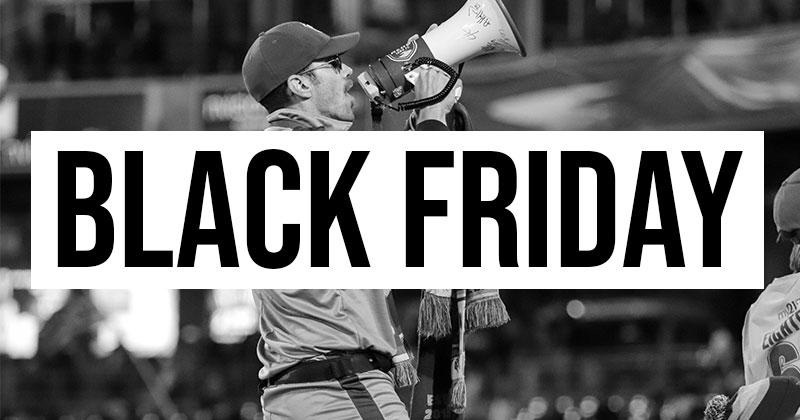 Head over to our shiny new Black Friday football deals page to find the biggest 2019 savings. We'll be comparing prices on boots, shirts, trainers and much, much more!
Discount codes and Black Friday and Cyber Monday sales
Black Friday is already here.
I know, haven't we only just started November? We have, but that doesn't mean brands aren't jumping the gun and slashing prices in the hope of catching our attention.
It's a task in itself to sift through all the deals, sales and offers available during this time of year. That's where we come in.
Many of you will be aware of my discount kits tracker, so in the same spirit I've decided to put together this black friday tracker to cover all the best voucher codes and sales across major and minor football retailers.
I'll be updating this regularly over the coming days, and as well as any of the great savings listed here you should keep an eye on our Twitter and Facebook pages where we'll be picking out specific bargains across shirts, boots, trainers and gifts!
Happy shopping, and if you pick up anything I'd love to hear over on Twitter.
---


---


---
FOOTY.COM is the UK's leading football price comparison site.
We compare prices on hundreds of thousands of football shirts and boots, as well as training wear, trainers and games.
Using our unique price comparison search engine, you can find great deals both from retailers and directly from brands. What's more, if a site has any active voucher code or free shipping promotions we'll pick them out for you.
So with Black Friday and Cyber Monday already unveiling before our eyes, it's time to tackle the online shopping world like a last-ditch tackle from Paolo Maldini in the Derby della Madonnina.
If you're like me, it's tough to think of gift ideas for friends and family obsessed with football. They already have the latest kit from their favourite team, they're happy with their old pair of boots. What more could they want?
Luckily, Black Friday sales are the perfect opportunity.
You see, you can never have enough football shirts and given the huge variety of affordable gems out there, a new addition to the wardrobe can be just what the doctor ordered. During Black Friday football boots are cheaper than they'll ever be too, so even the most exclusive and desired pair can be made affordable. Suddenly those £200 pair of boots aren't as out of reach as you thought they were.
It's a similar story with trainers, few times of the year cause people to drop prices as drastically as Black Friday, which means incredible bargains can be snapped up if you know where to look.
There's no excuse for average gift sets either, why not pick up the latest adidas Originals gear at a fraction of the price instead or shop for a new pair of Nike Air Max without the hassle of several tabs.
Embrace the madness of Black Friday 2018, and whilst you're there pick up a christmas gift or two.