Snood Criminals: Return of a neckwear nightmare
Nike has brought back arguably the most hated piece of football equipment ever.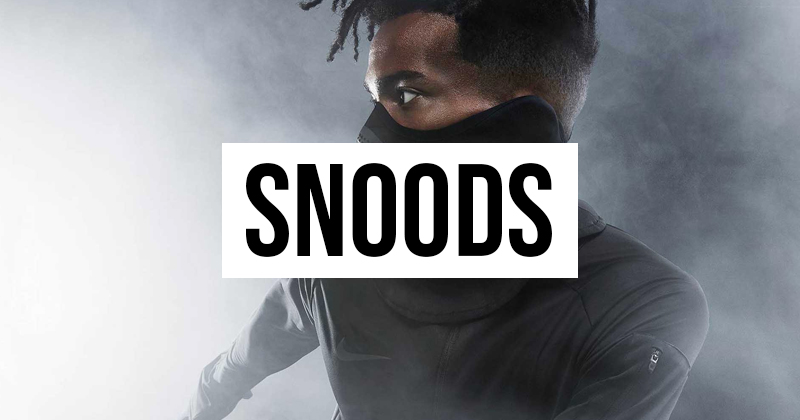 The highs and lows of the humble snood
There's nothing like extra kit to keep out the elements on a cold and wet evening tramping around a sodden and mud-ridden football pitch.
However, there's also nothing more likely to get teammates and spectators, coaches and pundits questioning a player's masculinity, and commitment to the cause, then appearing on a pitch wearing a pair of gloves, base-layer or tights. I was once hauled over the coles for wearing a t-shirt under my shirt on a bitingly cold day playing low-standard reserve team football on the Cumbrian coast. My team mate suggested that I wouldn't be trying very hard without the motivation of freezing my nipples off as the ball was blown passed me by an arctic and galeforce wind.
Forget the gloves, undershirts and leg-wear though. One piece of additional kit caused absolute outrage when players appeared wearing them suddenly at the start of this decade.
The snood.
Never has a piece of clothing brought such derision and, in certain quarters - particularly the "old Skool British hardman" area of professional football - absolute outrage.
Alex Ferguson certainly wasn't keen. "Real men don't wear snoods" he presumably raged using his patented and wholly manly hair-drier tone.
His former players lined up to back up the gaffer and reaffirm their manliness. Paul Ince, the guy who used to write his self awarded Guv nickname on his own boots said "I am sick and tired of seeing players ...wearing tights and these things round their necks". Paul hates snoods so much he cannot even bring himself to mention their name.
And then Roy Keane, joined in: "they've all gone soft" he said of players who had the audacity of wanting to be comfortable whilst they play, "I don't know how they do it and focus on the game". Because we all know just how hard it is to concentrate when we are wearing a tie at work.
Perhaps the outrage wasn't just about old pros struggling to understand the brave new world of fancy coloured boots and rehydration techniques that don't involve binge drinking lager in a nightclub until 2 am.
The main poster-boys for the snood in 2010 were either Manchester City or Arsenal players. Marouane Chamakh and Samir Nasri wore them regularly for the gooners, prompting the ever studious Arsene Wenger to suggest that he allows them to do so "on medical advice", proving the Arsenal backroom staff had the same attitude to coughs and colds as my Nan did in the 1980s.
At City Yaya Toure wore one but probably didn't get much stick due to his size. Mario Balotelli dabbled but probably ditched them when they became too mainstream. But the player that I think of first when someone says the word snood is Manchester turncoat Carlos Tevez. He loved a snood, and that may suggest why the United alumni hated them so much.
The outrage was such that the half-scarf-half-balaclavas were banned within two years. The international arbitrators (and some would say "fun police") of the laws of the game called time on the controversial neck-warmers in 2011, amending law 4, governing players' equipment "should not be permitted".
Killed off in their prime. Gone. Never to return, no matter how "cold and wet" a wednesday night fixture at Stoke City could get.
Or so we thought.
So why would Nike, one of the two Galacticos of football equipment launch a piece of kit that cannot be worn on the pitch? Early in October they marketed the Nike Squad Snood a replica of snoods that had been spotted at training sessions of premier league clubs last year. Available in five colours, the snoods look more like something an Olympic downhill skier might wear as they set up for their final run of the slalom. They're all tailored shape and breathable mesh. It seems whilst they've been banned, snoods have been evolving. And evolving so quickly Nike released an even better snood. One for the pros.
The Nike Strike Snood is even more technical, with laser cut holes (wouldn't want those holes to be micrometre out of place) and has slightly softer material on the inside. The Nike Squad Snood is for everyday use.
At £17 it is pretty good value and I would happily wear one for training on bitterly cold days during the harsh winters, which are endured by amatuer and pro alike.
The Strike Snood however, and they're very clear about this, is only for match days. Which is strange as they're still banned. £27 for a piece of kit that you cannot wear on the pitch seems a bit excessive.
Perhaps they are a bit opulent and unnecessary but the re-emergence of the snood suggests that the attitude towards football equipment has changed since the days of Paul Ince and his Guv'nor-esque hyper-masculinity. It also shows the continued appetite for amatuer footballers to copy their heroes in all aspects of the game.
I for one am happy they're back. Even if they just serve to angry up the ultra-macho old skoolers who hate anything that is different to how things were back in their day.
Plus I really really hate having a cold neck.
---
We've got the best prices on the new Nike snood. FOOTY.COM