Top 8 2018 Macron football shirts
Macron's footprint on the football shirt world is steadily growing, and they're making good use of their opportunities.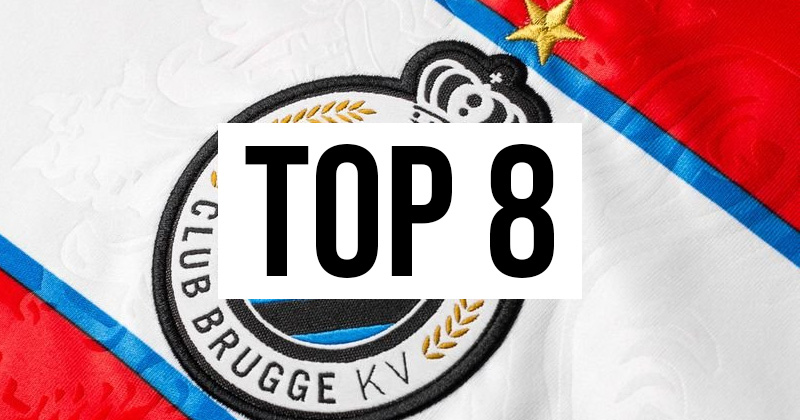 The best Macron shirts this season
The football shirt world is brutal.
Behind the likes of Nike and adidas, there is something of a brand battle royale between traditional powerhouses like Puma and Umbro, and newcomers like New Balance and Under Armour. Sitting somewhere in between is the Italian brand Macron.
In truth, I can't think of many standout Macron shirts over the years, despite their consistent presence in the shirt world. That's not to say they aren't making waves though, across all Champions League teams this season Macron sit alongside rivals Puma and New Balance with 2 teams (Club Brugge and Red Star Belgrade), 1 ahead of the likes of Kappa, Lotto and Under Armour.
Their small but notable presence in Europe's top competition is testament to the fact that they are not going away any time soon. It gets even better when you look outside the UCL too, with a number of new shirts this year showing the kind of creativity we often crave from the bigger names.
So, after picking out my favourite Nike, adidas, Puma, Umbro and Kappa shirts for 2018, it's Macron's turn to join the party.
Spoiler: there's a lot of collars.
---
1. Hellas Verona 2018/19 Third Shirt
The Hellas Verona third shirt is the cream of the crop. In fact, if we had a better collar (as opposed to the drop neck look on this shirt) this would easily be one of my favourite shirts across all brands.
It's an incredibly minimal design, but the few details that are present on the shirt work perfectly.
On top of the all black base is the Macron logo in gold, and a reworked crest (again in gold) featuring the two mastiffs seen at the top of the standard crest. The new design is beautiful, the sort of crest which only gets better the more you look at it. I mean, just look at the way the dogs form a "V" for a start!
Just behind the crest is a subtle but tasteful "115", signifying the age of the club.
A lot of clubs are trying to jump on this sort of style, but no one does it better than Hellas Verona and Macron.
2. Lazio 2018/19 Home Shirt
A lot of people are talking about Lazio's shirts this season, and rightfully so.
The eagle motif used across their kits harks back to their fantastic shirts of the 80s. It's an iconic design, and one which Macron previously brought back in the 2014/15 season.
Whilst there are few differences between that kit and this year's edition, it's still great to see I Biancocelesti do what they do best.
3. Belarus 2018/19 Home Shirt
In 2017, Macron announced a pioneering deal with UEFA which opened the door for small European nations to have bespoke kits produced for them. This deal was significant, given the fact countries like Liechtenstein and San Marino were often the last team on any brand's mind when it came to design.
Several countries are benefitting, and my favourite of the lot is the Belarus home shirt.
The main design feature sees a typical Belarusian pattern on either side, but the shirt is so much more than just that. Macron have adopted a half and half look of red and green for both the collar and cuffs, which adds depth to the shirt without detracting from the cleanliness of the body.
Finally, the shirt is elevated considerably by one of my favourite crests in International football. Sadly I don't have enough time to fully appreciate it, but I might save that for a future blog.
4. Dinamo Bucharest 2018/19 Third Shirt
Staying in Eastern Europe, we have this fantastic design from Dinamo Bucharest.
There are two things I absolutely love about this shirt. One is the fact we have just two colours in black and white. The second is the brilliant double dogs pattern which is brought out from the crest. Each line of this design is consistent in thickness with the pinstripes of the rest of the shirt, and accuracy like this makes a big difference between a great shirt and a messy one. For this alone, Macron deserve a lot of credit.
Don't miss some another subtle year inscription behind the crest also.
5. Vitesse Arnhem 2018/19 Away Shirt
Eagles make a great source of inspiration for football shirts. Just look at Nigeria.
In a similar vein, Vitesse Arnhem's new away shirt evokes their flying eagle emblem with a geometric sleeve pattern loosely resembling wings. Whilst it's not as crisp as some of the patterns you'll see from the likes of adidas, it's nonetheless a great approach, not to mention the fact it's a unique look.
It goes without saying, but we also have a subtle design behind the crest, in what is almost a universal feature for Macron shirts.
6. Liechtenstein 2018/19 Home Shirt
Another great shirt from a small European nation, Liechtenstein's latest kits tick a lot of boxes.
A subtle pattern depicting the Castle of Vaduz (the official residence of the princes of Liechtenstein) adorns the body of the shirt, with a similar effect used to support the wonderfully simple crest.
I'm knocking off a couple of points for the collar design, but otherwise this is a strong shirt from a source you wouldn't expect.
7. Club Brugge 2018/19 Away Shirt
Club Brugge are typically known for their blue and black home shirts, and white and black. However, Macron have broken the mould with the 2018 away shirt, opting for the colours of the flag of Bruges.
The bold red and white hoops are a refreshing change of pace for the Belgian side. As usual, there is a pattern behind the crest and it's particularly beautiful on this shirt creating an embossed effect which looks incredibly classy up-close.
8. Sporting Lisbon 2018/19 Home Shirt
For all their turmoil off the pitch, Sporting Lisbon are suiting up in a beautiful set of kits this season.
Once again the main sponsor is pleasingly situated inside a clean white box, whilst the Macron logo fits in perfectly within one of the hoops. We also have a simplified crest design, which in tandem with a faux-drawstring collar creates a modern take on the retro kit.
It could easily be tacky, but instead the end result is a smart shirt which will age very well.
---
Despite precious few big name contracts, Macron are establishing themselves in the football shirt world with a dedication to creativity unlike almost anyone else.
Their work with small European nations is just one example of how the Italians are seeking to change perceptions about shirt design, and it's an ethos which I for one strongly welcome.
On top of this attitude, they're actually just making some great shirts. If they continue their trajectory, it wouldn't be a surprise to see more than 2 Macron teams in the Champions League before long.
---
For the best prices of Macron shirts, you're already in the right place. FOOTY.COM