The Best Football Shirts in Turkey
Did you know Turkey was a hotbed for beautiful football shirts? Let us show you.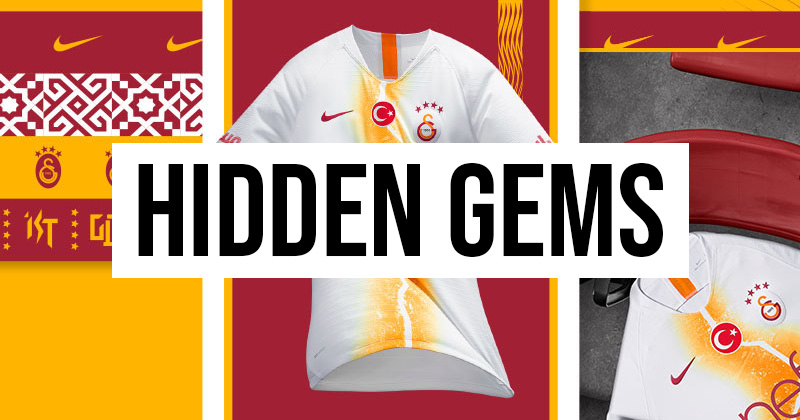 Hidden Gems - Turkey
Despite being the home of 3 of Europe's most famous clubs in Galatasaray, Beşiktaş and Fenerbahçe, the Turkish Süper Lig is not usually considered one of the continent's big leagues.
It certainly has some of most passionate fans around, and there are definitely some intense rivalries and some great players (Wesley Sneijder, Ricardo Quaresma, Jay-Jay Okocha and Gheorghe Hagi immediately come to mind) have lit up the league.
However, the league itself is currently ranked 10th in the UEFA coefficient rankings for club football and some football fans would argue that players only move to the Turkish Süper Lig towards the end of their career, when they are perhaps past their peak.
The Turkish Süper Lig may not be first choice when choosing to watch a random European match over the weekend, but if you like football shirts (and if you're reading this, then I know you do!) maybe you should tune in as their are some gorgeous shirts this season.
In this post, I've picked out 7 TURKISH DELIGHTS (sorry-not-sorry!) for you.
---
Trabzonspor Third Shirt
Trabzonspor are one of Turkey's most successful teams having won the Turkish Süper Lig on 6 occasions.
These 6 title wins mean that they are one of only four clubs that can have a star above the club badge. Each star represents five title wins and there are no prizes for guessing who the other 3 clubs are that have the stars.
Many well-known players have represented the club over the years including Oscar Cardozo, Didier Zakora, Florent Malouda and Rigobert Song. However, their star player is perhaps Burak Yilmaz, who is somewhat of a goal-machine, with an impressive 81 goals in 100 appearances in 2 spells at the club.
Now, to me, this is all pretty fascinating but perhaps the most interesting thing about the club is in relation to their kit and the club colours. It turns out that Trabzonspor play in claret and blue, not because they are the colours of the region, or connected to the club's founder in some way, but because it is actually a tribute to Aston Villa.
There are a lot of great claret and blue shirts this season but this Trabzonspor third shirt is perhaps my favourite. The subtle claret and black diamond pattern on the body looks great and almost neon blue on the sponsors and detailing really stand-out with being overpowering. Beautiful work from Macron.
Galatasaray Third Shirt
With this blog series, I wanted to showcase some of this season's most beautiful shirts worn by some of Europe's less glamorous sides. However, there was no way I could write about the best shirts in the Turkish Süper Lig without mentioning this absolutely stunning Galatasaray third shirt.
Nike have used the Bosporus strait, which is a natural body of water that divides Istanbul's European and Asian sides, as inspiration for it's design. The shirt is predominantly white with Istanbul's urban areas in yellow. The design has a vibrant, almost electric-like look to it.
This third shirt is one of several Nike third kits that use the team's location in its design and this is perhaps my favourite. When you have a shirt which is unique, identifiable to the club's fans, sleek and eye-catching, then you are definitely onto a winner.
Bursaspor Away Shirt
This season Bursapor have released four kits.
Other than trying to get fans to spend more money, I don't see why a club needs four shirts. However, I'm not here to debate the reasons for having four shirts. I'm here to show you the beauty that is Bursaspor's away shirt. Just look at it.
The main focus of the shirt is a 3D-looking mountain range across the body with a yellow border going along the top. It certainly stands out. It almost feels like someone has designed this using an old Commodore 64 or Spectrum computer. There are no certainly no other teams with shirts like this and it's because of this originality that I love it.
In 2010 Bursapor won their first and, until now, only Süper Lig title. That win, meant that they became only the second team from outside Istanbul (the other team being Trabzonspor) to win the title. It's nearly 8 years since that title win and they may not win it this year, but they definitely have one of the league's best shirts.
Beşiktaş Home Shirt
Beşiktaş are one of Turkey's most successful clubs with 15 league titles and 9 cups to their name. The club haven't won a trophy since 2017 and after receiving a ban from participating in this season's Turkish Cup, Ricardo Quaresma, Pepe, Vagner Love and Ryan Babel will be going all out to win this year's title.
Beşiktaş will be trying to win the league wearing this smart shirt from Adidas. It may be minimal, but everything works in perfect harmony using the club's three colours. The understated red sponsor and the black collar and sleeve bands work great with the white shirt. Even the greyed-out Adidas stripes look good.
Başakşehir Away Shirt
Having only founded in 1990, Başakşehir FK are a relatively new kid on the block.
However, they have made fantastic progress since their early days in Turkey's amateur leagues. The club are now regulars in the top-half of the Turkish Süper Lig, finishing runners-up once and also qualifying for European competitions in the last four years. They also have a squad with players such as Emmanuel Adebayor, Arda Turan, Gael Clichy, Gokhan Inler and ex-Newcastle player, Emre Belozoglu.
In addition to this, I also have a soft spot for the club because one of their first team coaches is a former student of mine. It's great to see him involved in the club's progress.
However, let's talk about the shirt as it is lovely. Macron have designed a smart, elegant away shirt. The shirt is mainly navy blue, with orange side panels and collar with little flashes of white piping to go along with it. The sponsor is minimal and fits in well with the overall look. All in all, a great-looking kit.
Göztepe Home Shirt
I absolutely love this shirt! I love the colours, the pattern, the subtle background on the body, the half-and-half collar.... Everything!
The shirt consists of a pattern which is synonymous with teams such as Wycombe Wanderers and Bristol Rovers. Red and yellow quarters dominate the shirt, with a smaller section across the chest. The sponsor also fits well. It's not too big and the colours correspond with the club's. Overall, it's a lovely uncluttered shirt but a strong, eye-catching design.
One of the things I love about football shirts are the memories they evoke. Some of kits I love are cherished because they remind me of certain matches, particular players or good (and maybe, bad) seasons. This shirt brings back memories of being a kid and reading Roy of the Rovers. I can just imagine Roy Race scoring another hat-trick for Melchester Rovers in this.
Yeni Malatyaspor Away Shirt
Malatyaspor have only been in the Turkish Süper Lig for 2 years having spent most of their 32 years in Turkey's lower leagues.
This season, they will playing some of their away matches in this sleek shirt from Macron. The shirt is striped using two tones of black and contrasting side panels, one being red and other, yellow.
---
For more the best prices on Turkish football shirts, keep it here at FOOTY.COM