Premier League rejects and El Clasico collide
They may have been on Real or Barca's books once, but could they do it on a rainy Tuesday night in Stoke?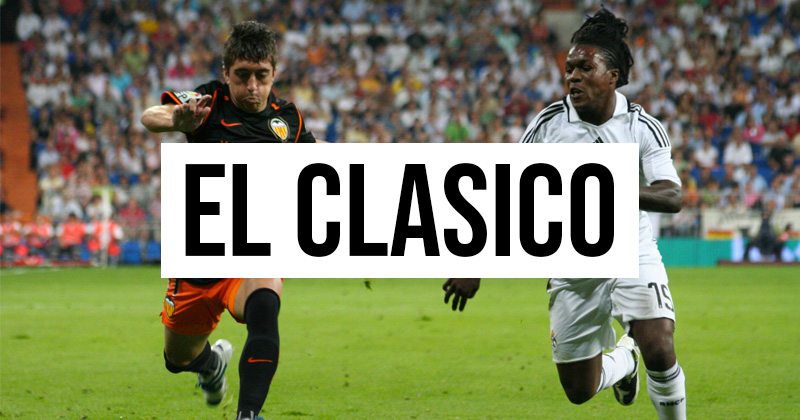 7 Premier League players who also turned out for Spain's elite
---
7. Royston Drenthe
The perennial tabloid star only spent one season on loan at Everton which was swiftly ended when, despite some promising performances, he turned up late to training one too many times.
He has since confirmed that during his stint on one occasion he turned up to Everton's Finch Farm training complex at 2am, with a girl under each arm, intending to use the club's hot tub.
Life at Real Madrid started well for the once promising Dutchman, but after the development of the immense Marcelo - paired with some training ground storm-outs and a fallout with the Los Merengues faithful - he was shipped out on loan for 2 consecutive seasons, before finally being released after 5 years with the club.
In true Royston Drenthe fashion, he retired from Professional football in 2016 to pursue a rap career but after just 2 years he returned to the game, signing for hometown club Sparta Rotterdam in July this year.
6.Emmanuel Adebayor
Arguably most well-known in England for running the entire length of the Etihad pitch to celebrate in front of the Arsenal away end, Emmanuel Adebayor spent 5 months on loan at Real Madrid in 2011.
The Togolese frontman was shipped out by City following the arrival of the prolific Edin Dzeko in January 2011, with Mario Balotelli and Carlos Tevez already above him in the pecking order. He netted 8 goals in 22 games but was not a fan favourite by any means, and his career in the Spanish capital did not stretch any further than that. He returned to Manchester at the end of the season but was promptly shipped out on loan to Tottenham.
He now plays his trade for İstanbul Başakşehir in the Turkish Süper Lig.
5. Ricardo Quaresma
Everyone's favourite FIFA player has never really settled anywhere throughout his career, and his time at the Camp Nou is a perfect example of that.
He made 28 appearances in all competitions for Blaugrana but the majority of these came off the bench, and after publicly stating he refuses to work with then-Barca boss Frank Rijkaard, he was moved to Porto with Deco going the other way. To top off a miserable campaign the tricky winger broke a bone in his foot that year, causing him to miss Euro 2004 - Portugal not only hosted the tournament but finished runners up.
4 years later, he was awarded the Bidone d'Oro (Golden Trashcan) by an Italian radio station for being the Serie A's most disappointing player after a less than stellar season with Inter Milan.
Seriously lacking in confidence, in February of the next season he was loaned was to Chelsea; 5 games in all appearances was as far as his English adventure went and he returned to Inter for another miserable campaign the following season.
His fortunes have improved in recent years, having won consecutive league titles with Besiktas in 2016 and 2017, as well as playing an integral role in Portugal's Euro 2016 victory.
4. Geovanni
A fan favourite at both Manchester City and Hull City, the talented Brazilian played 3 seasons in the Premier League, scoring a handful of goals in the process and entertaining an endless number of spectators at the same time.
A successful first campaign in Manchester was not enough to save him from being released after just one season, with Elano being the preferred choice in Attacking Midfield for Sven-Goran Eriksson. Phil Brown then signed him for The Tigers as they ventured onto their first season in the top flight of English Football - one famous for Brown himself delivering Hull City's team talk on the pitch when he found his team trailing 4-0 away to Manchester City on Boxing Day.
Geovanni's career fizzled out somewhat after his electric time in England, with minor spells in America and Brazil before finally retiring in 2013.
3. Julien Faubert
In January 2009 Real Madrid made probably one of their most bizarre signings ever, as they took Julien Faubert on loan from West Ham until the end of the season. The loan was a complete disaster, as the Frenchman was given a paltry 2 substitution appearances totalling a measly 54 minutes. Also during his time in the Spanish Capital, he was caught on video seemingly sleeping on the substitutes bench, and missed training on one occasion simply because he thought he had the day off.
His time in England was by comparison a triumph, as he made over 100 appearances in all competitions for West Ham, often being deployed as a right-back rather than his favoured right-midfield position.
After 1 career appearance for the French national team, Faubert switched international allegiance to Martinique in 2014. His last club was Borneo Football Club of Indonesia who released him in July this year, after 7 months with the club.
2. Alexander Hleb
One of Belarus' finest sporting exports enjoyed a successful period in England and was a firm favourite amongst the Arsenal faithful - he even became the first Belarusian to appear in a Champions League final when he lined up for the Gunners in their 2-1 defeat to Barcelona in 2006. It was when he decided to then swap London for the Blaugrana that his very promising career seemed to take a comparative nosedive.
Hleb was one of Pep Guardiola's first signings at FC Barcelona but only managed to make 19 appearances in a 4 year period that included 3 loan spells, one of which was to Premier League Birmingham City. He admits himself that never bothering to learn Spanish massively hampered his chances for the Catalan giants and later confirmed in an interview that he did indeed cry when he truly realised that he was leaving Arsenal for Barcelona - a move he admits he came to regret hugely.
He now plays for BATE Borisov, in his 5th spell at the club.
1. Ludovic Sylvestre
Here's a scorcher for Sporcle Trivia and Pub Quizzes galore, and one that Blackpool fans will remember well. The french central midfielder spent three years at Bloomfield Road after signing from Czech club Mladá Boleslav, including making 8 league appearances for Ian Holloway's men in the club's first and only foray into the dizzying heights of the Premier League. His next two seasons at the club proved more fruitful, as he made 28 and 29 championship appearances respectively, before moving to Turkish Süper Lig side Çaykur Rizespor. Sylvestre was picked up by Barcelona from Strasbourg in 2005, and played a number of games for Barcelona B. However he could only manage a mere 2 appearances for the first team, one of which was off the bench, and so he left to sign for Sparta Prague in 2006. After 2 years in his homeland playing for Red Star FC, he retired at the tender age of 34. He is now a sporting director for the Parisian club.
---
To commemorate the stellar careers of these 8 legends of the game, find a new Real Madrid or Barcelona shirt at the best price. FOOTY.COM