The unique politics of El Clasico
The rivalry played out during El Clásico has roots deeper than most, and we have politics to blame.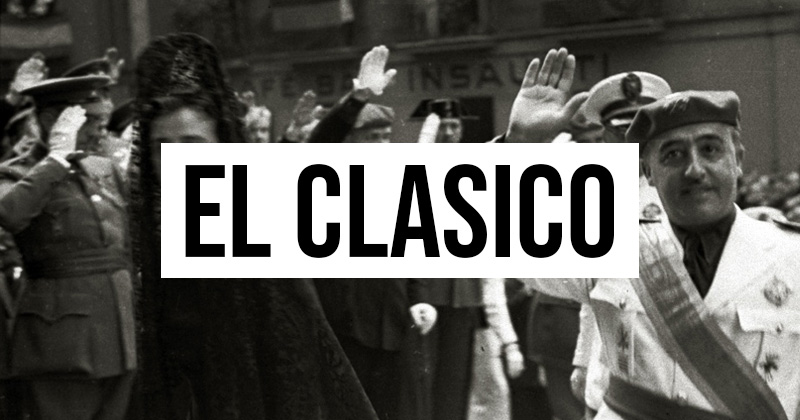 Political Football - El Clásico and the rivalry that transcends sport
---
Two giant clubs in one of the world's greatest leagues.
Barcelona and Real Madrid were never going to be great bedfellows in these days of burgeoning television revenues and fierce competition for the fans in new markets. However, these two, it's safe to say, have never really got along and their rivalry is far more than a marketing project to flog shirts to the far east.
It's deep. Very deep.
You could argue that before the two clubs were even born they were on a collision course for conflict.
Barcelona, the flag bearer for Catalonian independence, home to a unique language and culture that has, for at least a few centuries, been desperate to distance itself from the capital of "unified" Spain. The more conservative Madrid, seat of the royal family and imposer of the Spanish language upon an unwilling Catalan region.
And then 1936 brought the shadow of civil war over Spain, pitching the regions and cities against each other. The city of Madrid was home to the right-wing militia of General Franco, whilst many Catalonians joined the fight against them. Three bloody years later Franco had won, brutally suppressing the Catalan culture for nearly half a century.
Many felt that the fascist government used Los Blancos as the "poster-boys" of a united Spain, always seen as "Franco's team", favoured and pampered. Whilst FC Barcelona became a symbol of resistance, more than just a football club, as their now official motto proudly pronounces.
A number of incidents, on and off the pitch, have added to this colourful backdrop of social history.
In 1943 both clubs were fined for their role in unsavoury scenes during a two-legged semi final of the Copa del Rey. Then called Copa del Generalisimo, the 11-1 victory for Real in the second leg raised more than a few eyebrows.
Things got a whole lot worse ten years later. This time it was a good old fashioned transfer scandal that had Barca fans crying foul.
Alfredo Di Stefano was a world class Argentinian striker who caught the eye of both Spanish giants whilst playing for Los Millonarios in Colombia. There was huge confusion over who owned the player's registration and both clubs tried to lure him to Europe.
It all got a bit complicated, before getting a bit nasty with FIFA intervening and suggesting the best way forward would be for Real and Barca to share the player from one season to the next. Clearly they hadn't done their history homework, in the end Barcelona relented, their president quit and Di Stefano became a European Cup legend in the all white strip of Real.
Presidential elections at both clubs drip with politics and promises. The most recent "tug of love" between the teams involved Luis Figo and a pig's head.
Figo was safely on the books at the Nou Camp in 2000. However, a forthcoming election in the boardroom at the Bernabeu had featured candidate Florentino Perez offering considerable money for the Portuguese's signature on an agreement to sign for Real should the former win the election. Of course Figo denied it, which was an understandable, if short-term, tactic.
Less than a fortnight after that denial he was unveiled by none other than Di Stefano. Salt into Barca wounds. The new galactico had to face the music on his return to the Camp Nou, being give a welcome that would make even Sol Campbell twitch.
The stands were adorned with banners calling him all sorts, the fans waved fake bank notes at him and, most bizarrely a pig's head was thrown at him whilst he prepared to take a corner. There are no grey areas there.
Things have quieted down a little over the last few years. The rivalry has more recently focused on the football, with the Lionel Messi vs Cristiano Ronaldo era ending last year. But with both clubs still pushing for national, european and global domination don't be surprised if things get a little heated again both on and off the pitch.
Keep watching - who says sport and politics should never mix?
---
To find the best deals on Real Madrid and Barcelona shirts, keep it here at FOOTY.COM