Nike Launch CR7 Chapter 7 Mercurial
The final chapter has been written, as Nike finally round off this stunning CR7 boot collection.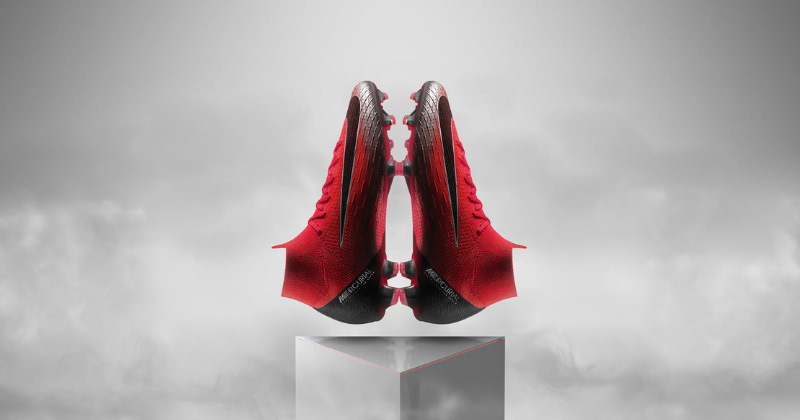 It's fair to say Cristiano Ronaldo has been on one hell of a journey.
He's been at the pinnacle of European football for well over a decade now, enjoying a record-breaking career that's seen him win everything worth winning. Even at the ripe old age of 33, the Portugal captain is still far from past his best, and we all look forward to seeing what he can achieve in a Juventus shirt.
But Nike have spent the past three years celebrating his previous achievements, with their 'CR7 Chapters' series beautifully chronicling each major milestone in Ronaldo's career. As one of the most decorated players in history, it's fair to say there have been a few moments worth shouting about.
Now, at last, we've been presented with the final chapter in this incredible tale.
Sporting a delicious red colourway, the 'Chapter 7' edition acts as the culmination of the most popular signature collection ever created. The shades of red turn gradually to silver towards the toe box, which pays homage to Ronaldo's unwavering relationship to the No.7 shirt.
The heel of the boot is drenched in a solid block of black, nodding towards the carbon fibre Mercurial boots he wore so famously in the past, while the unmistakeable CR7 branding can be found throughout the design. Of course, the Swoosh stands out just as prominently as ever- and we wouldn't have it any other way.
It's a fitting end to a football boot collection that continues to fly off the shelves. Although this certainly isn't the end of the CR7 story, we've got to say Nike have done a fantastic job of honouring one of the greatest players of all time.
From his time at Sporting Lisbon, to his record-breaking achievements at the Bernabeu, to leading his country to international glory; these boots are a fantastic celebration of a truly remarkable career. Thankfully, the gorgeous new design has given the series the send-off its always deserved.
But this isn't the end of the road for Nike and Ronaldo just yet, because the Swoosh have got plenty more CR7 Mercurials waiting in the pipeline. We're just going to have to wait to see exactly what they've got planned, but we wouldn't be surprised to see a few black and white stripes involved…
You can compare prices on all the signature-edition CR7 football boots right here at FOOTY.COM. Whether you want to remember his days at Manchester United or just pick out your favourite design, you're always guaranteed to find the lowest price with us. Shop the FOOTY.COM collection today and try to fill Ronaldo's shoes.