Nike Unleash Jordan PSG Champions League Kits
The Jumpman designs will make their debut in the Champions League clash at Anfield later tonight.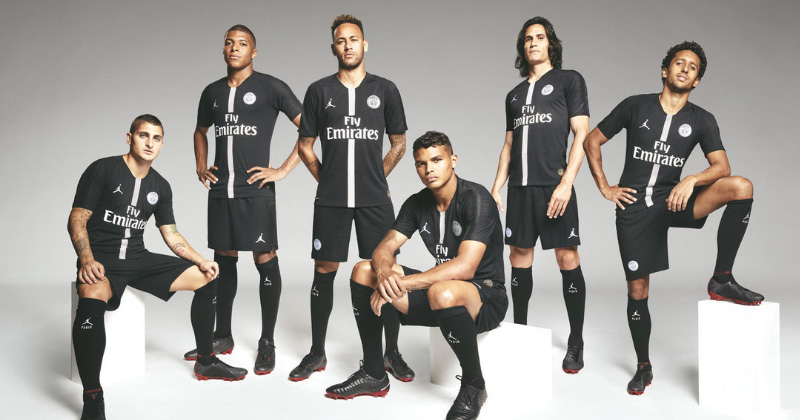 The wait is over. Tonight, the UEFA Champions League is coming back with a bang. Undoubtedly, the stand-out tie of the evening will take place at Anfield, as last season's runners-up take on the mighty Paris Saint Germain. But, while many will be drooling over Neymar going toe-to-toe with Mo Salah, our excitement has been stoked for a completely different reason.
That reason, of course, comes in the form of some brand-new football kits. Released just in time for tonight's epic showdown, Nike have finally unveiled the 2018/19 PSG third and fourth kits. But this is much more than your standard shirt release because, this time, Nike have brought two of their biggest assets together to create something truly unique.
In short, they've come up with the mash-up of all mash-ups. And it's absolutely fantastic.
You don't have to be a basketball, or even a Space Jam, fan to know the name Michael Jordan. A sporting legend in every sense of the word, MJ was presented with his first Air Jordan trainers way back in the mid-80's. Since then, the Jordan Brand has grown to epic proportions, with the Jumpman logo now instantly recognisable all over the world.
Paris Saint-Germain's fortunes have followed a similar trajectory. After spending years as an average mid-table team, they're now experiencing an unprecedented level of dominance in Ligue 1, attracting some of the biggest players on the planet to Parc des Princes.
So, considering their similar reputations, it seems only natural for Nike to allow the Jumpman to join forces with the Parisians. In fact, the partnership makes even more sense when you realise Jordan Brand has a deal in place with the French Basketball Federation, and that a Jordan-only store currently sits on the Parisian high street.
Fortunately, this particular partnership has proven to be much more than a PR stunt, because it's resulted in two of the most stylish football kits you'll see this season. One black, one white, both absolute bangers.
The Jumpman logo stands out crisply and cleanly on both designs, sitting directly alongside the famous PSG crest in a spot usually reserved for the traditional Swoosh. To be completely honest, though, it looks as though the Jordan logo has belonged their all along. The black design comes with fresh white detailing, with a dotted stripe pattern running down the centre of the shirt and the 'PARIS' logo sitting just inside the collar. The white shirt acts as a complete reversal, coming complete with black detailing and exactly the same design features.
This is an incredibly sleek, crisp collection of football kits, slotting in seamlessly with the rest of the Jordan Brand x PSG collection- which includes some gorgeous special-edition PhantomVSN boots, by the way.
It's a great collection of football and fashion gear, thoroughly deserving of all the attention it's going to get later on tonight. The new third and fourth PSG football kits will be worn exclusively in the Champions League this season and, now they've got the Jumpman on their side, we fancy them to go all the way.
What do you make of the Jordan/PSG mash-up? Drop us a tweet or a comment to let us know!
Either way, both new designs are available on FOOTY.COM right now, so you can compare prices and snag the best deal today!