The Best 2018/19 La Liga Football Kits
After a summer of awesome releases, we're ranking the top 2018/19 La Liga kits so far.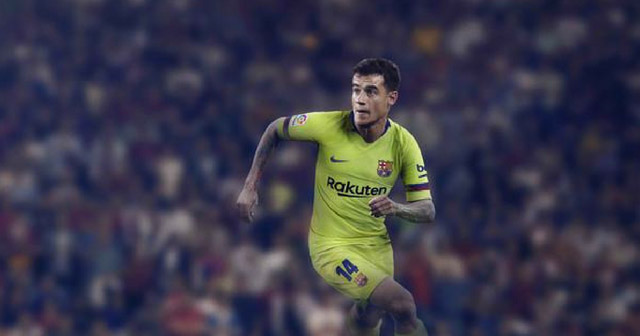 Hold onto your hats, La Liga is here.
The typical trio of Spanish giants look set to battle it out at the top once again, as both Atletico and Real Madrid aim to steal Barcelona's crown this season. But, even with the likes of Antoine Griezmann and Gareth Bale in their squads, it's fair to say this is no easy feat. Regardless of what happens in this season's title race, we can be sure of one thing: there's going to be all kinds of beautiful football kits on display.
In fact, there have been some stunning releases already this summer, but what's the best 2018/19 La Liga kit so far?
GIRONA 2018/19 HOME KIT
💥 @GironaFC pic.twitter.com/FJQ1UQCmoV

— Pere Pons (@ppons17) 6 July 2018
This Umbro beauty could revolutionise the future of La Liga kits. Stepping away from the traditional vertical stripes worn in previous years, this season Girona will be showing off a new diagonal-look, as they aim to try something a little different.
The red-striped look has always been popular in Spain, but Girona seem keen to separate themselves from the similar looks of Atletico and Bilbao, so Umbro have provided them with this dynamic, striking design. The dawn of a new era for The White and Reds, perhaps.
BARCELONA 2018/19 AWAY KIT
Okay, you got us. This shirt is in here mainly for the nostalgia value. But, since it induces flashbacks to Ronaldinho's brilliance, can you really blame us?
The bold yellow colourway harkens back to the Champions League-winning side of 2006, while also honouring the Catalans electric style of play. Nike are celebrating the 20th anniversary of their partnership with Barca, too, so it seems only right they should pay homage to one of their most iconic away strips.
Coming complete with red and blue detailing, this is an essential purchase for all Barca fans this season.
LEGANES 2018/19 AWAY KIT
Since they're not exactly one of Spain's biggest clubs, this beautiful Leganes kit has flown a little under the radar this summer. Which is a shame, really, because it's absolutely jaw-dropping.
Celebrating 90 years since they were first founded, Leganes have gone for an incredibly retro-look this season- I mean, it's actually got a laced-up collar! The design is inspired by some of the club's earliest ever kits, with green and red stripes allowing the logos to stand out beautifully on the chest.
This is hands-down one of the best Joma kits we've seen in a long time, and we've got to say we're big fans of this distinguished, classic look.
REAL MADRID 2018/19 HOME KIT
Never Enough.
Introducing the new @RealMadrid Home & Away jerseys for the 2018/19 season.
Exclusively available through adidas and official club stores. #HereToCreate pic.twitter.com/vFLO7502hl

— adidas Football (@adidasfootball) May 29, 2018
We just couldn't help mentioning Los Blancos, could we? Well, on the evidence of their new adidas home strip, their inclusion in this list is more than justified.
Clean, crisp and unmistakeably Real Madrid, this simple design finally marks the return of black adidas stripes- after they've been blue for the last couple of years. Adidas have also introduced a new shade of white and a smart button-up collar, as the Galacticos start to forge a new identity post-Ronaldo.
So, which of the new kits is your favourite?
You can compare prices on all the new La Liga football kits at FOOTY.COM. Browse our collection today to find the best deals on the internet!