Premier League 2018/19 Kits: Nike Guide
Your complete guide to the latest Swoosh designs ahead of the 2018/19 Premier League season.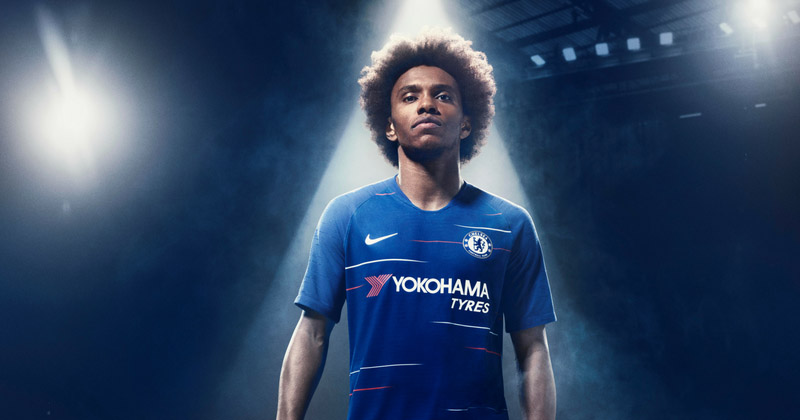 The 2018/19 Premier League season is well under way at last.
After a summer of World Cup drama, crazy transfer stories and pre-season tours, our Saturday afternoons have just become a whole lot busier. Of course, this means you'll need to bag yourself a new football shirt ahead of the new season.
Nike have been dropping new kit releases all summer, with some of the Premier League's biggest clubs set to wear the Swoosh for yet another year. In fact, they've released so many, it's been a little tricky to keep track of them all.
So, we thought we'd put together everything you needed to know about this season's Nike kits, as we take you through the best and worst of their new designs.
THE WORST: MAN CITY 2018/19 HOME KIT
Don't get us wrong- this is by no means a horrible football shirt. In fact, we can't help but feel a little harsh here. However, considering this is a shirt for the defending Premier League champions, we've got to say this is certainly the most underwhelming Nike design of the season.
It's just incredibly average. Nike's design sticks to the traditional sky-blue colourway (obviously) and incorporates a nice button-up collar, but it just doesn't do anything particularly special. The pattern on the sleeves has become a template for Nike's 2018/19 kits, while the simplistic design just looks like it's missing a little character.
Like we said, none of Nike's kits have been particularly horrendous, so this was a tough choice. But, after failing to recognise their vibrant style of play, there's no arguing this kit is a big let-down for the defending champions. Still, we've certainly seen worse.
THE BEST: CHELSEA 2018/19 HOME & AWAY KITS
We like the new Chelsea kits so much, we found it impossible to choose between the home and away strips.
The home kit features a crisp, clean blue colourway, while the flashes of red and white detailing pay homage to the classic kits of the 80's and 90's. As for the away strip, this features a bold yellow design similar to those of the 1970's, with stunning blue detailing helping to create a Premier League kit unlike any other this season.
These football kits are packed with colour, vibrancy and character: three things which have been sorely lacking from Chelsea kits in recent years.
THE MOST SURPRISING: SPURS 2018/19 HOME KIT
We aren't sure whether Nike have missed a memo or something- but it's fairly common knowledge that Spurs play in white.
For as long as we can remember, they've been showing off crisp white jerseys with subtle navy detailing, but Nike have surprised us all with their latest design. Featuring a striped graphic on the front of the shirt, the shades of navy have become much more prominent this year, invading a part of the shirt that usually remains untouched.
It's a striking image, though we understand it's not to everyone's tastes. Much like adidas and their Manchester United shirt, you've got to admire Nike for trying something a little different. Going off the fan reaction, however, we aren't certain they've quite managed to pull it off. Of course, neither did adidas.
You can compare prices on all the new 2018/19 Premier League football kits today at FOOTY.COM. We make it easier than ever to save some money as you gear up for the new season!