Chelsea Unveil Innovative New Third Kit
Utilising NikeConnect technology, this beautiful kit could be showing us the future of football shirt design.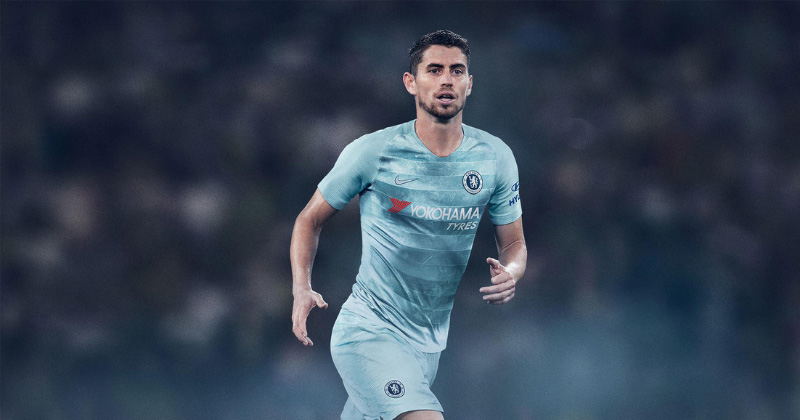 Ever since the draw for the Europa League Group Stage was made, it's fair to say we've been a little giddy with excitement.
The draw has thrown up an endless list of mouth-watering ties; and Nike have been busy stoking our excitement even further this week, releasing a string of stunning new third kits for clubs to wear on their travels across Europe. The likes of Roma, Manchester City and Atletico Madrid are amongst the newest Swoosh releases, but now it's Chelsea's turn to show off their new threads.
And, this time, Nike have delivered an absolute banger.
Following the themes set by the other kits in Nike's collection, the 2018/19 Chelsea third kit features a gorgeous depiction of the area surrounding Stamford Bridge. This textural print demonstrates just how much pride the Blues take in representing London on the European stage, giving them a strong link back to the capital even when they're playing away in Hungary and Belarus.
Of course, it also looks fantastic. The graphic comes alongside a contemporary blue-grey colourway, with vibrant dark blue and crimson detailing adding a distinct punch of Chelsea character. The look is finished off with matching shorts and crimson socks, as Nike deliver one of the best kits you'll see in the Europa League this season.
However, it's not all about looking good (although that obviously helps), because this is also one of the most innovative football shirts of the season.
The famous NikeConnect technology has been used within the Swoosh's basketball gear for a while now, but this is the first time it's ever been used on a football kit. The tech can be found in the form of a logo near the bottom of the shirt, which wearers are able to scan with their smartphones to access exclusive experiences and customized content. Although we can't really imagine Eden Hazard stopping a game to start playing around on the Nike app, the appeal to fans is clear to see.
NikeConnect has essentially been introduced to make the fans feel a closer connection to the club, while it obviously reinforces the dynamism and innovation seen in the design of the shirt itself. All in all, it works towards bringing the club closer together as they embark on a new era under Maurizio Sarri. Not too shabby, eh?
The new design completes a stunning collection of 2018/19 Chelsea football kits, coming alongside a dynamic home shirt and vibrant yellow away strip. In fact, if the Premier League table was based solely on who had the best kits, we'd have to say Chelsea would be sat comfortably at its summit.
All the new designs are available to purchase today, and you can compare prices at FOOTY.COM to make sure you snag the best deal.