Adidas Reveal New Juventus Away Kit
The final entry in this stunning Three Stripes shirt collection is finally here. We take a closer look.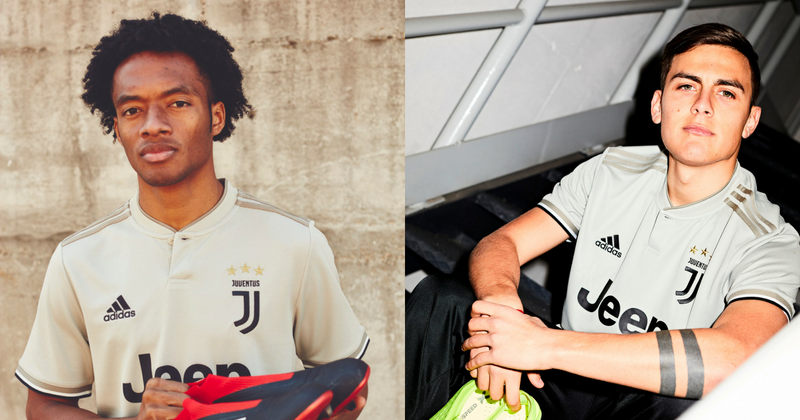 When your summer has involved bringing Cristiano Ronaldo to the club, it's almost impossible to see how things could realistically get any better.
Well, adidas have proven us all wrong, because their new collection of Juventus shirts has taken the excitement in Turin to a whole new level. Not only will it house the greatest player on the planet, the Allianz Stadium is also going to spend the season showing off a series of sleek, contemporary football kits.
Of course, this is nothing new. Juventus have always been famous for their gorgeous kits and top-quality players; but this season the club is alive with a buzz rarely found in Italian football these days- and the new adidas designs have certainly played a role in fuelling such excitement.
First, we were presented with a gorgeous home strip, incorporating the iconic Bianconeri stripes and a beautiful new collar construction. What followed was a third kit dripping in metallic tones and vibrant detailing, as Juventus joined the long list of adidas partners to wear a strip constructed wholly from recycled ocean plastic.
Now, with the Serie A season finally underway, adidas have dropped an away kit which more than lives up to the high standards of the previous releases.
Continuing the contemporary themes laid out by the home and third kit, the 2018/19 Juventus away kit takes iconic design elements and gives them a modern twist. It's obvious that adidas have placed a strong focus on fashion this season, and this latest design offers a distinctive street-style which we'd gladly wear on a swanky night out.
The new kit features a sandy grey colourway, creating a smart pastel effect which is polished off with black detailing and logos. The Juventus crest once again offers the perfect complement to the bold Jeep sponsor, while the Three Stripes on the shoulders slot in seamlessly with the overall pastel-look.
But it's not all about fashion and looking good, because beautiful little details hidden throughout this shirt make it unmistakeably Juventus. On the sleeve cuffs, for example, thin black and white stripes nod towards the famous Bianconeri colours, as adidas make sure to pay tribute to one of the biggest football clubs on the planet.
The German brand have provided the Old Lady with yet another contemporary classic, placing an emphasis on comfort both on and off the pitch. In short, we think it's an absolute banger.
But what do you think? Is the 2018/19 Juventus collection one of the best this season, or are there others you'd put ahead of it? Follow us at @footydotcom_ to join the conversation!
If you like these football kits as much as we do, however, then you'll be pleased to know you can compare prices at FOOTY.COM to find the best deal on the internet.