Which adidas football boot is best for you? [Guide]
Are you a midfield magician or a lethal striker? Here's your guide to which adidas football boot is best for you!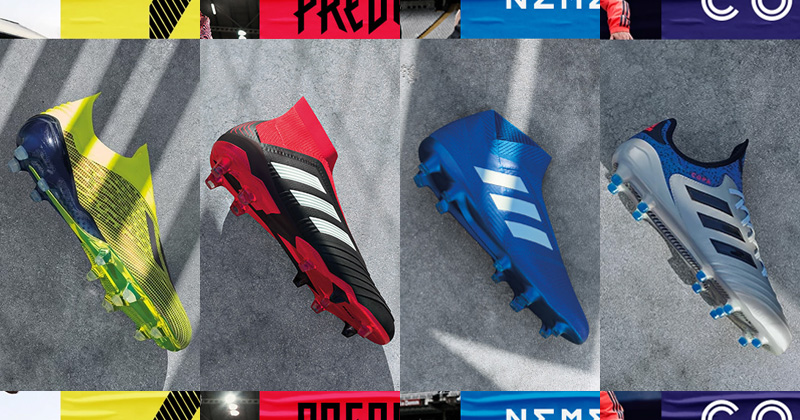 This post was originally created on 11th November 2017, and has since been updated to include all the latest and greatest football boots adidas has to offer.
---
No one has as rich a history as adidas when it comes to football boots. For decades the Three Stripes have kitted out some of the greatest players to play the game, and there are no signs of things letting up.
adidas culled their main boot lines some years ago, with the Predator, F50, Nitrocharge and 11Pro all being sidelined from the shelves and retired. To try and match these greats, many said the brand would have to create something truly special. And what did adidas do? They created some of the best boots of all time.
In recent years, adidas have undergone something of a transformation. After an extended absence, the Predator returned in full force towards the end of 2017. Now the famous silo headlines a superb range of boot options, but how do you decide which one is best for you?
Should you be lacing up in the Copa or rocking up to 5-a-side in a pair of Nemeziz?
Whatever your style of play, and whatever your preferred colour, we're here to find you the best weapon of choice when it comes to adidas football boots.
Thank you for joining the FOOTY.COM club!
What boots do adidas make?
As you'd expect, adidas boast a range of boots, with a mixture of legendary names and disruptive newcomers.
Think of the Predator and you immediately think of Beckham, Zidane and the golden era of the 00s. It's back and the boot of choice for Paul Pogba. The Copa is another storied name, with a heritage as rich as any.
You would've also seen the X, currently worn by players like Mo Salah and Gareth Bale. And then there's the Nemeziz, another popular choice worn by players like Jesse Lingard.
Each silo is aimed at a specific type of player, whilst there are also a number of subtle unique characteristics built into each boot.
Let's break it all down and find the best one for you.
---
adidas X
Who wears adidas X boots?
Mo Salah, Luis Suarez, Gareth Bale, N'Golo Kante.
Models available now:
18+, 18.1, 18.2, 18.3, 17+ Purespeed, 17.1, 17.2, 17.3, 17.4, 16+ Purechaos, 16.1, 16.2, 16.3, 16.4, 15.1, 15.2, 15.3, 15.4.
Newest colourways:
Solar Yellow / Core Black (Team Mode), Core Black (Shadow Mode), Football Blue / Solar Yellow (Energy Mode)
What type of player is the X for?
The adidas X is built primarily for two aspects of a players game, speed and finishing. No one embodies this more than Mo Salah, who combined both traits and more on his way to the Premier League Golden Boot last season whilst wearing the X.
Features wise, one of the things that stands out most about the boot is the Skeletalweave upper. This lightweight, ultra-thin grid of woven yarns is engineered for pure speed and a deft touch and as well as the technology behind it, the end result is beautiful to look at.
Another extra boost is received from the Ultralight Speedframe, which again has been tailored to provide maximum acceleration for players. On the soleplate of the adidas X, a combination of arrowhead and round heel studs only add to the end result, granting wearers those crucial extra few inches in a race with a defender.
The X is available in a laceless version, the X18+, with all the trimmings detailed above, as well as laced versions with the 18.1, 18.2, and 18.3.
If you rely on your ability to fly past defenders and pick out the perfect finish, take a closer look at the adidas X.
---
adidas Predator
Who wears adidas Predator boots?
Paul Pogba, Dele Alli, Mesut Ozil, Ivan Rakitic.
Models available now:
Newest colourways:
Core Black / Red (Team Mode), Core Black (Shadow Mode), Solar Yellow / Solar Red (Energy Mode)
What type of player is the Predator for?
Everyone has fond memories of the Predator, and it's return to the football boot scene last year was very welcome. Despite the history of the boot, there's a distinctively young vibe when it comes to players wearing the Predator, with the likes of Pogba and Alli showcasing its widespread appeal.
This latest iteration is all about control. The Predator is for those players who like to dictate play in the middle of the pitch. For that to happen, touch and precision are key. This is exactly what you get with the Predator, with the Controlskin upper helping to keep the ball as close as possible to your feet whilst lending itself to executing that killer pass.
Not only is the boot geared to this particular style of play, there are a number of elements of the boot which help make it one of the most comfortable in the game. A lightweight Primeknit upper wraps around the food, providing support for the full 90. Boost cushioning is also found throughout, only adding to the appeal for players no matter what position you play.
As with The X, the Predator comes in laceless (18+) and laced (18.1, 18.2, 18.3, 18.4) versions. For a huge dose of gorgeous nostalgia, head straight to the latest boot pack 'Team Mode'. The Predator in this particular pack comes in an ultra classic red and black look, which is one of the sharpest across all football boots.
If you are a midfield maestro with something of an all-round game, the Predator is for you.
---
adidas Nemeziz
Who wears adidas Nemeziz boots?
Lionel Messi, Jesse Lingard, Roberto Firmino, Timo Werner.
Models available now:
18+, 18.1, 18.2, 18.3, 18.4, 17+ 360 Agility, 17.1, 17.2, 17.3, 17.4
Newest colourways:
Football Blue (Team Mode), Core Black (Shadow Mode), Zest (Energy Mode)
What type of player is the Nemeziz for?
The Nemeziz broke onto the scene in 2017, with a design unlike any other boot seen before or since. It's increasingly popularity can be pegged to one man (if you can call him human) in particular. Lionel Messi wears Nemeziz boots, and he is the ultimate poster boy for the silo.
One word is used time and time again for Nemeziz football boots, and that is agility. The most striking aspect of the boot is the Agility Bandage technology, which has been designed for completely mobility in all directions at pace. adidas used sports taping as inspiration behind Agility Bandage, producing a unique look which stands out.
As a whole the Nemeziz sits neatly between the Predator and X, as a boot which suits creative attacking midfielders and number 10s. Alongside Agility Bandage, Agility Weave is used at the forefront of the boot providing a responsive touch that is perfect as players move further up the pitch.
Once again there, the 18+ offers a laceless look, whilst laced versions are available. For the laced Nemeziz you'll notice an altered collar, though the boot does still feature both Agility Bandage and Agility Weave technology.
If you are the kind of player that wants to be express themselves on the pitch with dazzling movement and fluid creativity, pick up the adidas Nemeziz.
---
adidas Copa
Models available now:
18.1, 18.2, 18.3, 17.1, 17.2, 17.3, 17.4
Newest colourways:
Silver Met. (Team Mode), Core Black (Shadow Mode), Solar Red / Solar Yellow (Energy Mode)
What type of player is the Copa for?
The Copa is in many ways the modern interpretation of one of the most famous football boots of all time, the Copa Mundial. One of the earliest boots, it's popularity soared with many classic stars choosing them over the years.
Fast forward to today and the Copa still very much has heritage in mind. You won't find any laceless versions here, instead we have a no nonsense laced approach. Don't let that fool you though, this is still packed with technological advancements underneath the exterior.
For example, the integrated X-Ray vamp cage gives players the benefit of greater ball control and reduced ball slippage. Look also to the Sprintframe soleplate, with it's focus on balance and stability.
You'll also notice a premium K-leather forefoot, providing comfort and performance.
Colour wise, the options are surprisingly vibrant with the new silver boot from the 'Team Mode' pack boasting eye-popping blue detailing to match the smooth silver body.
If you want to get stuck in and let your football do the talking, the Copa is well worth closer inspection.
---
In summary
Whatever boots you decide to go for, you're in very capable hands with adidas. Their constant developments in the world of boot technology and their regular colour updates means there is always something for players at any time of the year.
And talking of times of the year, you are of course covered for multiple surface types with football boots for everything from firm ground to soft ground, artificial ground, astroturf and indoor surfaces.
If you're looking for vibrant colours then the Energy Mode pack is for you. On the flip side you've got the striking all black Shadow Mode pack which does exactly what it says on the tin. And finally, the Team Mode pack offers something for everyone with both classic colourways and strong shades.
For the full range of adidas football boots you're already in the right place here at FOOTY.COM. We compare prices on every boot on the market, so you can play more, pay less.