Puma Unveil Their First AC Milan Kits
New Milan. These football kits could mark the beginning of an incredibly successful partnership.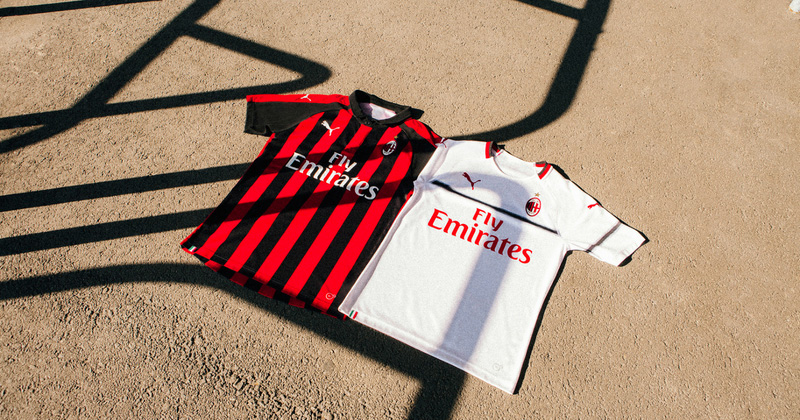 You'd probably have to travel to an alien planet to find someone that didn't recognise any AC Milan kits. Even then, they'd probably still be able to pick Paolo Maldini out of a line-up.
From European finals to crucial Serie A clashes, those iconic red and black stripes have been at the heart of some of football's biggest moments. For decades, the San Siro has been the home of the best players on the planet, with the likes of Andriy Shevchenko, Franco Baresi and Clarence Seedorf allowing these kits to take on a truly legendary status.
Throughout that time, the likes of adidas, Kappa and Lotto have all had a stab at reimagining the Rossoneri stripes; providing some of football's most beautiful kits in the process. But this time, it's Puma's turn to kit out the Italian giants- and it looks as though they've done one hell of a job.
The new Milan home and away kits were unleashed a little earlier this month, with both new designs paying homage to the rich history of the club. Of course, this is exactly what all the other big brands have been doing this summer; but still, this could be the beginning of a very beautiful partnership indeed.
AC MILAN 2018/19 HOME KIT
The red of AC Milan has always meant to represent the fiery nature of the team, while the black is designed to instil fear into the hearts of opponents. Obviously, Puma have stuck with the famous Rossoneri stripes- since anything else would probably have caused riots at the San Siro.
But this season Puma have decided to mix things up a little, implementing a smart button-up collar and a nod to the legendary 'Red and Black Devil' on the back of the shirt. The stripes are as clean and crisp as we've come to expect, while the introduction of the Puma logo brings a certain freshness to the design.
AC Milan are desperate to get back amongst Europe's elite, so they'll be hoping this fresh look is the start of a successful new era.
AC MILAN 2018/19 AWAY KIT
We all know that AC Milan love a good white away shirt. In fact, they like them so much, they prefer to wear their white strips in European cup finals, opting to wear them on no less than eight occasions in the past. Although they might not have won all of those finals, the white of AC Milan has always been associated with success and glory. And, well, throwing away a 3-goal advantage over Liverpool.
Puma have stuck to tradition and maintained the white colourway, incorporating a round-neck collar with stunning red and black detailing. A thin black stripe travels across the chest and the sleeves, harkening back to the retro Milan kits of the 1990's and filling us all with a tingly sense of nostalgia.
Although they might no be the powerhouse they were back then, it's not hard to see that Milan are on their road back to the top. Puma have done their bit, now it's over to you, Gennnaro.
You can compare prices on the new Milan football kits at FOOTY.COM, and kick-off the new season with a bit of extra change in your pocket.