Bayern Munich Launch Stylish 2018/19 Away Kit
After another successful Bundesliga season, adidas and Bayern are on the brink of 'seventh heaven'.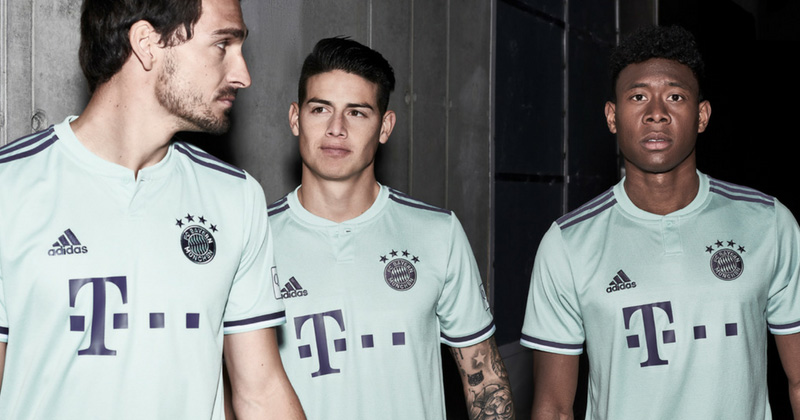 Breathe it in, lads. This football kit will probably be lifting the Bundesliga trophy in about 9 months' time.
Bayern are currently enjoying a level of dominance never before seen in German football, clinching an unbelievable six consecutive titles as they leave their rivals in the dust. Now entering a new era under the stewardship of Niko Kovac, Bayern are back to tighten their stranglehold and enjoy even greater glory this season.
Oh, and they're going to be doing it with a hint of minty freshness.
The 2018/19 away kit is unlike anything Bayern have done before. Image: news.adidas.com
Released towards the end of last week, the 2018/19 Bayern away kit incorporates a lovely mint green colourway, as adidas look to combine the worlds of streetwear and sport. Offering a fashionable design alongside innovative shirt technology, it's fair to say they've succeeded.
This is a football shirt designed to stand out, highlighting Bayern's dominance as they stand head and shoulders above everyone else in the Bundesliga. The Three Stripes stand out prominently as part of the purple trim, while the club crest and Deutsche Telekom sponsor are illuminated in the same colour.
An old-school, almost elegant, button-up collar provides an unmistakeable sense of sophistication, fusing perfectly with the stylish colourway and creating an air of superiority. Not that it really needs to do so, we all know that Bayern are miles better than everybody else.
The result is a sleek, stylish football kit that we'd quite happily wear to our own wedding days. Okay, so maybe we wouldn't go quite that far, but we'd at least wear it on a swanky night out or something. However, although it's unquestionably one of the best Bundesliga kits this season, the new Bayern kit stands out for an entirely different reason.
Fresh look for 2018/19 - our new away kit available now in stores. ➡ https://t.co/bXVC4z93CT #MiaSanMia pic.twitter.com/JrYfoyP7nh

— FC Bayern English (@FCBayernEN) 19 July 2018
So many of this season's kits have drawn inspiration from previous designs. Adidas, Nike and Puma have all unveiled a plethora of kits which pay homage to the history of each respective club, as they place an emphasis on acknowledging the past and reliving iconic moments. In fact, even the new Bayern home shirt made a big deal of the iconic Tauten pattern.
But this shirt is different. It isn't inspired by an older design and it doesn't make a big deal of the club's illustrious history. Instead, adidas have drummed up a football kit based entirely on new ideas, unlike anything Bayern, or any other German club, have worn in recent times. As we await the Kovac era to get officially underway, it's abundantly clear that Bayern Munich are keeping their eyes firmly set on the future.
It's a simple look- and we can't get enough of it.
The new Bayern football kits are available on FOOTY.COM right now! Compare prices with us to bag the best deals on the internet and snag a Bavarian bargain.