The New Atletico Away Kit Is All About Positivity
Yet another Nike addition to the list of beautiful 2018/19 La Liga football kits. All hail the Swoosh.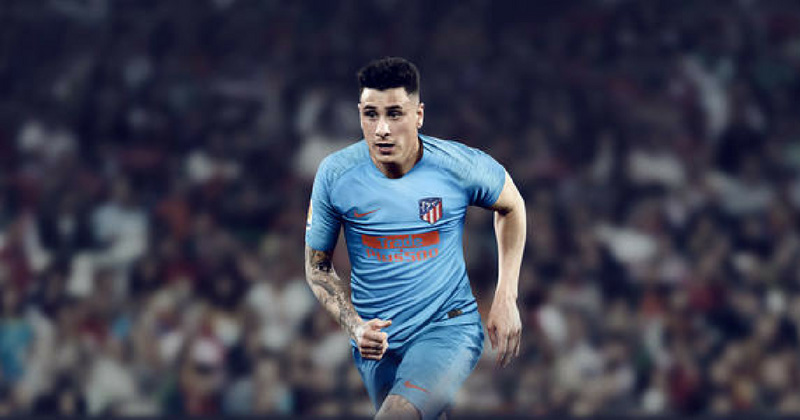 It's fair to say that Nike have been enjoying a very productive summer.
The World Cup saw their Mercurial silo become the top-scoring boot at the competition, while the Final saw two of their most popular international kits go directly head to head. We all know that France beat Croatia that day, but we can't help but feel it was the Swoosh that ultimately came out on top in Russia.
But Nike haven't stopped there. Ever since the tournament was drawn to a close, Nike have been relentlessly unleashing all manner of beautiful football kits on us, as fans all over the world start gearing up for the new club season. And there's still many more to come.
Following on from their Tottenham and Chelsea releases last week, Nike have revealed the 2018/19 Atletico away kit: a club that have been enjoying quite the summer themselves.
The fact that they've managed to keep hold of Antoine Griezmann this summer should be considered one hell of an accomplishment, considering he was pretty much getting his Barcelona shirt printed at one point. Meanwhile, the additions of Thomas Lemar and Rodri have injected some fresh blood into the squad, as Atletico look to build on their second-placed finish of last season.
There's an inescapable buzz of positivity all around the Metropolitano this summer, and it looks as though that positive energy has inspired Nike in their latest kit design.
Incorporating a light shade of blue, the new strip sees the return of a colourway that has been associated with Atletico for over 100 years. Although we might immediately think of those iconic red and white stripes, dashes of blue can be found within the majority of Atletico's home kits, while a significant number of their away strips have been blue.
Last season saw the Spanish giants finally move into their new home, as the club began their new era by clinching the UEFA Europa League. Their young squad is brimming with youthful optimism and positive energy, with an endless list of world-class players pulling on the shirt every week, and that's exactly what Nike are paying homage to here.
Coming complete with Nike's signature "speed blur" shoulders, the new shirt also incorporates a small Spanish flag on the back, while vibrant flashes of orange breathe life into the detailing and logos. Significantly lighter than Atletico's traditional shades of blue, the new strip is built to represent the youth and energy of one of the biggest sides in European football.
It's impossible to ignore the impact of this bright, modern two-tone design, while the new strip joins a growing list of stunning 2018/19 La Liga football kits. On top of all of that, you can already compare prices at FOOTY.COM to find the best deals on the internet!