Ranking every betting sponsor in England
This post is sponsored by 24/7 Ultimate 360 Betting 88 Sport World .Net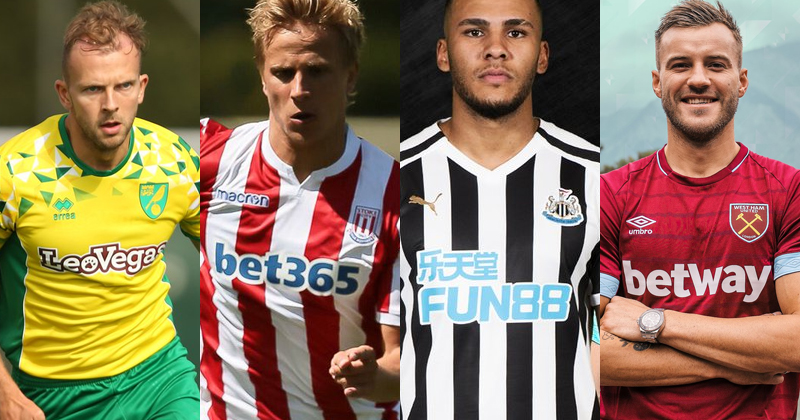 It's official, we've reached betting sponsor fatigue.
This summer, it seems the Premier League and EFL have introduced a new rule. Every club must be sponsored by a betting company (bonus points for 32Red), no matter if that company looks like a carbon copy of every other betting establishment already in existence.
In fact, there are enough teams in the Premier League and Championship sponsored by betting companies to form a 24-team league. *gulp*.
But rather than simply lament this growing problem, we've decided to rank all these sponsors in order of their aesthetic quality.
Because, if we're forced to have them, let's at least make them look good on the shirt.
---
24. Swansea x Bet UK
250 #Swans fans at Huish Park tonight. 🙌

Many sporting our new @JomaSportUK 🔶 away shirt. Superb support as always #JackArmy. 👏 pic.twitter.com/P6GJavA65H

— Swansea City AFC (@SwansOfficial) July 10, 2018
Oh Swansea. What on earth is that? This looks like a button you'd try to avoid pressing on the internet.
---
23. Norwich x LeoVegas
That's the first 30 minutes up!

Little between the two sides so far. City have dominated possession but Crawley have defended well. #ncfc

NCFC 0-0 CTFC (30) pic.twitter.com/NVVunLQTMO

— Norwich City FC (@NorwichCityFC) July 12, 2018
It's criminal that a shirt with this much potential is ruined by a sponsor that looks completely out of place. The colour, the design, "vegas". This does nothing well.
---
22. Brentford x LeoVegas
🤝 NEW DEAL

Nikolaj Kirk has agreed a new one-year loan deal from @fcmidtjylland

Details 👉https://t.co/4AQW99DMST pic.twitter.com/E4QhKqgyPW

— Brentford FC (@BrentfordFC) July 16, 2018
Unlike Norwich, at least this sponsor fits a lot more closely colour wise. Still an eyesore however.
---
21. Ipswich x Magical Vegas
🗣 "I'm absolutely buzzing to be here and I can't wait to get started."

New signing @GwionEdwards could play a part in this evening's friendly against his former side @crawleytown

👉 https://t.co/BI8LSiUsBM pic.twitter.com/CzSDDwjecw

— Ipswich Town FC (@Official_ITFC) July 17, 2018
This logo is downright hilarious. I love the fact they've literally added sparkles, and written "vegas" in neon pink.
---
20. QPR x Royal Panda
👍 That #FridayFeeling.#QPR #QPR1819 pic.twitter.com/NRVkhCuJyQ

— QPR FC (@QPR) June 22, 2018
I feel like I should like this logo a lot more, with it's adorable panda/crown illustration, but it barely fits in the hoop and the text takes away from the positives of the panda.
---
19. Crystal Palace x ManBetX
Palace hit 6️⃣ in second pre-season game! 🇸🇪

Match report 👉 https://t.co/ACYGaSGJ2H pic.twitter.com/VRasRhdNf5

— Crystal Palace F.C. (@CPFC) July 16, 2018
Ugly and busy. The only thing saving this from the relegation zone is the fact the colourway is kept clean. A narrow escape.
---
18. Burnley x LaBa360
ORDER ONLINE | Get your 2018/19 home kit online now from the Clarets Store...

Order online now: https://t.co/wM1xmmGggh pic.twitter.com/sOiuCJ4yY9

— Burnley FC (@BurnleyOfficial) July 16, 2018
This could have been one of the best shirts in the Premier League. But nope, instead we have a massive casino chip on the front.
---
17. Bournemouth x Mansion 88
Happy birthday, @DRBrooks15! 😁

Our recent new signing turns 21 today! 🎁#afcb 🍒 pic.twitter.com/eufXH70vGi

— AFC Bournemouth 🍒 (@afcbournemouth) July 8, 2018
4 is too many elements for a sponsor. Between the 'M', '88', 'Mansion' and a couple of Chinese characters, I don't know where to look.
---
16. Huddersfield x Ope Sports
🔵 Good Morning Town Fans ⚪️

🏟 #htafc are back at the @johnsmithstadia next week!

💙 Home kit on sale now
❤️ Alternative pre-order now
💛 Pre-order 23/7 at noon

⏰ Stores open 9am-5pm/ Mon-Sat
🛒 https://t.co/gylctwxjat pic.twitter.com/DH0fuiZd2c

— htafcmegastore (@htafcmegastore) July 16, 2018
It's great to see a sponsor change things up for the better from a previous season, but this logo still needs some work.
---
15. Hull City x SportPesa
#WelcomeReece

Read the full story as the Tigers complete the signing of @ReeceBurke on a three-year deal, with an option of an additional year held by the Club ➡️ https://t.co/McQYO1mAlY#hcafc #TheTigers pic.twitter.com/mGM2TUrhUB

— Hull City (@HullCity) July 10, 2018
This is about as vanilla as it gets, and deserving of a mid-table finish.
---
14. Everton x SportPesa
🔵 | "I'm very proud. It is a huge club, with a huge story behind us. It is important to make the fans proud of our team." #WelcomeMarco

👉 https://t.co/DIohxggSMK pic.twitter.com/erMVLKhk2F

— Everton (@Everton) June 4, 2018
Fits slightly better on this particular shirt, but again it's mid-table level.
---
13. Birmingham x 888sport
ICYMI: 📸😍 #ClassicStyleNewEra

Our 2018/19 @adidasUK home kit is now on sale in-store and online.

Purchase yours here 👉 https://t.co/nSxF64aCSu #BCFC pic.twitter.com/3rkJxBkds6

— Birmingham City FC (@BCFC) July 8, 2018
"888sport" sounds like it was created by a betting sponsor name generator, but it looks ok in situ.
---
12. Newcastle x Fun88
Our @pumafootball kits for the 2018/19 @premierleague season, sponsored by @fun88eng 😍

All the details: https://t.co/usHOIzOQ12 #NUFC pic.twitter.com/yqE06HQwWk

— Newcastle United FC (@NUFC) July 17, 2018
This one has to drop a few places due to it's use of the betting cliché "88", as well as a slightly odd colour choice for the home shirt.
---
11. Stoke x bet365
Good to be back. More to come. 🔴⚪️👊 #scfc @stokecity pic.twitter.com/LFc1Xtd37j

— Moritz Bauer (@_bauermoritz) July 12, 2018
Another sponsor which fits into the pattern of the shirt seamlessly. Just a bit disapointed Ray Winston didn't make an appearance in the promos.
---
10. Bolton x Betfred
👋 Welcome to Bolton Wanderers, Pawel Olkowski! 🇵🇱#BWFC 🐘 🏰 pic.twitter.com/ozseWL9siN

— Bolton Wanderers FC (@OfficialBWFC) July 12, 2018
It's a bold move to put a sponsor in it's own box with a gradient background. Fair play to Bolton though, they've pulled it off.
---
9. Aston Villa x 32Red
New kits looking 🔥

Pre-order today 👉 https://t.co/HZHbI2bThW#PartOfThePride #AVFC pic.twitter.com/o1aFkR94xD

— Aston Villa FC (@AVFCOfficial) July 16, 2018
One of the stalwarts of the betting sponsor world, 32Red have something of a monopoly in the area. Unfortunately, for the Villa shirts which have serious retro vibes, it doesn't fit as well as it could.
---
8. Preston x 32Red
👕 Gallery: Take a look through our selection of images of the new 2018/19 kits.

➡️ https://t.co/xiziRgHoaO #pnefc #WithEveryStitch pic.twitter.com/7OnkefS6sL

— Preston North End FC (@pnefc) June 15, 2018
Hello again. The logo looks more at home here, and it sort of makes sense that the logo is red, so props to Preston and Nike for that decision.
---
7. Derby County x 32Red
So, what will @MasonMount_10 bring to #DCFC? 🤔@ScoutedFtbl have got you covered… 👉 https://t.co/nNX9NcYyRf#WelcomeMason pic.twitter.com/fJXeDLYfUl

— Derby County (@dcfcofficial) July 17, 2018
Bored of 32Red yet? Thankfully this iteration doesn't disrupt Derby County's shirts, which are a cut above almost anything else.
---
6. Middlesborough x 32Red
The Club Shop at the Riverside has had another delivery of our popular @hummel1923 kits this morning 👕🔴⚪️

Stock update ➡️ https://t.co/oHwKZDrW0C #UTB pic.twitter.com/kSJS2Nt17f

— Middlesbrough FC (@Boro) July 13, 2018
We've completed the set. This is my favourite use of 32Red. The design of the shirt is superb, and whilst it would've been interesting to see it in red, this is as good as it's going to get for the company.
---
5. West Ham x Betway
#WelcomeAndriy pic.twitter.com/nV8yZlXp8j

— West Ham United (@WestHamUtd) July 11, 2018
West Ham's beautiful kits this year are not ruined by the sponsor. And that's one of the highest compliments I can give.
---
4. Fulham x Dafabet
😍 @premierleague-ready, @RyanSessegnon! #FFC #OriginalReborn ⚫️⚪️ pic.twitter.com/FFaYPnMNqI

— Fulham Football Club (@FulhamFC) July 11, 2018
dafabet are another one of those companies that we've seen a little too much of in recent years. But when I see it on this glorious Fulham shirt, I don't mind it at all.
---
3. Bristol City x Dunder
#WelcomeHakeeb

Yet to follow #BristolCity's latest recruit on social media?

🐦 » @hakeeb_adelakun pic.twitter.com/66dIacljPj

— Bristol City FC (@BristolCity) July 2, 2018
Did this sponsor receive bonus points because it reminds me of The Office? Yes. But references aside, this has a refreshingly lack of betting clichés, which is a huge plus.
---
2. Wolves x W88
Introducing... our @adidasUK 2018/19 @premierleague home kit.#OldGoldNewChallenge

💛🖤👇https://t.co/Hs8zLTcauM pic.twitter.com/D2j0CosJXt

— Wolves (@Wolves) June 21, 2018
Too many W's? Maybe, but I'm a fan of oversized sponsors when chosen well and this one fits the bill perfectly. Unfortunate that the betting classic "88" sneaks in, alongside the ®, but even that doesn't ruin it for me.
---
1. Blackburn x 10Bet
Our 2018-19 @UmbroUK home kit, available online and in store.

Get yours: https://t.co/tLXjcFSTrg pic.twitter.com/ORtL256WVW

— Blackburn Rovers (@Rovers) July 18, 2018
I love this sponsor. Even with the unnecessary written reminder of "BET" across the logo, it's bold and blocky and simple geometric bliss. It helps that the shirt it's on is one of the best across England's top two leagues too.
---