Adidas Release New Man United Home Kit
Celebrating their 140-year history, this bold football kit combines modern tech with United's rich heritage.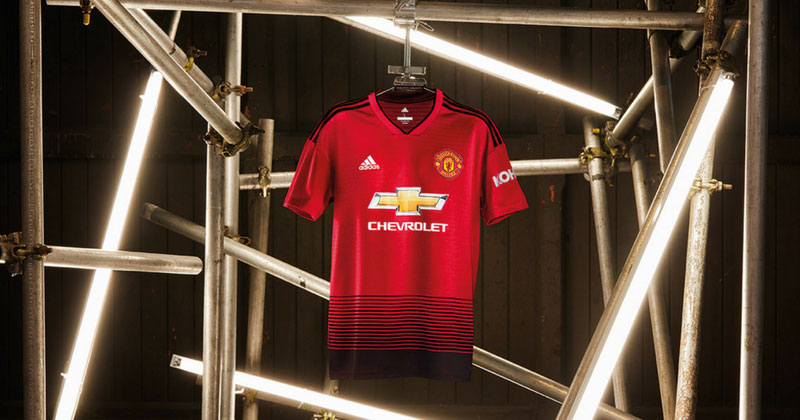 I think we might well be looking at the Marmite of Premier League football kits. Early images of the new Manchester United home kit were leaked just over 2 weeks ago, receiving an extremely mixed response from supporters as adidas seemed to take a step away from the club's traditions.
For decades, the front of United's shirts have been plain red, with subtle black and white detailing helping to create the iconic identity we all know today. But this time adidas have come up with something a little different, and it's fair to say that the new design perhaps wasn't to everybody's tastes at first.
However, now that the inspiration behind the design has been revealed, some of the Old Trafford faithful are viewing the strip in an entirely different light.
This is much more than a football kit, this is a celebration of the club's incredibly rich history. The start of the new season marks 140 years since Manchester United were first founded, back in a time before the English First Division had even been created.
But, of course, United were going by a very different name back then. Newton Heath Football Club was created by the Carriage and Wagon Department of the Lancashire and Yorkshire Railway depot back in 1878. They played against other rail companies at first, before entering the top tier of English football in 1892.
And then, 18 years later, Manchester United was born.
The new United 2018/19 home kit pays homage to those early days of the club, with a bold series of black stripes acting as a representation of the Newton Heath railway tracks. Allowing these stripes to stand out prominently across the midriff, adidas certainly haven't shied away from trying something a little different this season; love it or hate it, you've got to admire adidas' creativity here.
The railway graphic fades gradually to red as it works its way up the shirt, offering the perfect complement to the iconic Three Stripes sitting on the shoulders. According to adidas, United will even be wearing dark shorts once again, just as they did in their early days as Newton Heath.
Since those days, we all know that Man United have gone on to become the most successful club in the history of English football. 20 league titles, 12 FA Cups and 3 Champions Leagues later, there's no question United can boast a heritage that's certainly worth celebrating. On this evidence, adidas have succeeded in doing exactly that.
The Red Devils will never forget Ole Gunnar Solskjaer's last gasp winner against Bayern Munich in '99, or the way Eric Cantona puffed out his chest after scoring that glorious chip. But, despite all of their memorable moments, the most important day in the club's history is the day it was founded by that section of the Lancashire and Yorkshire Railway.
Manchester United are now a club capable of spending millions on the best players on the planet, signing lucrative sponsorship deals and selling football shirts by the bucket-load. But these new adidas kits should remind fans of where the club came from, while also making sure their multi-million-pound players know exactly what it means to pull on the shirt.
The new 2018/19 Man United football kits are available today from adidas, and you can already compare prices with FOOTY.COM to find the best deals on the internet!