How Nike Are Leading The French Revolution
PSG have quickly risen to the summit of world football, and Nike's iconic kits have been at the heart of it all.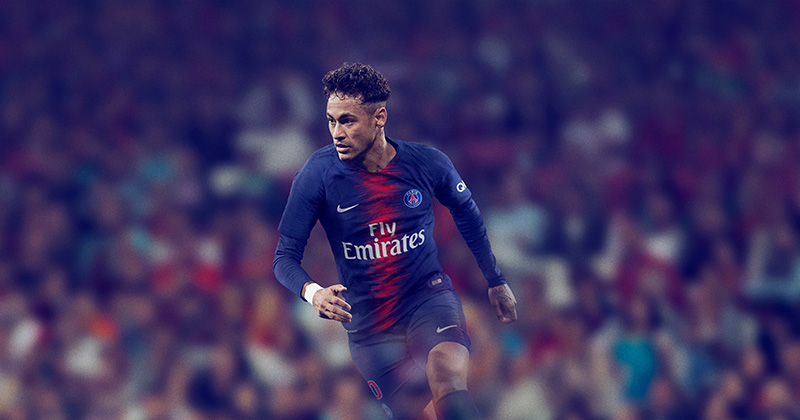 At just 47-years-old, Paris Saint Germain are still a relatively young football club. However, that hasn't prevented them from becoming one of the biggest clubs on the planet.
Perhaps they aren't able to boast the same rich history as other European giants, but that also means PSG aren't restricted to certain traditions or philosophies. Of course, this has kept a certain freshness and energy buzzing around the club, as the Parisians have spent the last five decades establishing themselves amongst the elite.
With an enormous fan base which has always been brimming with passion and optimism, PSG were quick to establish their own identity within the beautiful game; creating a certain sense of individuality and uniqueness that fans could really get behind.
PSG aren't like other clubs. They push boundaries and constantly achieve the unexpected- something that was epitomised by the world-record signings of Neymar and Kylian Mbappe last summer. Showering the club in iconic shades of blue and red, Nike's football kits have played a major role in moulding the club into what it is today.
PSG & Nike inthe 90s
Following an inaugural Ligue 1 title in 1986, PSG replaced adidas with Nike for the 1989/90 season, as they ushered in a new (not to mention more successful) era for the club. Nike went on to create some truly iconic football kits throughout the 90's, with their striking designs incorporating deep shades of blue, large splashes of red and distinctive sponsors.
Le Rouge-et-Bleu claimed another French title in 93/94, and also won the Coupe de France on either side of that famous season. The likes of Ronaldinho, Jay-Jay Okocha and David Ginola would all eventually pull on the PSG jersey, but it wasn't until 2011 when the Parisians truly began their transformation into the global superpower we know today.
Becoming a superpower
The arrival of Zlatan Ibrahimović in 2012 was a real statement of intent from the French giants, while the addition of Edinson Cavani a year later really announced them as a force to be reckoned with. These players arrived at a club with little history or tradition, providing them with a blank canvas to start creating their own legacy.
What followed was 5 Ligue 1 titles in the past 6 seasons, with 4 Coupe de France triumphs within the same timeframe. Whilst they are still to make a real impact on Europe's elite competition, the current PSG squad is packed with youthful, electric talent, as the new owners continue to invest in one of the most exciting sides in club football right now.
Nike PSG 2018/19 kits
Nike have proven instrumental in maintaining that sense of freshness and vibrancy around the club, and it's not hard to see just how impactful this energy has been on the fans. The Parc des Princes is one of the loudest stadiums in world football, with the constant buzz of the fans creating an almost unbeatable atmosphere.
This deafening din is even featured in the design of the PSG 2018/19 home shirt, as Nike implement a red soundwave graphic alongside a dark blue colourway. Hoping to draw on the passion and optimism of those Parisian fans, the new PSG kits could very well mark the beginning of true European dominance; as their squad of superstars will surely have their sights firmly set on this season's UEFA Champions League.
The future
From a struggling mid-table side to European giants, Nike have been with PSG every single step of the way. The new kits are designed to celebrate that relationship, as Nike have put together a strip which is absolutely dripping in heritage and tradition: two things that PSG are still incredibly keen to establish at their club.
The future of Nike and PSG certainly looks set to be an exciting one, and we can't wait to see how their football kits evolve over the next few years. After all, the PSG legacy is only just getting started.