Adidas Reissue The 99 Predator Accelerator
Celebrating the 20th anniversary of the Predator Accelerator, these boots will give you a serious case of nostalgia.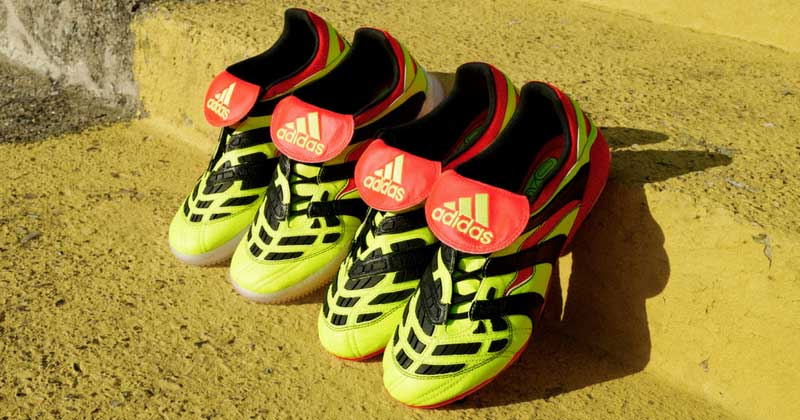 It's certainly been a colourful summer for football boots.
In the lead up to the 2018 World Cup, adidas launched their exuberant, vibrant 'Energy Mode' boot pack; while Nike treated us to their 'Just Do It' collection, which featured distinctive white colourways and bright, energetic soleplates.
The result has been a World Cup packed with colour and dynamism, as fans across the globe go crazy for the dazzling international kits and vibrant football boots on offer. Not content with enjoying a summer of record shirt sales, adidas are now giving us a blast from the past as we enter the final week of the competition.
Bursting with colour and exuberant style, the adidas Predator Accelerator 'Electricity' took the world by storm when it was originally released in 1999. Back then, the boots were shown off by some of the most iconic footballers to ever play the game; as Zinedine Zidane, David Beckham and Alessandro Del Piero announced themselves as the top talents in Europe.
Now <celerator look, traditional Three Stripes logo and legendary rubber shooting fins, it's impossible to look at these football boots without being transported all the way back to the late 90's.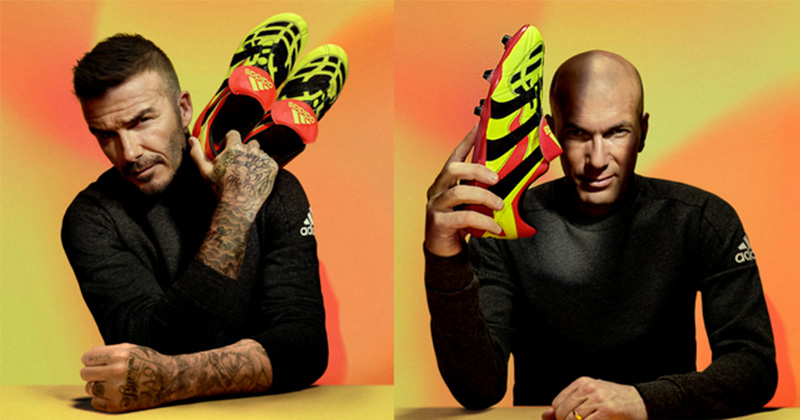 Adidas have even brought back Beckham and Zidane to help show off the new designs, invoking all kinds of memories for a certain generation of football fans. Both Becks and Zizou had some of their greatest moments in the original Accelerators, and it's great to think that the next generation of superstars can now bag their very own pair.
The reissued 'Electricity' Predator may feature the same look and feel of the original 1999 boots, but they also act as a perfect example of what happens when the past and future come together. Featuring a laceless K-leather upper, this time the Accelerator is built on a lightweight soleplate and offers a more streamlined version of these classic football boots.
To add a cherry to the top of this extremely nostalgic cake, there are two versions of these retro adidas boots available: for the stadium and the street. This means you can enjoy a good 90's throwback no matter when and where you play- and you can do so in absolutely glorious style.
However, there's one catch here. As with the original 'Electricity' design, these football boots are only available in limited numbers. According to adidas, just 1999 pairs will be released worldwide, and we expect this rarity to only add to the demand of these Predators.
If you want to bag a pair of these awesome football boots, you'll have to move incredibly quickly. Released today (July 5), these boots will fly off the shelves faster than Neymar can hit the deck; but, if you do bag a pair, you'll be the envy of every other player on the football pitch.